this post for spam musubi was originally published in october 2013. i've since updated the pictures, and tried to clarify the recipe a little more!
there's something about the combination of salty, pleasantly squishy meat with caramelized bits of teriyaki sauce, firm grains of rice and pliable, briny seaweed. it was the first sandwich-like thing i ever ate. for me, it speaks of basketball and sweaty socks and doting mothers.
by now, you are probably confused. if you understand, then you deserve a spam musubi rn.
spam musubi has been a cornerstone of my life. i've eaten it countless times in the middle of basketball tournaments, church functions and parties. it's made a sacred place for processed meat in my heart. and if i do say so myself, i'm not only a master spam eater but a master spam musubi maker (all my time making spam musubi for my church youth group has definitely contributed to my self-proclamation).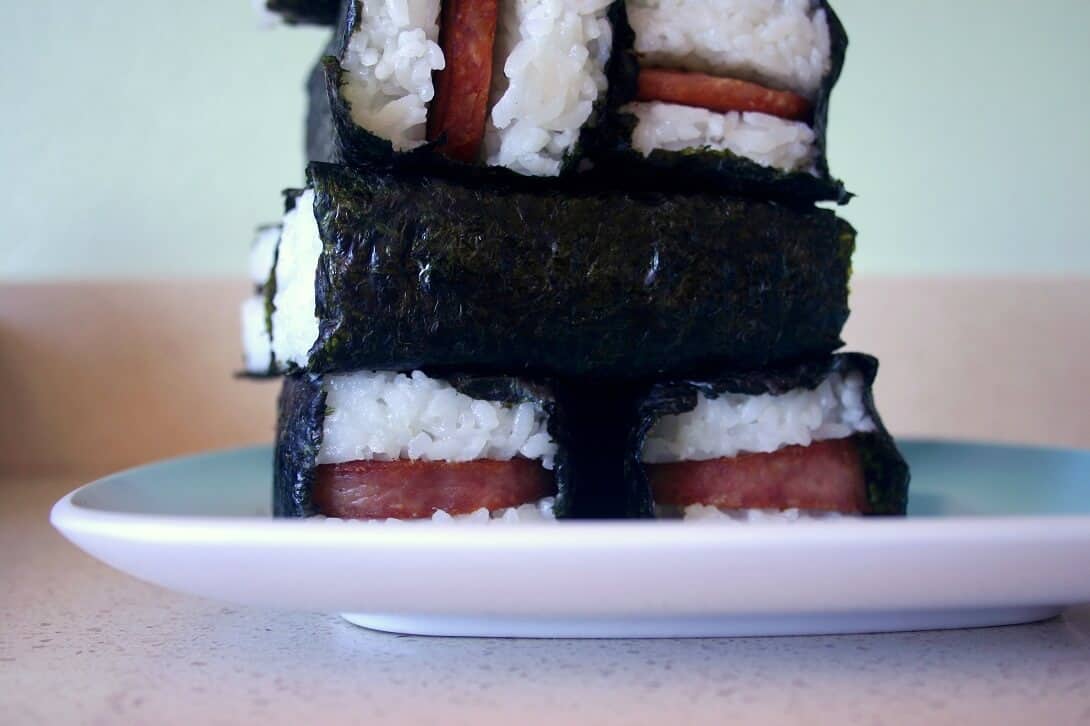 i believe there's a certain way to make it. i don't care about the seaweed, as long as it's the right size for my plastic spam mold and it doesn't crack. therefore, make sure you have the big sushi-type sheets, not the small seasoned snacky ones. everything else is pretty specific, though. it has to be made with white rice. now is not the time to pull out your deliciously fragrant basmati or your "i'm going to be healthy" ancient sprouted grain that works wonders for your digestive system. you're already using semi-questionable meat anyways. use white rice, and you'll be okay.
another thing about the rice: you want to use fresh, hot rice. i find that it helps seal the final musubi nicely. but if you're trying to make spam at seven in the morning, you probably aren't going to want to get up at six to make a pot. what you can do is make a batch in your rice cooker right before bed. unplug the machine and let the rice sit in there overnight. it may not be hot, but it won't get hard like it would if you refrigerated it overnight. sure, it's not the most sanitary, but it's just rice. it won't spoil in 8 hours.
you can season the rice as you would for sushi, with rice wine vinegar, sugar and salt. i don't, as 1) i'm a lazy butt, and 2) i would eat all of the rice and have none left for the musubi. if you do decide to season the rice, add seasonings in small doses to taste. seasoning hot rice is better than seasoning cold rice, since the flavors get absorbed better.
second, the spam. i like to use the low sodium one because spam is pretty salty. especially if the maker, like me, enjoys caramelizing the slices in copious amounts of teriyaki. but i'm getting ahead of myself. the key to the spam is that you have to make sure it gets crispy and golden brown on both sides. i bought a spam musubi once, but the spam was pink as a baby's butt and floppy as a noodle. it was depressing and i threw it away after a bite. yuck. get it crispy. or else it really will be like all those spam horror stories you've undoubtedly heard.
back to caramelization. i mix up a quick teriyaki, with some soy and sugar and maybe a bit of rice wine vinegar or mirin if i'm feeling fancy. i fry all the spam, then dump in the teriyaki and let it warm a bit to get the spam coated in dark and shiny deliciousness.
making the musubi takes a bit of time. as long as you have one of these, you'll be fine. i've heard you can use spam cans as molds; i've never tried, so i can't vouch for those. but, as spam musubi vets know, the mess-ups are very delicious to munch on.
1 year ago: london 2018 | pineapple lime agua fresca
2 year ago: nutty mango and napa cabbage slaw | double coconut pancakes with pineapple orange salad
3 years ago: texas 2016 | almond-crisped peaches
4 years ago: vietnamese spring rolls | strawberry daifuku
5 years ago: banana muffins with cream cheese frosting | coconut cashew granola
6 years ago: ode to olives | winner winner tomato/olive/caper chicken dinner
Spam Musubi
Spam musubi, or Spam sushi, features crispy, teriyaki-glazed Spam, fluffy rice and briny seaweed.
Cuisine:
Hawaiian, Japanese
Ingredients
soy sauce, sugar

for seasoning the Spam

1

can Spam

preferably low-sodium

1

package

seaweed

full size

4

cups

cooked rice

I usually have leftovers, but better to have leftovers than not enough rice

furikake

optional
Instructions
Make teriyaki sauce: mix 1 part soy sauce to 1 part sugar until the sugar dissolves.

Cut the Spam into 8 slices lengthwise. Fry in batches until golden brown on both sides. Dump the teriyaki into the pan with half the Spam and let it caramelize. Repeat with the other half of the Spam.

Set a sheet of seaweed shiny side down on a cutting board. Place your Spam musubi mold on top, making sure the edge of the mold meets up with the edge of the seaweed.

Have a small bowl of water ready: you can dip your hands in if rice starts to stick to them. Scoop some rice (I like to make about a 1/2" thick layer) into your mold. Press the mold's plank on top of the rice to gently smoosh the rice down a bit. You want the grains to just stick together, not make rice mush.

Place Spam on top of the rice. I have a big mold like the one I linked, so I use 2 pieces at a time. Use as many slices will fit in one layer in your mold.

I like to drizzle some of the teriyaki from the pan (from when you caramelized the Spam) over the Spam. You could also sprinkle some furikake over, but I like to use the normal ones (so no umeboshi, aka pickled plum, or salmon here unless you're daring).

Make another layer of rice on top of the Spam. Place the plank on top and smoosh down a bit. Hold on to the edge of the mold and bring it up past the rice/Spam/rice stack while the plank is still on top. Remove the plank.

Wrap the seaweed tightly around your rice and Spam stack. Use a bit of water to seal the edges of the seaweed. Let the musubi rest seam side down.

Once all the musubis have been made, cut them. I like to make each piece of Spam equal to one musubi. I cut my big log in half crosswise. The halves are still pretty wieldy, so I cut those into halves on a diagonal.

Wrap in plastic wrap tightly and place in an airtight container. Serve on the same day.
Recipe Notes
I recommend making this on the day you plan to serve, though you can keep it overnight in a cold garage (keep in mind that people do this in the Bay Area, not New York or Chicago or Korea where it actually gets cold and there's snow in the winter), just don't refrigerate it (otherwise the rice will get hard and sad).
more japanese / hawaiian food besides spam musubi