how to make gochujang sauce
most of the work that goes into making this gochujang sauce is already done by the time you buy some gochujang, or fermented korean red chili paste. which i realize is more stressful/hard/annoying/etc than it used to be; but it does keep for a long time in the fridge (shout out to that container we forgot about for few years old and yet is still 100% useable), and you only need to use a little at a time, so once you acquire some, you don't need to hunter and gather more any time soon.
the gochujang paste is a really concentrated spicy and salty and sweet mix (it's like miso or fish sauce or mustard - use it as a condiment, not as a beverage), so i add a few more ingredients to balance it out. to my wimpy taste buds, it's really spicy, so i like a little sesame oil to help cut that heat. a little soy sauce and rice wine vinegar helps mellow out the sweetness and ta da, all of a sudden you have your gochujang sauce!
gochujang sauce uses
i've used this gochujang sauce to drizzle onto a tofu rice bowl here; it's got rainbow carrots, broccolini, kimchi and crispy pan-fried tofu!
it also works in a bunch of other places - some of them might be a no brainer, especially if you're familiar with korean food. think bibimbap (mixed rice with veggies or meat or seafood), which is likely where i first tried gochujang, or for the base of ddukbokki (spicy, saucy rice cakes). one of my friends in middle school would bring sesame-slicked seaweed wrapped around rice with a dab of a similar gochujang sauce, and if you haven't had the joy of hot seasoned rice with crispy seasoned seaweed, get on that ish.
in a slightly less traditional move, my family tossed some into a romaine, apple, almond and fava bean salad this weekend, where it acted more as a dressing or a vinaigrette. and i can imagine it being a bright way to freshen up your crudite platter.
1 year ago: frozen coffee with coffee jelly and red beans | zha jiang mian
2 years ago: tara o'brady's chocolate chunk cookies
3 years ago: bacon mushroom saute with japanese sweet potato mash
4 years ago: chocolate babka french toast with caramelized banana creme anglaise
5 years ago: banana-chocolate-coffee muffins
Tofu Rice Bowl with Gochujang Sauce
Lean on gochujang, a pre-made spicy Korean pepper paste, to make this sweet/salty gochujang sauce!
Keyword:
broccolini, brown rice, carrots, egg-free, fish sauce, gochujang, kimchi, nut-free, rice, rice bowl, sesame oil, soy sauce, tofu, vegetables
Ingredients
Gochujang Sauce
2

tablespoons

gochujang

2

teaspoons

soy sauce

2

tablespoons

sesame oil

1

tablespoon

+ 1 teaspoon rice wine vinegar
Tofu Rice Bowl
2

blocks

tofu

drained, cubed and salted

4

carrots

peeled and chopped

½

pound

broccoli or broccolini

trimmed

2

cloves

garlic

minced

1

tablespoon

minced ginger

2

cups

hot cooked rice

½

cup

kimchi

chopped
Instructions
Gochujang Sauce
Mix everything together. Add water until it's thin enough to drizzle.
Tofu Rice Bowl
In a non-stick skillet over medium-high heat, heat some oil. Add half of the tofu in a single layer; cook on the first side until golden brown and crispy, about 5-10 minutes. Flip to an uncooked side, then repeat for all sides. I'd recommend cooking at least 4 sides, but you can pan-fry all 6 sides if you're patient enough. Move the tofu to another container.

Place the same skillet back over medium heat, and add a little more oil. Add the carrots and ¼ cup of water, then cover. Cook for 10-15 minutes or until fork-tender, then uncover. Saute until any excess water evaporates and the carrots start to sear a little. Remove from heat.

Place the same skillet back over medium heat, and add a little more oil. Add the broccolini, garlic and ginger; cook for 10-15 minutes, or until crisp-tender.

Divide the rice between 4 bowls. Top with the tofu, carrots, broccoli and kimchi. Drizzle the gochujang sauce on top and serve.
you might also like one of these rice bowls: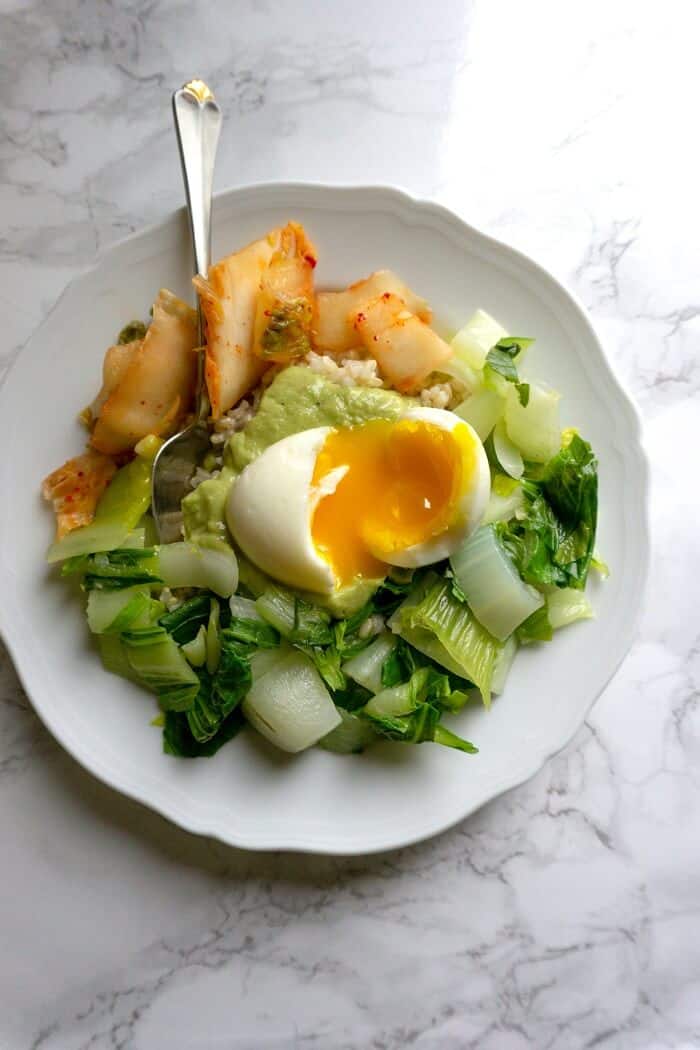 kimchi rice bowls with jammy eggs