i know that some of the bowls i post here are a bit of a pita. multi-step vegetable side dishes make for tasty lunches, but sometimes they're too much. i get it. not this kimchi rice bowl based off the hg street bowl from home grown in oakland (rip), though.
it was one of those pretty cold for california days in december (nothing like last week though, when i was late for work because i had to scrape ice from my car- what?!), and i had dragged my mom with me to oakland (who then dragged my cousin). mostly because i wanted someone to drive me to an interview (the company i interviewed at/worked at was not nearly as exciting as pixar, whose campus was down the street). and the kimchi rice bowl i had for lunch before the interview? i have fonder memories of that than the entirety of the 6 months i spent there realizing that neither the work i was doing nor the product i was working with interested me at all.
anyways, i've really grown to appreciate how nutty and chewy brown rice is in the past few years, and i have to say, homemade brown rice beats white any day. it's no exception in a kimchi rice bowl, where it acts as a hearty base for jammy eggs (soft-boiled and runny), creamy avocado sauce, garlicky bok choy and heaps on heaps of kimchi.
not sure what else to eat your kimchi with? how about a cozy plate of kimchi eggs, or maybe a bowl of crunchy cucumber strips with kimchi dressing?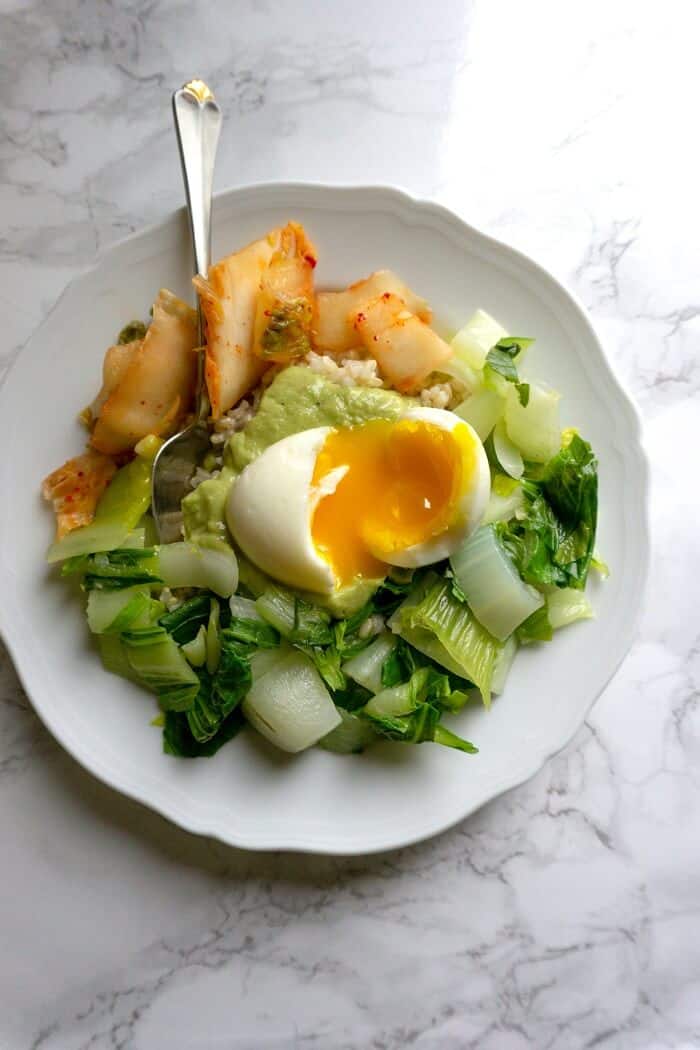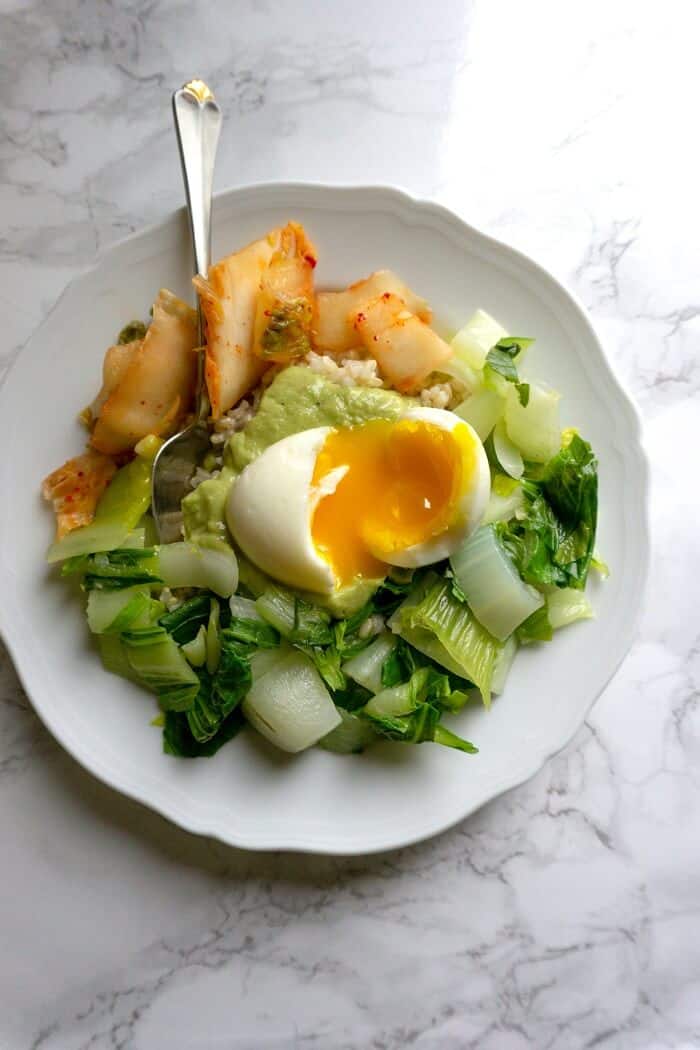 Kimchi Rice Bowl with Jammy Eggs
This kimchi rice bowl is creamy, hearty and warm, making it a cozy lunch option for wintertime!
Course:
Dinner, Lunch, Main Course
Cuisine:
American, Fusion, Korean
Keyword:
avocado, bok choy, brown rice, dairy-free, kimchi, lunch, nut-free, rice, rice bowl, sesame seeds, soft-boiled eggs, vegetables
Ingredients
Creamy Avocado Sauce
2

avocados

flesh scooped out from skin

1

tablespoon

soy sauce

2

teaspoons

fish sauce

1

tablespoon

lemon juice

olive oil and water to thin
Sauteed Bok Choy
1

teaspoon

minced ginger

2

cloves

garlic

2

big bunches bok choy

cut into bite-sized pieces
Assembly
2

cups

cooked brown rice

½

cup

kimchi

chopped

2

tablespoons

toasted sesame seeds
Instructions
Creamy Avocado Sauce
Blend the avocado, fish sauce, soy sauce and lemon juice in a blender. Add olive oil and water if needed to make a thick sauce.
Jammy Soft-boiled Eggs
Place the eggs in a saucepot and add water until the eggs are completely submerged. Place over medium-high heat, and bring to a boil. Lower to a gentle boil and cook for 6 minutes.

Drain the water, and run the eggs under cold water. Let cool slightly, then crack and peel the eggs.
Sauteed Bok Choy
In a large skillet over medium heat, heat some oil. Add the ginger and garlic; saute for 30 seconds. Add the bok choy, and saute for 5-10 minutes, or until wilted and bright green.
Assembly
Divide the rice among 4 bowls. Add the jammy soft-boiled eggs, bok choy and kimchi on top. Drizzle the avocado sauce over everything and sprinkle with sesame seeds.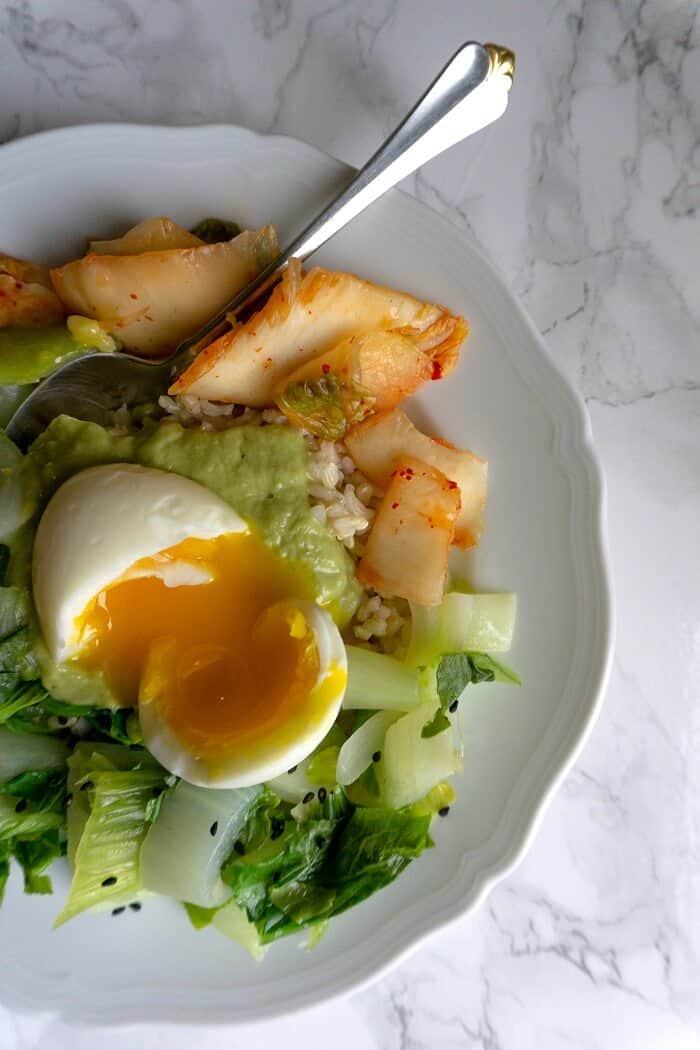 other rice bowl lunch ideas