This dish of kimchi eggs, or caramelized kimchi and scrambled eggs is savory and satisfying, perfect served alongside rice and vegetables for a quick meal!
Ingredients
The name of this recipe basically says it all – kimchi and eggs.
Kimchi
You'll want to use what most people think of as kimchi (the bright red napa cabbage kimchi, or tongbaechu-kimchi in Korean) for this recipe.
There are so many different kinds of kimchi (Maangchi has recipes for a bunch of other kinds using other produce, and you can typically find other varieties at Korean markets), and I bet any of them would be tasty. However, the texture of using kkakdugi (radish kimchi) in this egg dish will definitely be crunchier than something like buchu-kimchi (chive kimchi).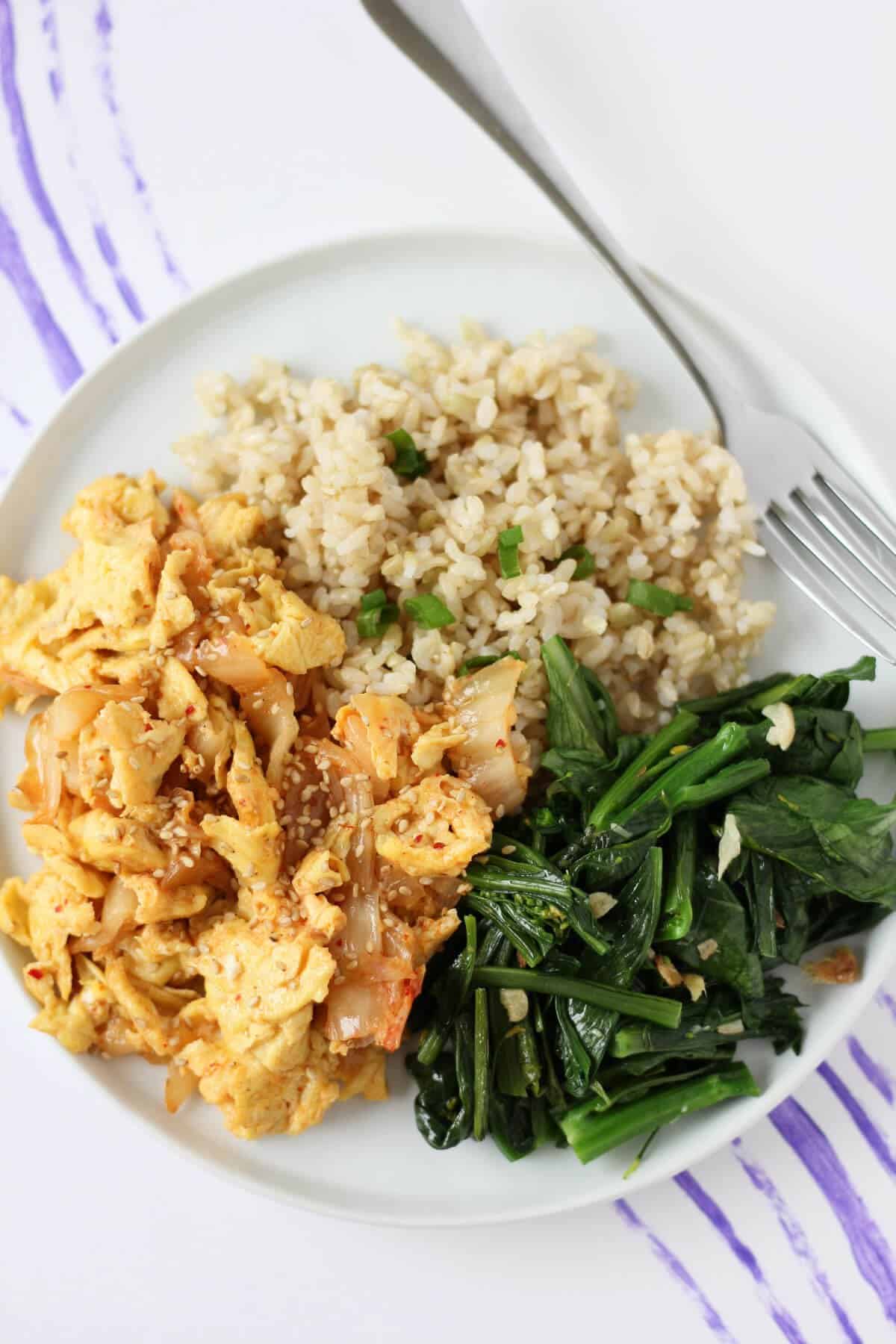 Not a bad thing, just something for you to note should you decide to wing it and go off on your own tangent.
Older kimchi is fine to use here. It gets cooked enough that the more pungent and intense notes mellow out more than if you ate it straight from the container.
If you have any leftover kimchi and you're not sure what to eat it with, might I recommend mixing it into a kimchi mayo, or using it as a side for your next rice bowl with jammy eggs? That (and its endless cousins) is basically what I subsist on for lunch everyday.
Or, since it's summer when I'm posting this recipe, this cold, spicy cucumber salad might be what you're craving. It's a riff on bibim naengmyeon, spicy cold noodles typically eaten during summer, and uses cucumbers instead of noodles.
Yes, it's carb-free, but is really crunchy and crisp and delicious when you can't bear the thought of anything hot or heavy.
How to Make
I'm usually not the kind of person who preps everything before I start cooking, but since this recipe moves fast once you get started, this is the time to be a little more organized than usual.
Start by cooking the whites of the scallions in some oil, and once you see them start to get a bit translucent, add the garlic and kimchi. The kimchi will sizzle pretty aggressively since it's wet, and that's fine.
When the kimchi gets brown and its liquid is beginning to evaporate, move the kimchi to the side of the pan, and shift the pan over your stove so that the kimchi isn't over direct heat anymore.
Add a bit more oil to the empty part of the pan (which should be over the heat source), then pour in beaten eggs.
Using a heatproof spatula, push the eggs around, moving the cooked bits into the middle and letting the uncooked egg come into contact with the hot pan.
Once the eggs are cooked, combine the eggs and kimchi together. Don't be afraid of being a bit rough with the eggs so that you can break them up into fat curds.
Slide the eggs onto your serving plate, garnish with the green onion tops, sesame oil and sesame seeds, then serve!
Tips
Soft and Tender Eggs
It's better to undercook the eggs than overcook them, especially due to carry over cooking. While this concept (that food continues to cook even after you remove it from the heat source) is more noticeable for meat, it still applies to eggs to a lesser degree.
Appearance
I do realize this humble combo of kimchi and eggs falls into the delicious not gorgeous category of this site. That being said, cooking the kimchi and eggs separately helps with its aesthetic shortcomings: otherwise the kimchi juice runs into the eggs unattractively.
Even aside from this, the kimchi caramelizes and concentrates so much better without the moisture from the eggs interfering, so this bit of a hassle does make a difference in the final flavor.
Serving Suggestions
Carbs
The kimchi eggs are served with rice here, as well as a side of greens sauteed with garlic and ginger. I always have rice on hand, so that's a no brainer for me.
I can also imagine how good these eggs would be on top of toast. The contrast of soft, creamy eggs and crispy toast sounds pretty darn tasty to me.
Whether you pick rice, toast or something else, I do recommend serving these eggs with some sort of carb or side dish, since they are pretty flavorful and work well interspersed with bites of other things.
Toppings
Sesame Seeds and Sesame Oil
I'm sure anyone who has ever had banchan (the little side dishes that come pre-meal at Korean restaurants) knows how prevalent sesame is in Korean cuisine. There's something about adding both sesame seeds and sesame oil to this dish that really rounds out the flavor, so I would recommend adding both on top.
Kimchi Juice
The vibrancy of the kimchi dulls a bit while it's cooking, so feel free to drizzle some kimchi juice on top of the eggs post-cooking should you want a bit more of that red color to pop out.
Cheese
Ever since the prevalence of Korean x Mexican food (s/o Mogo BBQ, the local kimchi quesadilla-slinging food truck of my high school era, which went MIA at the end of 2017??), I've been obsessed with the concept of kimchi and cheese together.
Side note – Mogo was not the inventor of this combo, and it dates back at least to the inception of budae jjigae (Korean army stew), which combines kimchi with a variety of packaged western products, including sliced, processed cheese. I may hate imperialism, but even I concede that this dish is fantastic.
Anyways, should you want to gild the lily, a bit of sharp cheddar cheese (or any other sharp cheese of your liking) on top of these eggs is a very welcome addition.
Kimchi Eggs
These scrambled eggs are seasoned with kimchi, garlic and onion, making them deliciously savory and satisfying.
Course:
Breakfast, Dinner, Lunch, Main Course
Keyword:
dairy-free, eggs, garlic, gluten-free, grain-free, kimchi, nut-free, scrambled eggs
Ingredients
1 ½

tablespoons

cooking oil

1

green onion

chopped

1

clove

garlic

minced

⅓

cup

kimchi

chopped

4

large eggs

salt and pepper

sesame oil and sesame seeds

for garnish
Instructions
Heat half of the oil over medium heat. Test the oil by adding a piece of the green onion; if it sizzles and bubbles, you're good to go.

Add the whites from the green onion, and saute until translucent. Then add the garlic and kimchi, and let them cook while you mix together the eggs.

Whisk together the eggs with a pinch of salt, a few grinds of black pepper, and the soy sauce.

When the kimchi looks a bit brown, and the liquid is almost evaporated, push the kimchi to the side of the pan. Adjust the pan so that the kimchi is not directly over the heat.

Add the rest of the oil to the empty part of the pan and pour in the eggs. Move any cooked and firm parts to the top of the eggs and let any uncooked egg fall onto the pan. Cook until the eggs are almost cooked to your desired texture.

Remove the eggs from the heat and top with the leftover green onion, as well as a drizzle of sesame oil and some sesame seeds. Serve hot with rice.
Recipe Notes
Don't cook the eggs completely; they'll continue to cook a bit even after you remove them from the heat.