when my parents and i were in chicago during september 2014, we brunched at the bongo room, where we had a chocolate tower french toast. i actually thought it wasn't that special (compared to the slightly bizarre but scrumptious pretzel caramel pancake), and i wished there was more chocolate. however, the parentals felt differently. they raved about it all day (and into the next year), even as we rolled out the door (thank you, aforementioned french toast and pancake plus drool-worthy lobster roll benedict).
so, this is my riff off of it. on the menu, it's described as "chocolate tower french toast: bittersweet chocolate chunk bread filled with maple mascarpone, banana creme brulee sauce, fresh bananas and shaved chocolate." however, i definitely don't remember the maple mascarpone, and the sauce wasn't crisped like a brulee in any way, so i just went with a creme anglaise. i've made this with challah and chocolate babka, and while the challah is great, the babka is definitely the more authentic choice. before you read further, i'd like to say that this is inspired by the bongo room version, and is not in any way a perfect replica. i don't even want it to be; i want it to be better (according to my tastebuds).
i took a half batch of food and wine's (okay, it's really grace parsi's) creme anglaise recipe, and punched it with bananas. sorry for sounding cruel. i was debating mashing bananas and cooking it down to a really intense compote, but i was weary of how that would affect the texture of the creme anglaise. my plan was to taste the puree and see how starchy and grainy it was; if it was smooth enough, i'd just fold it into the creme anglaise. i wasn't thinking and used a barely yellow banana for my first attempt, which unsurprisingly yielded a lumpy creme anglaise. i was convinced that this method wasn't going to work, and in a classic case of overthinking, i was even debating making my own banana liqueur. but luckily for my sanity, i tried a super ripe, yellow with brown spots, giraffe-ish banana and pureed the heck out of the caramelized mush before folding it into the creme anglaise and straining it. silky smooth.
since chocolate babka is chocolatey (shocking, i know) and rich, it doesn't need as much as challah. the babka gets dipped in a mix of cocoa powder, milk (the cocoa and milk get mixed first into a paste so that it's easier to mix that into the rest of the ingredients), eggs, vanilla and salt. no sugar needed, because again, the babka is sweet enough. if, however, you're using challah or white bread or something that's a little healthier (pls don't go too healthy- what's the point of having an egg white and whole wheat french toast with a yogurt creme anglaise?? rant over), i'd suggest adding more sugar and cocoa to the custard, and sprinkling the hot french toast with chocolate (more details on this at the bottom of the post).
so, how is this chocolate babka french toast? dense and chocolatey, almost like a brownie. this is more dessert than breakfast, so it's definitely more special occasion than everyday breakfast food. the creme anglaise is packed with banana flavor (that caramelization though), and is silky smooth and creamy. it was kind of grey, and i wanted to fix it. but then i realized that it tasted amazing already, so there wasn't any reason to- especially bc, hello, delicious not gorgeous~. and then bananas and strawberries and almonds on top. the strawberries and almonds were most certainly not on the bongo room version, but the berries cut through some of the sweetness and added a bit of pop visually, and the almonds added crunch not found elsewhere in the dish, so they got the okay to stay.
voila, chocolate babka french toast with caramelized banana creme anglaise! did i mention that the leftovers (toast the french toast, microwave the creme anglaise just until warm but not bubbly, transformers assemble) are bananas?
my fave chocolate-y things on the blog:
Pecan Chocolate Espresso Coffee Cake
Joanne Chang's Chocolate Chip Cookies
b-a-n-a-n-a-s:
Banana-Chocolate-Coffee Muffins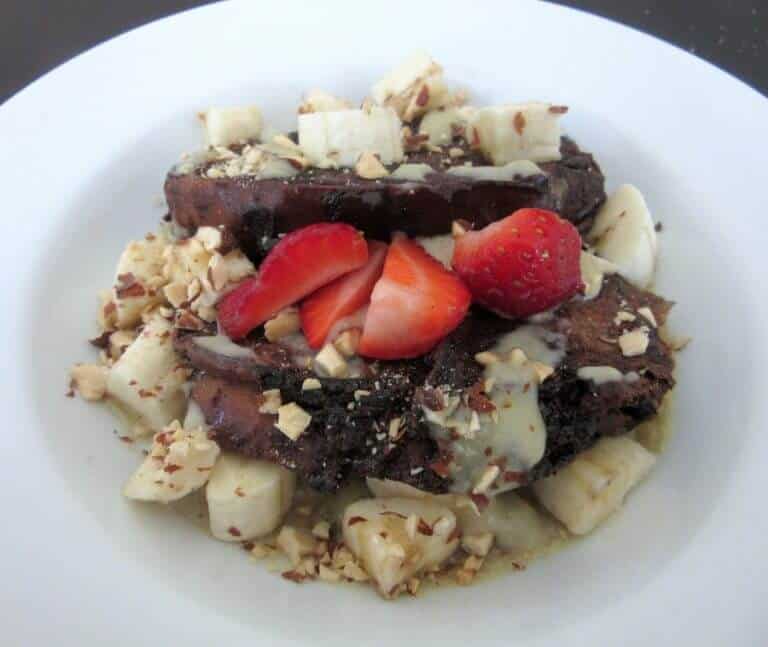 Chocolate Babka French Toast with Caramelized Banana Creme Anglaise
This chocolate babka french toast with caramelized banana creme anglaise will satisfy all of your chocolate and banana cravings (and probably more).
Course:
Breakfast, Brunch, Dessert
Ingredients
Chocolate Babka French Toast
1

cup

whole or 2% milk

room temperature

2

tablespoons

unsweetened cocoa powder

2

large eggs

room temperature

2

large egg whites

room temperature (use the whites from the creme anglaise)

½

teaspoon

vanilla extract

¼

teaspoon

kosher salt

eight ¼" thick slices chocolate babka
Caramelized Banana Creme Anglaise
1

medium banana

thinly sliced

1

tablespoon

brown sugar

1

cup

whole milk

½

teaspoon

vanilla extract

¼

cup

granulated sugar

2

large egg yolks

room temperature
Instructions
Chocolate Babka French Toast
Warm about a third of the milk until it starts to bubble (microwave or stovetop both work). Stir in the cocoa until dissolved. Cool slightly.

Combine the cocoa milk and the rest of the milk. Mix in the eggs, vanilla and salt until completely combined, and the eggs have broken down.

Dip the bread in the custard; let it soak for 1 minute on each side, then cook with butter in a skillet over medium heat on the first side until it looks set- a little matte, and no longer liquidy. Flip. Cook the bottom side until that side is set as well. If you're not sure if the French toast is done, taste some; if it's too gooey, just plop it back on your griddle or skillet and cook it until it reaches your desired doneness.
Caramelized Banana Creme Anglaise
Caramelize the banana in a large saucepan until it's a medium shade of brown. Add the brown sugar and cook just until it coats the banana and caramelizes a bit. Transfer to a bowl and mash well. (puree if necessary)

Set a large strainer over a medium bowl and set the bowl in a shallow pan of cold water.

In the same pan, combine the dairy and vanilla; cook over moderately low heat just until small bubbles appear around the rim, about 5 minutes.

In another medium bowl, whisk the sugar and yolks until combined. Whisk in half of the hot milk in a thin stream. Pour the mixture into the saucepan and cook over moderate heat, stirring constantly, until the sauce has thickened slightly, 4 to 5 minutes. Mix in the bananas. Immediately strain into a bowl set in a cold water bath. Serve right away or press plastic wrap onto the surface and refrigerate until chilled.
Assembly
Create a generous moat/pond/lake/ocean of sauce on your plate, depending on how much you love it and how strong your willpower is. Artfully display/stack French toast on top. Garnish as desired, with freshly sliced bananas (freshly sliced so they don't oxidize), strawberries, chocolate, toasted nuts (there's chopped almonds used for the photographed batch, but walnuts and macadamia nuts sound fab, too).
Recipe Notes
Inspired by The Bongo Room, Chicago. French toast adapted from Sara Moulton. Creme anglaise adapted from Grace Parsi via Food & Wine.
I've only had the Trader Joe's chocolate babka (found near all their tarts and baked goods), and can't comment on how other ones would taste in this. The TJ's version is pretty chocolatey and sweet, so you may need to adjust the amount of cocoa/sugar in the French toast custard/dip to account for variances between your babka and the TJ's one.
If you're having trouble tracking down chocolate babka, try Trader Joe's and Albertson's. However, you don't need to use chocolate babka. Challah works fine, though it won't be as rich. If you use a bread that doesn't have chocolate baked into it, I'd suggest adding 3-4 T granulated sugar and increasing the cocoa by 1-2 T (for 3-4 T total) for the custard, depending on taste. You may need more custard/dip for the bread, depending on how thick your slices are, how long you let them soak, etc. I'd also recommend adding chopped dark chocolate on top of the hot French toast so that you still get the melty/gooey chocolate factor.
If you're lazy and reallllyyyy don't care about your caloric intake, stir the caramelized banana puree into some melted vanilla ice cream and forgo making the custard. It's hardcore dessert and not breakfast at this point.