this berry granita with mint cheesecake bites combines tart, crunchy fruit ice and creamy cheesecake bites.
i recently got a new manager, and we're still learning on how to best work with each other. she asked me about my work goals, and threw out ideas like a specific title or salary. honestly, i'm content in my current role and my salary is a non-issue (that moving back home after college life), so my main motivation is learning. i'm migrating a project from another vendor to my team, which is already a new thing for me, but there's a bunch of initiatives that come with this project that i've never delved into before. definitely excited/a little overwhelmed and will be kept more than busy on that for a while!
if you've been around this blog for any length of time, you've probably noticed i like variety and new challenges here too. cheesecake is not something i can remember making, baked or otherwise, so joining triple chocolate kitchen's national cheesecake day celebration was a no brainer.
the mint cheesecake bites were inspired by my favorite froyo topping, the humble cheesecake bite, as well as the wilt-y mint leaves in the fridge. i also really liked how the orange granita (this one has almond flavored whipped cream) i posted last month turned out, so more granita! the crunchy berry granita goes really well with the decadent cheesecake. cheesecake can definitely be too rich, so the tangy berries, the fact that they're cheesecake bites and not whole slices of cheesecake, and the hint of cooling mint make sure that doesn't happen.
and in case you want to see what everyone else is making for national cheesecake day:
1 year ago: strawberry matcha latte | hurricane popcorn
3 years ago: roasted broccoli salad with baba ghanoush
4 years ago: america's test kitchen's best blueberry muffins
Berry Granita with Mint Cheesecake Bites
This berry granita with mint cheesecake bites has a good combo of fruity, refreshing icy bits and creamy, minty cheesecake.
Cuisine:
American, Fusion, Italian
Keyword:
berries, blueberries, cheesecake, cherries, cream cheese, dessert, egg-free, fruit, graham crackers, granita, herbs, mint, nut-free, peppermint, summer, vegetarian
Ingredients
Mint Cheesecake Bites
7

sheets

graham crackers

1 ½

tablespoons

unsalted butter

melted

1

teaspoon

granulated sugar

4

ounces

cream cheese

room temperature

3 ½

ounces

sweetened condensed milk

(or ¼ cup + ½ T)

¼

teaspoon

vanilla extract

¼

teaspoon

peppermint extract

2

tablespoons

sliced mint leaves
Berry Granita
3

cups

frozen mixed berries

1

tablespoon

lemon juice
Assembly
mint leaves

for garnishing
Instructions
Mint Cheesecake Bites
Empty the graham crackers into a food processor, and pulse until very fine crumbs form. Eyeball ½ of the crumbs into a medium bowl.

Stir the sugar, then the butter into the crumb until well combined.

Press half of the crumbs into the bottom and up an inch of a greased 8x8" pan. Don't worry if it seems like a thin layer. Freeze for at least 10 minutes.

Beat the cream cheese in a large bowl until smooth. Beat in the condensed milk a little at a time, scraping the sides of the bowl, as necessary. Beat in the extracts, mint leaves and a pinch of salt.

Pour the filling into the crust; smooth the top with a rubber spatula. Sprinkle another ¼ of the graham cracker crumbs on top of the cheesecake, pressing them in gently. Cover with plastic wrap, and freeze until firm, 2 ½ to 3 hours.

Pry the cheesecake out of the pan, using a fork or offset spatula to loosen the bottom and sides. Don't worry if you chip off some of the graham cracker crumbs; you'll coat the cheesecake bites in the crumb again later. Invert onto a cutting board.

Transfer the rest of the graham cracker crumbs to a shallow bowl or plate.

Using a sharp chef's knife, cut the cheesecake into mini cubes about ½" x ½", then place in the bowl of crumbs and roll to coat them. Freeze until ready to use.
Berry Granita
In the food processor, place the berries and lemon juice with a pinch of salt and a big splash of water. Blend until a smooth puree forms.

Pour the puree into a 9x13" pan and freeze for 2-3 hours. Depending on the size of your pan, the granita will freeze at a different speed (ie a bigger pan means the puree will freeze faster). Every 20-30 minutes, using a fork, scrape the ice (all of it, not just the top layer), to make sure that the juice doesn't freeze into one block.
Assembly
Take the cheesecake bites out of the freezer 5 minutes before serving to let them warm up slightly.

Divide half of the puree between 6 serving glasses, then add a few cheesecake bites to each glass. Repeat layering once more. Top with extra mint, then serve immediately.
Recipe Notes
Cheesecake bites slightly adapted from Martha Stewart.
Feel free to make this ahead; note that if you do, the granita will be harder to break into smaller pieces and be a little coarser. Still delicious this way!
more frozen desserts besides this berry granita with mint cheesecake bites
matcha popsicles with cherry rose compote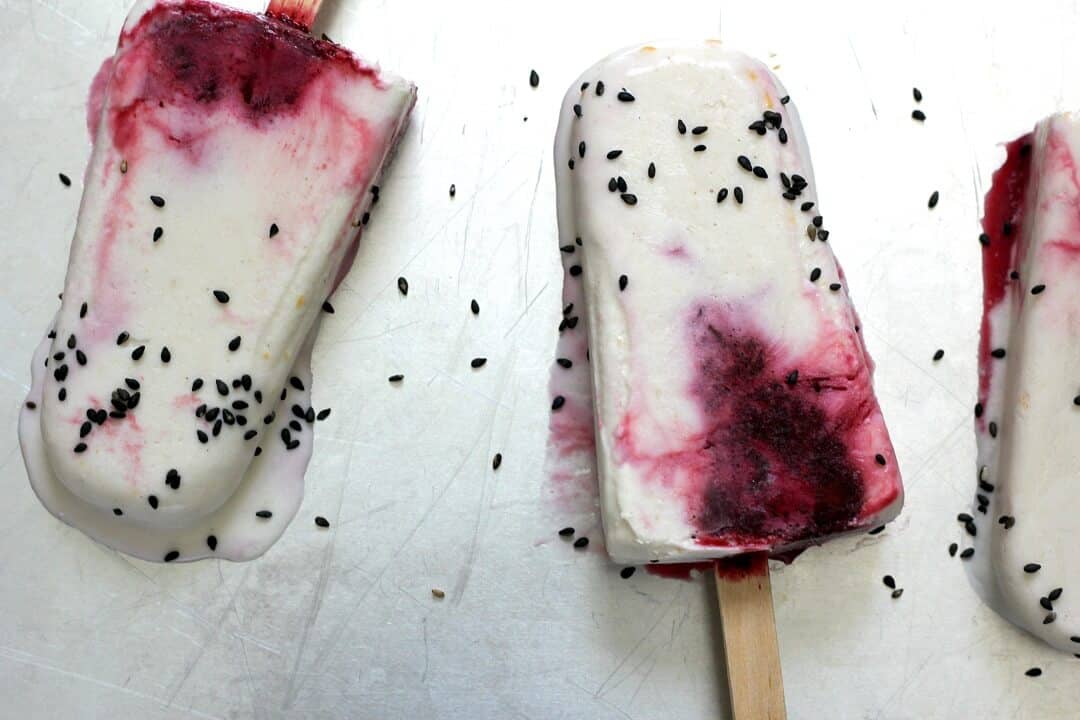 coconut, blueberry, and five spice popsicles with sesame seeds