i think one of the things my mom was worried about when i left for college was if i'd survive on dining hall food. i wasn't concerned since i feel like dining halls don't have the notoriety now versus when she went to college. sure, there are mushy, watery vegetables available, but there's so much more. the dining halls at uc davis have a ton of fresh berries during the spring and there's warm from the oven cookies at night. ucla has a pan-asian place that my friend used to frequent all the time. the dining hall i went to most at my school has an omelette bar in the morning, tacos with housemade tortillas for cinco de mayo, spam musubi on occasion (though i used to steer away from these, because they were plain and the spam wasn't crispy and i wanted to make them myself), and blondies. theirs were chewy and dense with a slight crisp on the top edge, were packed with chocolate, butterscotch-y and brown sugar rich; and pretty close to my perfect blondie.
naturally, i've been searching for a recipe to replicate them. it's been hard to find the one: usually the texture is too cakey for me, and while i still happily ate (and shared!!) them, i was always looking for something chewier. i finally found one on food52 that met all my texture requirements, but i was still missing something. blondies are pretty intense in the richness category, so i figured they'd be the perfect place to use some salts i received from uncommon goods! voila: chewy espresso blondies.
this batch of chewy espresso blondies was gifted to a friend for her birthday, and i included the rest of the salts i got in her gift (with a not so subtle nudge to use on chocolate chip cookies). it was a great way to give her something homemade, and then add a little something extra on the side (you can find other birthday gift ideas here!).
and since i also suck at figuring out what to gift people in general, these collections of grad gifts and father's day gifts are perfect. the last grad gift i gave was flowers (original, i know), and i'm sure my dad would love something besides trader joe's nuts for once, so you can bet your butt that i'll be pouring over those, too.
aside from offering some snazzy things from a bunch of different artisans, uncommon goods is also a company that you can genuinely feel good about buying from. through their better to give program, they give $1 from each purchase you make to non-profits like international rescue committee and reach out & read.
so. chewy espresso blondies that are super caramelly (thank you milk chocolate for your contribution), and have that chewy/crispy (chewy on the inside, crispy along the edges) thing going on? sprinkled with slightly bitter espresso salt from a cool company, and placed on a slate cheeseboard (lol yes these blondies are definitely appropriate for a cheese course) from another cool company? yes, please.
this post is sponsored by uncommon goods! i received compensation and product as part of our collaboration. all opinions are my own.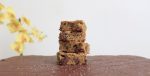 Chewy Espresso Blondies
Blondies aren't blondies unless they're ridiculously chewy, so these ones nail that texture and add a little something something via espresso.
Ingredients
¾

cup

all-purpose flour

½

teaspoon

baking powder

⅛

teaspoon

kosher salt

½

teaspoon

instant espresso powder

6

tablespoons

unsalted butter

melted and cooled

¾

cup

packed light brown sugar

1

large egg

lightly beaten

2

teaspoon

vanilla extract

¼

cup

chopped milk chocolate

or 1 ½ ounces

¼

cup

chopped dark chocolate

or 1 ½ ounces

espresso salt

for sprinkling on top
Instructions
Mix the dry ingredients together in a medium bowl.

Mix the butter and sugar together in a medium bowl until combined (it might not want to fully combine, so you can say good enough if the sugar is wet and you've been mixing for a solid minute). Mix in the egg and vanilla. Fold in the dry ingredients until just combined. Fold in the chocolate.

Pour into a well-greased (you can use a foil sling but you really don't need to) 8x8" pan and smooth the top.

Bake at 350F until the edges are set and golden, but the center is slightly underdone, 18-22 minutes. When in doubt, underbake. Cool completely, then run a knife around the edge. Cut into squares, sprinkle with espresso salt and serve.
Recipe Notes
Adapted very slightly from Food52 (who adapted from Cook's Illustrated, July 2005).