if you want more chocolate chip cookies... then here's some pan banging chocolate chip cookies! you bang them against an oven rack a few times during baking, giving them ripples and making the perfect cookie with a chewy middle and crispy edges.
part of my job has recently morphed into project management for the beta products that one of my accounts opted into (i work at a marketing agency). which i don't love. it's extremely technical (when my team is not), internal tech and product teams think we know more than we do, external analysts send us passive and outright aggressive emails when things go wrong. i'm learning a lot, and i'm grateful for that, though it's definitely got me feeling a bit burnt out.
when i feel tapped out at work and can't deal with those emails or trying to force feed data into our petulant system, i take a break and do the fun things. i get to look for content opportunities sometimes, and during one of these actually work-appropriate rabbit holes, i found an article about alison roman and The Cookies. these pan banging chocolate chip cookies aren't Those Cookies, but i'm sure you've heard of them nonetheless. either by the pan banging moniker, or maybe as the vanilla bean blog chocolate chip cookies, or as the new york times chocolate chip cookies (which i find kind of inaccurate, since they re-posted sarah kieffer's og recipe and it'd be like saying i developed this recipe which ha i did not). the hubbub might have cooled a little around these cookies, yet they're still shining bright in my mind.
the texture of these cookies is analogous to the perfect potato/crisp ratio on a curly fry, or what a mayo-y outside tastes like against the gooey inside of a grilled cheese. if you plucked a dream chocolate chip cookie out of my head, the texture of these pan banging chocolate chip cookies is what you'd find. they're chewy and a little soft in the middle; these cookies have substance. they're crunchier than tara o'brady's recipe, more for those people who can't get enough of crispy delicate cookies than someone who wants a cookie that is mostly chewy. you get the best of both worlds.
they spread a lot, and i didn't have much success when i baked more than 1 cookie per pan (even 2 cookies baked on one pan ran into each other). then when you multiply that by 11 cookies, and banging each cookie 3 times, that's 33 pan bangs over 176 minutes if you bake 1 cookie at a time. ugh. they're needy and finnicky, but if you're really trying to pull out all the stops (i'd recommend making something more like these oatmeal crisp cookies for your kids), then they're worth it.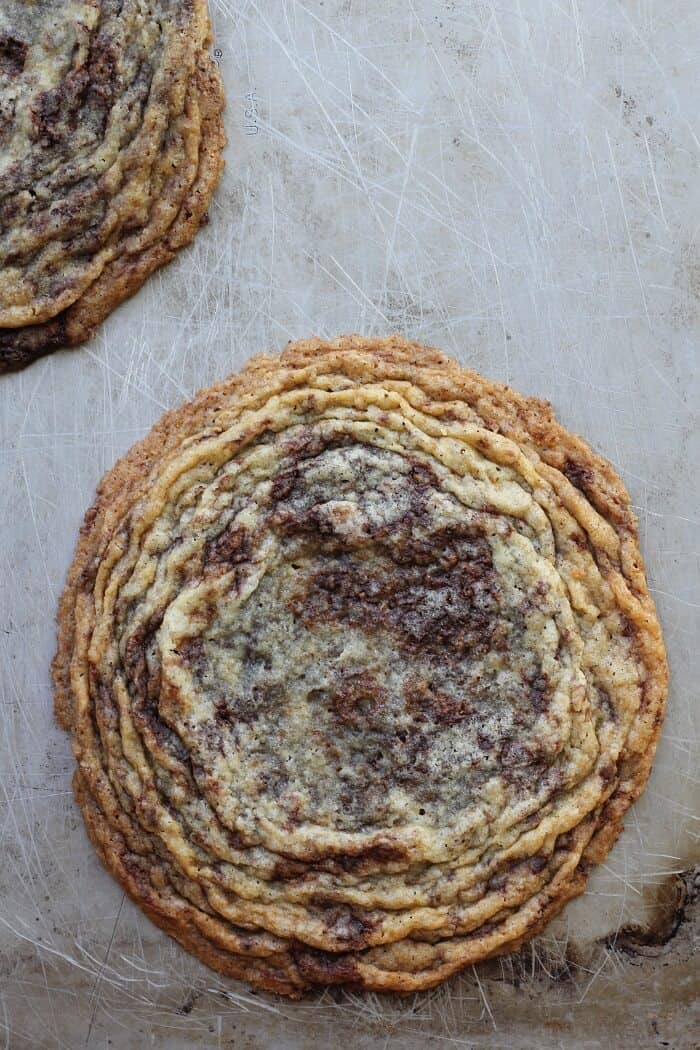 Pan Banging Chocolate Chip Cookies
The dough for these pan banging chocolate chip cookies isn't out of the ordinary, but the pan banging method (and the resulting ripples) is a little unusual. The final cookies are straight from your dreams though: chewy, soft, crispy, everything.
Keyword:
chocolate, chocolate chip cookies, cookies, dessert, nut-free, vegetarian
Ingredients
2

sticks

unsalted butter

room temperature

1½

cups

granulated sugar

¼

cup

packed brown sugar

1

large egg

room temperature

1½

teaspoons

vanilla extract

2

tablespoons

water

2

cups

all-purpose flour

½

teaspoon

baking soda

½

teaspoon

kosher salt

6

ounces

bittersweet chocolate

chopped into bite-size pieces
Instructions
Line 3 baking sheets with aluminum foil, dull side up. Preheat the oven to 350F.

In a large bowl, beat the butter until creamy. Add the sugars and beat until light and fluffy. Add the egg, vanilla and water; mix to combine. Add the flour, baking soda and salt; mix on low until combined. Add the chocolate and mix until incorporated. The dough will seem really soft, but don't worry about it.

Form the dough into 3½-ounce balls (a heaping ⅓ cup each). Place 1 ball in the middle of a foil lined (dull side up) baking sheet and freeze for 20-30 minutes before baking. After you put the first baking sheet in the oven, place a second one in the freezer.

Place the chilled baking sheet in the pre-heated oven and bake for 10 minutes, until the cookie is puffed slightly in the center. Lift the side of the baking sheet up about 4 inches and gently let it drop down against the oven rack, so the edges of the cookie set and the inside falls back down. After the cookies puff up again in 2 minutes, repeat lifting and dropping the pan. Repeat a few more times to create ridges around the edge of the cookie. Bake 16 to 18 minutes total, until the cookies have spread out and the edges are golden brown while the centers are much lighter and not fully cooked.

Transfer the baking sheet to a wire rack; let cool completely before removing the cookies from the pan.
Recipe Notes
From Sarah Kieffer's The Vanilla Bean Baking Book.
Sarah recommends 4 cookies per pan, and freezing for 15 minutes before baking. Unless you really don't care about cookies that bake together, I'd recommend starting conservative: bake 1 cookie per pan, and freeze for 20-30 minutes (not any more or less; they won't spread evenly otherwise in my experience). You can get more audacious after a few batches of cookies if you feel comfortable/get tired later.