If you're equally obsessed with the crème brûlée milk tea from Urban Ritual, then you're in for a treat!
How to Make It
First things first, the crème brûlée. Ideally, you'd chill this overnight.
Heavy cream, vanilla, egg yolks and sugar get mixed together, then baked in a water bath. The water bath helps the custard cook slowly and evenly, so that it comes out as smooth and creamy as possible.
If you don't have ramekins you can use another heatproof container, so long as you keep an eye on the baking time. I only have a container that is more on the narrow and deep side, so it takes longer than a shallow ramekin with a bigger diameter.
The custard might seem a little jiggly and underdone when you pull it out of the oven, especially if you aren't comfy with this kind of recipe or you're a worrier (hi, let's be friends).
As long as it's not straight up liquidy, it will firm up a little more in the fridge overnight, and be more scoopable. So don't worry if it's not as set as the desserts you may have had before!
The next part is the milk tea. I personally don't like using water to steep the tea, since the texture and flavor isn't that great.
Instead, I like using milk, since it makes for a strong and creamy milk tea, like this red bean milk tea or this coffee milk tea.
We're almost there – the boba just takes patience and time to cook, even though you don't have to do much. I'd recommend buying 5 minute boba from a Chinese or Asian grocery store, otherwise it can take up to a few hours to cook other kinds of boba.
The boba gets seasoned with a little brown sugar and salt to make sure it's not bland when you chew on them.
Now for the last topping: the crispy toffee.
You could make your own torched sugar bits on top to really mimic Urban Ritual's version of this drink. However, I'm betting you don't want to mother hen over four different pots for one drink – or I know that I don't, and I'd be two seconds away from hopping into my car to drive to San Mateo if I had to.
So I suggest you buy some caramel or toffee from the grocery store, and crush it up if it isn't already. Something like a hard Werthers caramel, or a Skor bar, but ideally not a chocolate-covered Heath bar unless you're the kind of person who gets their boba extra sweet.
If you can only find chocolate covered ones, you can shave off the chocolate with a vegetable peeler. Please don't peel off your thumb.
I know the pictures look like the order is: boba, pudding, ice, milk tea, candy. This is a little misleading, so follow the below order instead.
Mix the boba, ice and milk tea first, then add the pudding and candy. Otherwise, the pudding breaks down and gets lost in the drink.
I would also recommend adding one big of scoop of pudding per cup rather than breaking that same amount into smaller spoonfuls, since this also makes it more likely that the pudding will get broken up.
You might be getting flashbacks to those kids at the froyo bar getting the tiniest plop of yogurt and 12 ounces of toppings, and I can hear some people saying, custard and boba and toffee?! I assure you, they're all necessary.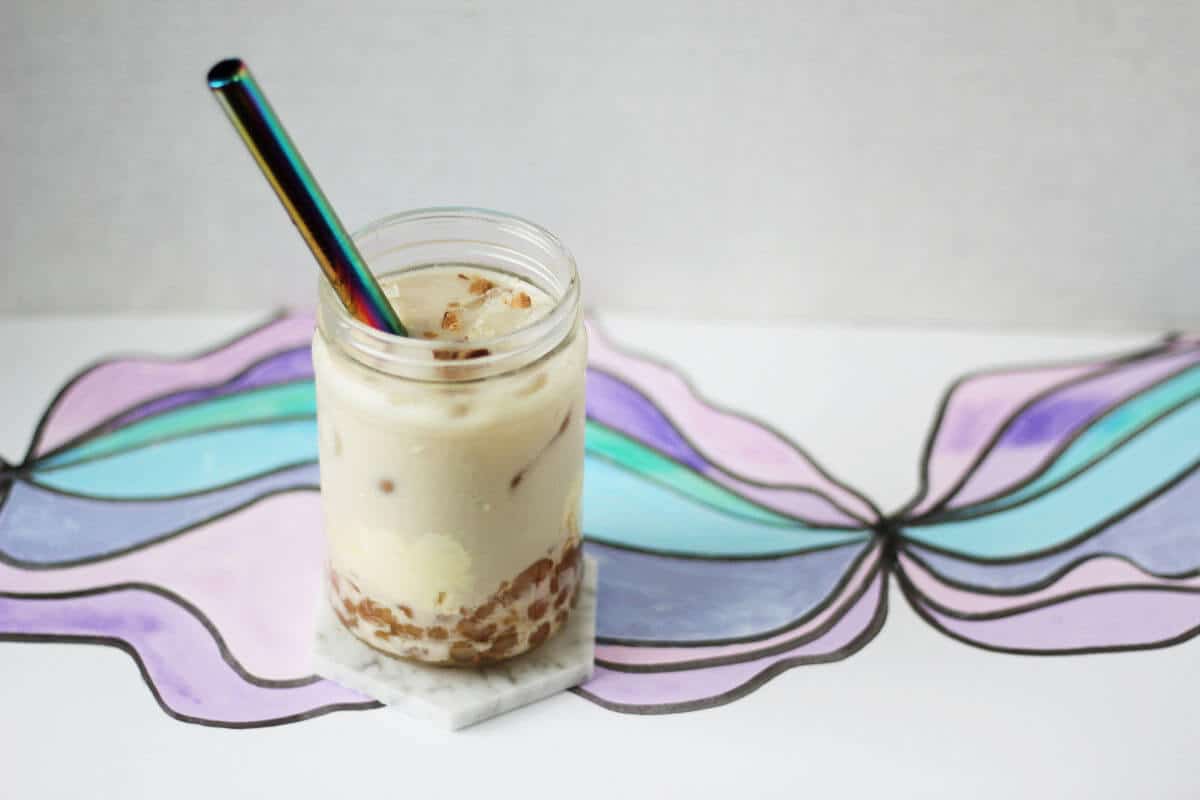 Taste
If you can't comprehend all these parts together, maybe I can help you out a bit. The strong, roast-y milk tea is a good foundation for all those sweet toppings to come, and honestly, the plain milk tea is already delicious.
Then, the pudding. It's in the name, so it's pretty important. The crème brûlée is so creamy and dense that each slurp you get full of it feels like you're hitting the jackpot.
The boba is super chewy and the toffee is crackly and brittle, perfect with all that silky custard.
Variations
If you're not in the mood for milk tea (now or maybe ever), or perhaps your body also cannot handle caffeine after a certain time of day (hello there!), you can use unadulterated milk instead. I really like using whole milk, since my usual soy milk doesn't have the same kind of decadence, though any milk you like works here.
I would not recommend full fat coconut milk, unless you dilute it with a good amount of another kind of lower fat milk or water.
You can use any tea that you like; I prefer black tea over a green or herbal tea so that it can stand up to how rich the drink can be.
It doesn't matter if you use tea bags or loose leaf tea. However, tea bags tend to use more broken bits of tea, so your milk tea might be a little stronger if you use tea bags.
Any sweetener works here. There aren't really delicate flavors in this drink (unless you use a mild tea), so brown sugar or maple syrup would be fine, or something more mild like granulated sugar or honey.
Make Ahead
This is a multi-step drink, so it makes sense if you want to make this over the course of a few days (that's what I do!).
The crème brûlée needs to be made at least 8 hours in advance, or preferably overnight, so it has enough time to set and chill. You can bake this a few days beforehand, and keep it in the fridge.
The milk tea can also be made up to a few days prior to assembling the drink, and kept in the fridge until you're ready to serve.
The boba can be cooked a few days in advance as well, but I wouldn't do this unless you know you will be strapped for time on assembly day. Even if you try to microwave the boba to help revive it back to its chewy, springy consistency, it can be a little bit on the hard side sometimes.
Crème Brûlée Milk Tea
If you love toppings in your milk tea, the crème brûlée, brown sugar boba and toffee in this drink will satisfy all your cravings!
Keyword:
boba, crème brûlée, egg-free, hojicha, milk tea, non-alcoholic, nut-free, pudding, vegetarian
Ingredients
Crème Brûlée Pudding
2

tablespoons

granulated sugar

2

large egg yolks

1

cup

heavy cream

½

teaspoon

vanilla extract
Brown Sugar Boba
½

cup

boba

3

tablespoons

brown sugar

1

pinch

kosher salt
Hojicha Milk Tea
2

cups

milk

3

hojicha tea bags

2

tablespoons

granulated sugar

1

pinch

kosher salt
Assembly
Ice

¼

cup

crushed toffee bits
Instructions
Crème Brûlée Pudding
The night before you'd like to drink your milk tea, make the crème brûlée, then chill overnight.

Preheat your oven to 250F.

In a medium bowl, whisk together the sugar and egg yolks until combined. Add the heavy cream and vanilla extract, and stir to combine.

Place a 1 ½ cup capacity ovenproof container in a baking pan with high enough sides so that water can be poured into reach about halfway up the container.

Boil a medium pot's worth of water.

Pour the custard mixture into the ovenproof container. Open your oven, and pull out the oven rack slightly, then place the baking pan (with the container filled with custard) on the rack.

Gently pour the boiling water into the baking pan, making sure not to splash the water into the custard. Keep pouring the boiling water until it reaches or slightly is above the level that the custard is at. Gently push the oven rack back in and close the oven.

Bake for 35-40 minutes, or until the custard is set. If it looks liquidy, bake for 5 more minutes, then check again. It should be wobbly in the center, but not liquidy.

Remove the custard from the water bath, then let cool at room temperature. Refrigerate until cold.
Brown Sugar Boba
Bring a medium pot of water to a boil, then add the boba, and turn down to a simmer. Cook until translucent throughout (if it's chalky and matte in the middle, the boba will taste powdery) and soft. The timing will depend on what kind of boba you have, so check the packaging.

Drain the boba, then stir in the brown sugar and salt. Let cool.
Hojicha Milk Tea
Heat the milk until steaming (I think it's easiest in the microwave, but you can do this over the stove if you prefer). Add the tea bags. Steep the tea for 15 minutes, then add the sugar and pinch of salt. Squeeze out any excess liquid from the tea bags into the milk tea, then discard the tea bags.

Refrigerate until cold, and keep refrigerated until ready to serve.
Assembly
Fill 4 glasses half full with ice. Divide the boba and hojicha milk tea between the glasses, and give everything a stir. Put big spoonfuls of crème brûlée (the bigger the better, you don't want to add a bunch of little bits) in each cup, and top with toffee bits. Serve cold!