This matcha espresso latte has plenty of roasty espresso and bright matcha, perfect if you can't decide what you want to drink!
Ingredients
Matcha
This is the time to use good matcha, the kind that seems wildly, unnecessarily expensive. It's worth it in the end though, I promise.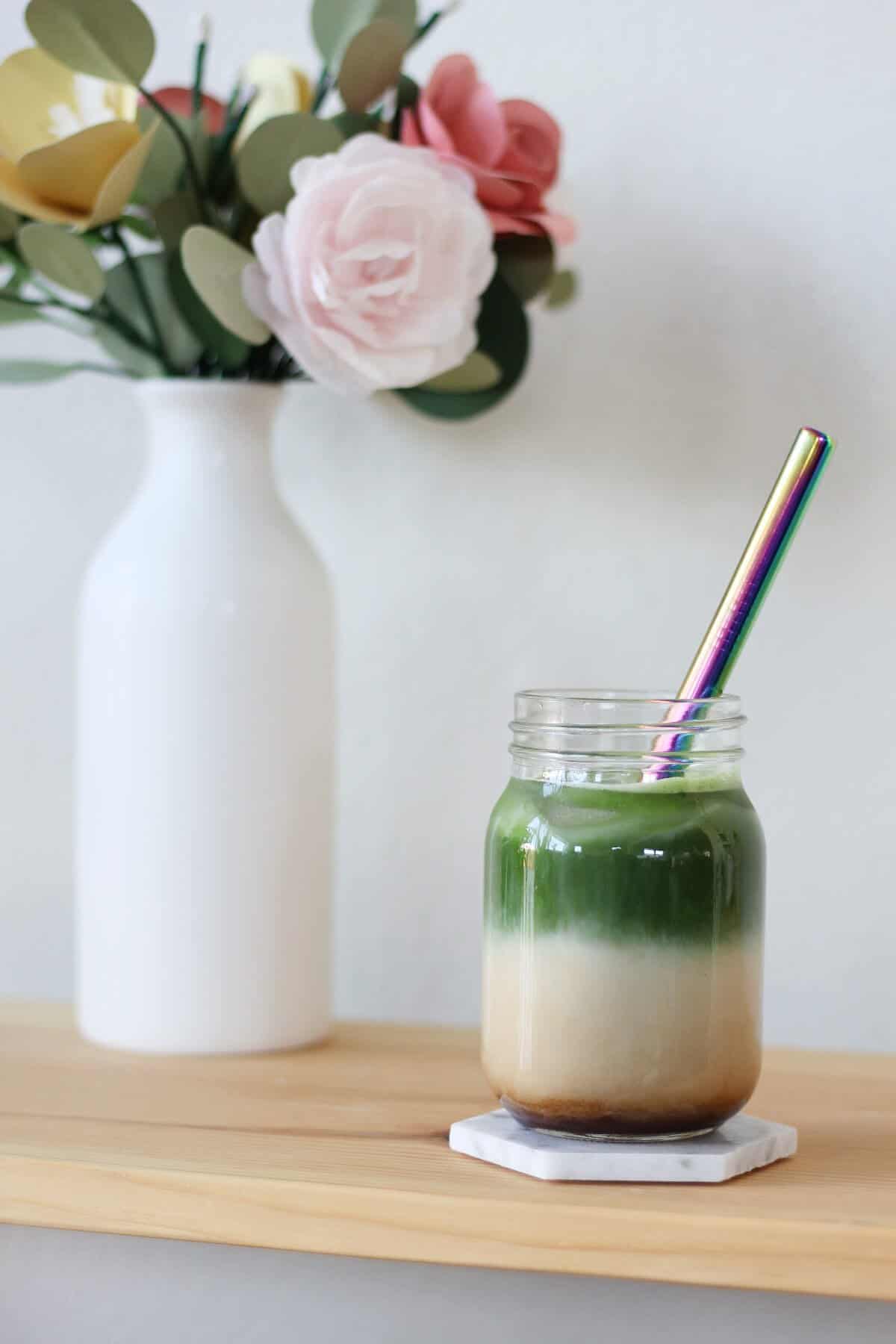 The flavor of nice matcha is so much fresher than its cheaper cousin, and it dissolves better, ensuring that your drink is smooth and not powdery. Less importantly, good matcha is bright green, compared to the muddy and muted green that less expensive matcha has resigned itself to.
My current go to brand for matcha is Roots and Craft, which is currently based in nearby (to me) San Francisco. You can definitely use your favorite matcha, though I would likely steer away from anything that comes in bulk, and would lean towards smaller purveyors of matcha (the stuff at grocery stores never lives up to my expectations).
Also make sure that you have plain, pure matcha. There shouldn't be any additives like milk or sugar.
Any leftover matcha is delicious served simply (my preference is milk and a bit of sugar over ice, like this matcha macchiato), or made into something a little more special like this matcha and Thai tea combo or this gently spiced matcha chai concoction.
Hopefully this goes without saying, but I want to confirm in case it isn't. You can't grind up sencha (green tea leaves) into a powder and use as a substitute, so you can either 1) go buy matcha or 2) forgo this drink and make something with the sencha instead (perhaps hibiscus green tea, or some grapefruit green tea?).
Espresso
Use your favorite coffee! I used Nomadic Coffee's Amargosa blend (ngl, the crème brulee notes they mention in their packaging is what sold me).
You could use instant espresso, though I'd advise against that if possible and splurge on some nicer coffee.
How to Make
Make the espresso first. I am not a coffee expert by any means, so I typically use a Moka pot, though you can definitely pull a shot if that's more up your alley.
Mix the sugar and salt into the hot espresso until they dissolve, then set the espresso aside to cool slightly.
Next, make the matcha. Make sure you use hot water and resist the urge to add more matcha, and you'll end up with smooth matcha.
Time to assemble! Pour the espresso into your serving glass, then add ice and follow with the milk and matcha.
In a nutshell, the temperature of the different layers, as well as the ice barrier and the speed/force you pour the liquids into the cup will determine if you end up with a nicely layered drink.
More specific tips for making these layers can be found on this mango matcha latte post (search for the "layering" heading there), or you can dump everything in like the no bs boss you must be.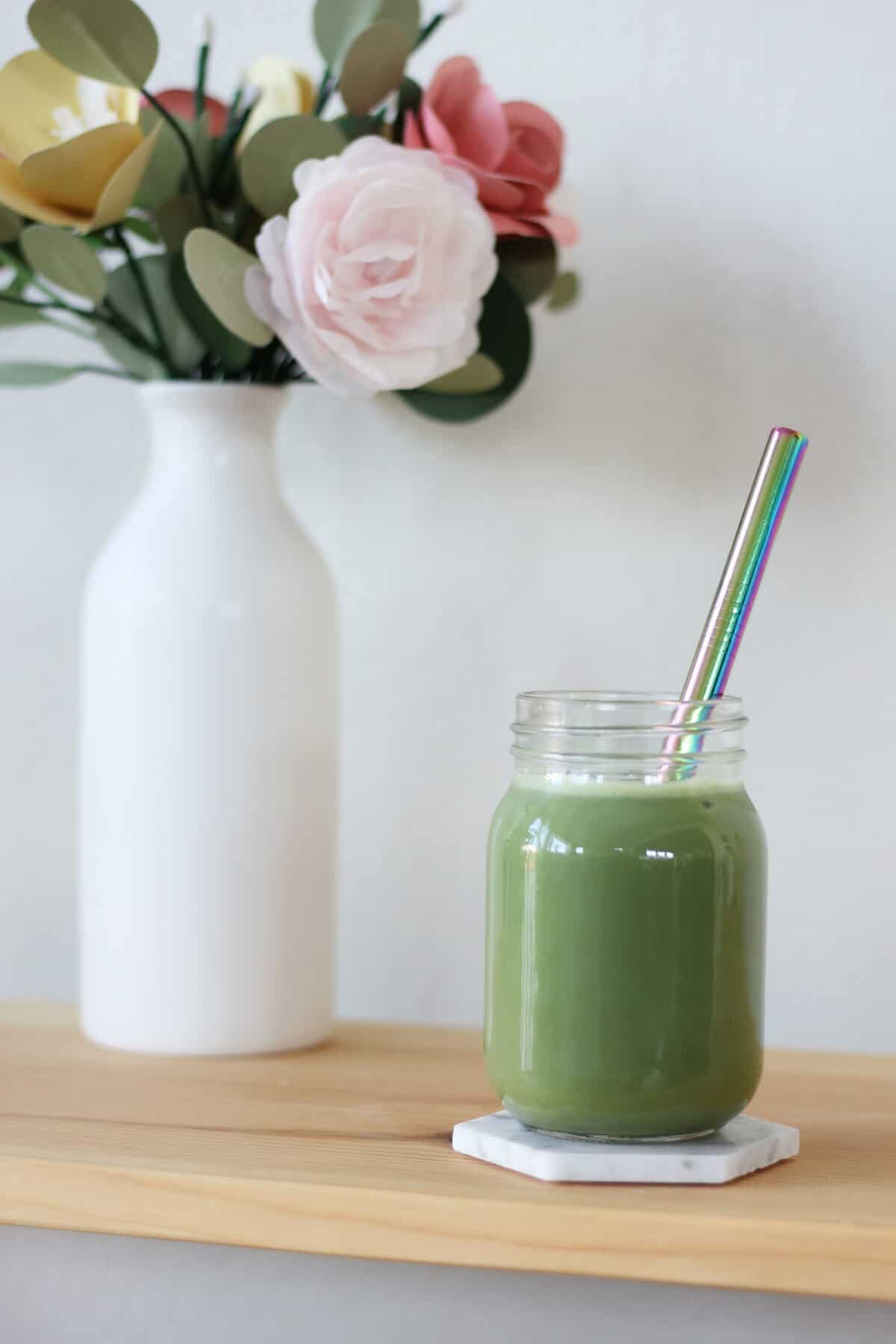 Give the drink a good stir before sipping!
Make Ahead
You can definitely make this ahead of time. Store in the fridge in a covered container (no ice!) for up to a few days, then add ice right before serving.
Variations
Sweetener
Granulated sugar (aka white sugar) is the recommended sweetener here, since the matcha and the espresso both have enough flavor. You want the focus to be on them instead of the sweetener.
Honey, agave nectar or another mild sweetener would be a good substitute. Or, if you're a fan of brown sugar pearl milks, then using brown sugar gives you a little bit of that vibe!
Milk
I typically use unsweetened, unflavored soy milk in my drinks out of personal preference and convenience. That being said, use whatever milk you'd like!
Though if I can insert a bit of a suggestion – pick something that is creamy. This isn't the place for watery brands of oat milk, or sad, sad rice milk (unless you add a dash of coconut milk or creamer to compensate).
If the milk you use is sweetened, make sure that you adjust the amount of sugar you add to the espresso to account for this.
Hot
This recipe is written to be iced, though you can definitely make this hot instead if you'd like. The ice does dilute the drink, so you might want or need to add a bit of hot water or more milk if you make it hot.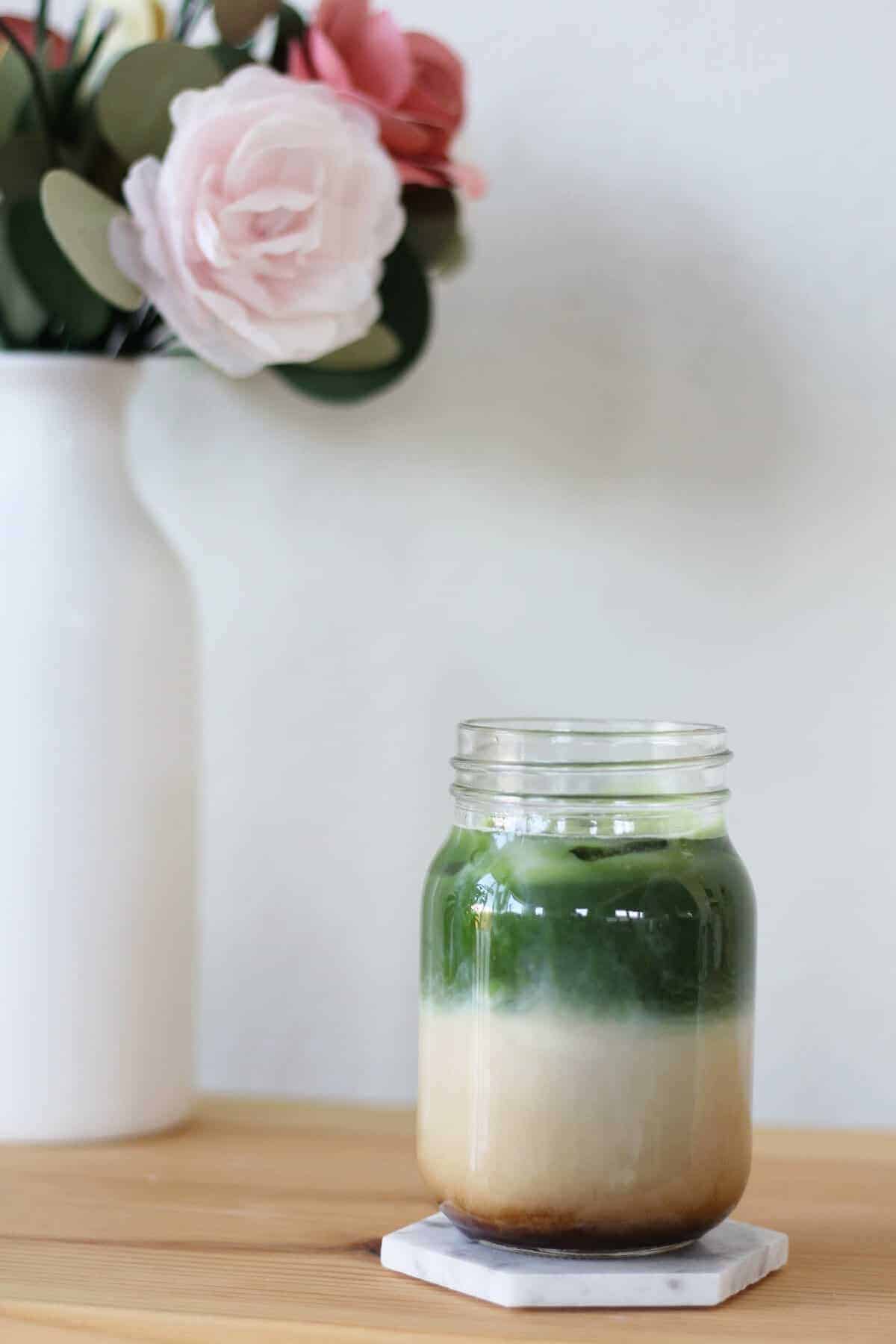 Matcha Espresso
This matcha espresso drink is a refreshing blend of sweet iced coffee and creamy green tea!
Keyword:
caffeine, coffee, dairy-free, egg-free, espresso, gluten-free, grain-free, green tea, iced, matcha, no-bake, no-cook, non-alcoholic, nut-free, tea, vegan, vegeatarian
Ingredients
1

cup

hot water

1 ½

tablespoon

espresso

1

tablespoon

granulated sugar

or to taste

1

pinch

salt

2

teaspoon

matcha

1

cup

milk of your choice

ice

to serve
Instructions
Make 1 shot of espresso using ½ cup hot water and the espresso. I like using a Moka pot! Stir in the sugar and salt. Cool to room temperature, then refrigerate until cold.

In a small bowl or cup, whisk the remaining ½ cup hot water with the matcha until dissolved. Make sure it's well combined, since you don't want a powdery drink. Cool to room temperature.

Add some ice to a tall glass. Pour in the espresso, then milk, then matcha. If you'd like to layer the drink (rather than having it all it mix together immediately), hold a spoon tipped very slightly downward with the tip touching the side of the glass, pour the milk, then the matcha, into the spoon slowly. Add a straw if you'd like and serve cold.
Recipe Notes
Feel free to substitute the sugar with brown sugar, agave, honey or maple syrup.