How to Make It
First: the matcha (it is a matcha macchiato after all!).
Ideally, this would be in a matcha bowl with a bamboo whisk, which helps release the flavor and aroma, similar to how you would bloom your spices before you make curry, or how bartenders smack the citrus peel around before adding it to a drink.
If you don't have a bamboo whisk, you can use a metal whisk.
Combine the matcha powder with hot water. It needs to be hot, because matcha doesn't really dissolve in cold water, and you don't want a powdery drink.
Mix in the honey and salt, and make sure both are completely combined into the hot matcha. Let the matcha cool slightly while you work on the milk foam.
Steam some milk, whichever way you want. It should be hot to the touch, but it shouldn't be scalding hot or have a skin on the surface.
Froth the milk. Again, do this however you please.
I like using my biceps, a whisk and a minute of my time. You can roll the handle of a whisk between your palms and ta da, milk foam!
If the matcha separated while you were tending to the milk, give it a quick stir to re-combine.
Pick out your favorite glass, ideally clear so that you can see the layers, and pour the matcha in.
Gently spoon the milk foam (only the foam, not any of the milk) on top of the matcha, then serve immediately! If you let it sit for a long time and dwaddle before enjoying, the foam starts to melt into the matcha a bit.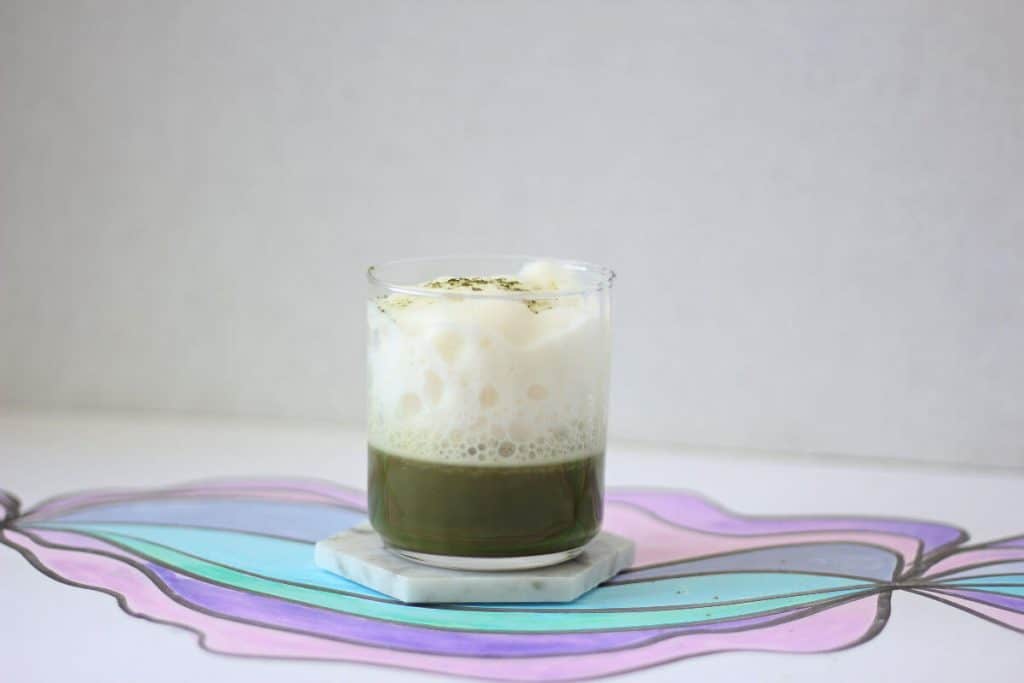 Matcha Macchiato vs Matcha Latte
There's two main differences between a macchiato and a latte (whether it's matcha or not): the foam and the volume/concentration.
A macchiato has steamed and frothed milk, and that foam goes on top of the shot of espresso or matcha. It's a lot more concentrated than a latte, since it only has the milk foam to dilute the tea or coffee.
On the other hand, a latte doesn't have milk foam on top, and it has a lot more milk mixed into the coffee or tea. The volume of the drink is larger than a macchiato, and the strength of the main flavor is weaker.
If after reading that you'd rather have a matcha latte, how about this matcha rose latte or this matcha latte with vanilla bean?
Variations
This drink is meant to be served hot. However, if you don't live in what I term as the Seattle of the San Francisco Bay Area like I do, you can ice it down for summertime.
You still need to make the matcha hot so that the matcha powder dissolves fully, and then you can add ice to the matcha when you serve it.
If you don't want to use honey, that's fine. I'd recommend a neutral or mild sweetener, since matcha is bright and grassy, and something like a maple syrup or brown sugar would weigh the tea down.
You can use whatever milk you'd like! I usually use soy milk since that's what I have on hand, and I find that it foams and whips up nicely despite all the online opinions pshawing at how soy milk makes a thin foam.
Whole milk is another good option. Can't speak towards any other kind of milk, since I haven't used anything else, but let me know how it goes if you try it out!
Re: steaming the milk, you can do this however you'd like. I'm lazy, don't like dishes and don't have fancy equipment, so I microwave it carefully and check on it often.
You can use a milk steamer, or heat the milk up on a pot on the stove, if one of those options are more your vibe. Frothing the milk also allows for some flexibility. If you're not in the mood for some physical exercise, a milk frother or coffee press (or maybe even a hand mixer or stand mixer) could work instead since all you're trying to do is agitate it enough to get foam.
Matcha Macchiato
This matcha macchiato has a concentrated dose of almost too bitter matcha, but a little sweetness and a mound of milk foam on top balances everything out.
Cuisine:
Italian, Japanese
Keyword:
egg-free, gluten-free, green tea, macchiato, matcha, non-alcoholic, nut-free, tea, vegetarian
Ingredients
1

teaspoon

matcha

⅓

cup

hot water

½

tablespoon

honey

1

pinch

kosher salt

½

cup

milk
Instructions
In a medium bowl or cup, whisk together the matcha and hot water until the matcha is completely dissolved. Mix in the honey and salt until combined.

Heat up the milk until hot to the touch. I like using the microwave because it's quick, but if you have a milk steamer or prefer to do it over the stove, that's fine too.

Either use a whisk or your preferred milk frothing apparatus and froth the milk until you see the milk almost triple in volume, about 1 minute. It should hold a firm foam. I place the whisk in the cup of milk, then roll the handle between my palms until I'm satisfied with the volume of foam I have.
Recipe Video
Recipe Notes
You can use any kind of milk you'd like. I've only tried this with whole milk and soy milk, so the foam might be a little thinner and less stable if you use another kind of milk, but it will still be delicious!