this matcha rose latte is a tasty combo of strong matcha and sweet rose (in flavor and color!) milk.
i know i've posted a lot of matcha on the blog. at this point, you probably think i sprinkle it like fairy dust around me, or that i use it as color correcting powder for my face (fret not, instead i'm trying not to fall in love with my sample of drunk elephant's protini polypeptide cream because i don't want to want to purchase this after my small tub is dry). anyways, i can't help my addiction to how strong and flavorful matcha is though, and it stands up to other flavors in baking and drinks like other teas wouldn't.
this matcha rose latte takes a note from the traditional matcha latte, the creamy base with the strong matcha finish. it also has a hint of rose, the tang of raspberry, to help break through that chilly winter gloom once the newness of the year, of the decade (happy 2020!!), wears off.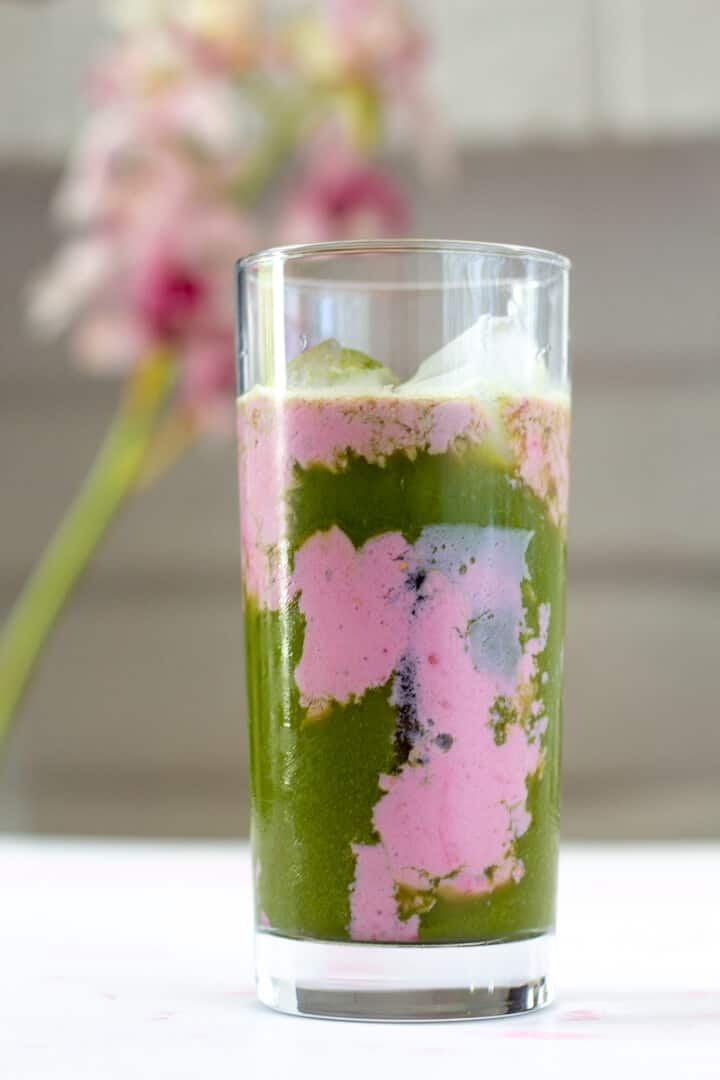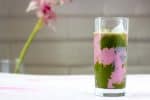 Matcha Rose Latte
This matcha rose latte is a tasty blend of strong matcha and rose-flavored milk.
Cuisine:
Fusion, Japanese
Keyword:
egg-free, freeze-dried fruit, gluten-free, grain-free, green tea, iced, matcha, milk, nut-free, raspberry, rose, rose water, rosewater, tea, tea latte, vegetarian
Ingredients
½

cup

hot water

½

T

matcha

¾

cup

vanilla soy milk

cold

½

teaspoon

rosewater

2

T

freeze dried raspberry powder

ice
Instructions
Mix the hot water and matcha until the matcha is dissolved, then set aside. Cool completely to room temperature.

Mix the soy milk, rosewater and raspberry powder until combined.

Add ice to fill half a tall glass. Pour the rose milk into the glass. Slowly pour the matcha on top, pouring it onto a spoon positioned at a 45 degree angle pointing down into the rose milk, ½ inch above the milk. This is to prevent the milk and matcha from mixing. Serve!
more green tea besides this matcha rose latte