why wait for summer to officially arrive before you slurp up a citrusy, matcha-filled pineapple green tea slushie?
the last handful of years have been divided by quarters - first by academic quarters, now by fiscal quarters (ugh i definitely to the holidays as q4 last year). it's the end of q1, and i've been thinking about my 2019 goals that i posted at the beginning of the year. i'm surprised that i'm actually making some solid progress - i've been doing yoga and/or zumba at least once a week (went to a fitness marshall class this weekend and wow that was fun!!). volunteered a measly 2 hours at the food bank last week (hey, it's a start). i didn't blog last week (mostly because i didn't realize that artichokes need to get boiled before they get grilled, unless you want crispy fibrous artichoke jerky).
is any of that related to this pineapple green tea slushie? not really. unless you want to count pineapple and matcha as vegetables. at that point, is milk tea a vegetable, and can i justify making a trip to la for bopomofo to satisfy my veggie goal? please and thank you.
all rambling aside, this pineapple green tea slushie is a riff off of the pig and quill's iced citrus matcha latte, but with more orange zest and more pineapple. it's more citrus-y, and with a higher ratio of frozen pineapple to milk (i like unsweetened soy milk, anything goes), it becomes thicc and rich enough that you can forgo the coconut whip she likes on top. it's the kind of drink that is gently sweet and not horribly unhealthy. it's perfect for ushering in q2 and all the sunshine and candy-like fruit that comes with this time of year.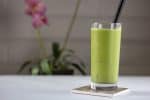 Pineapple Green Tea Slushie
This pineapple green tea slushie is almost like a pineapple and orange smoothie, with a hint of matcha to cut through all the sweetness and tang from the fruit.
Cuisine:
American, Fusion
Keyword:
dairy-free, drinks, egg-free, fruit, green tea, matcha, non-alcoholic, nut-free, orange, pineapple, smoothie, tea, vegan, vegetarian
Ingredients
3

cups

almond or soy or light coconut milk

juice of 1 orange

finely grated zest of 2 oranges

2

T

maple syrup

or to taste

½

teaspoon

vanilla extract

2 ½

T

matcha

2

cups

frozen pineapple

⅛

teaspoon

kosher salt
Instructions
Combine all ingredients in a blender. Blend until the pineapple has been broken up and the drink is a thick, slushie/milkshake/smoothie like consistency. Serve cold.
Recipe Notes
From The Pig & Quill.
If you're new to matcha or don't like strong tea, I'd recommend cutting down the amount of matcha to 1 ½ T or 2 T.
Haven't tried this, but it could be interesting to use frozen orange chunks instead of pineapple! Let me know how it goes if you try that.
spill the tea, or other tea drinks besides this pineapple green tea slushie