What is honey toast?
I first had honey toast (also know as brick toast, given the shape, or Shibuya toast, since it originated from Shibuya, Japan) at Shokudo in Hawaii. I wasn't convinced at first- the name is unassuming, and I could squirt honey out of a plastic bear on a piece of toast at home for much cheaper than $9+. However, this isn't merely a slice of toast. It's a box made of toast, filled with toast. Warm, crispy, honey-scented, buttery toast that softens slightly as the ice cream on top melts.
How to make honey toast
The first step to make this honey toast is to get the right kind of bread; it should have sharp corners (not a rounded top like you might see in most grocery shops and bakeries), and not be sliced, like the shape in this shokupan. (You could make your own bread, although full transparency: I have never, and will likely never. I might be sheltering in place, but I'm prioritizing educating myself on how my prior notions and understanding of race weren't nuanced, and what solutions could be better than our current police, than making my own shokupan). I can find unsliced loaves pretty reliably at Japanese grocery stores in the bakery sections, and occasionally at Chinese markets.
Could you use a rounded loaf of bread? Sure, the only difference is that one of the walls of the box will be rounded. Can you used a sliced loaf of bread? Sure; the toast won't look quite the same as it would with one big block of toast, but it will still be delicious.
Once you have the bread, you need to hollow out the inside. Set the bread on your cutting board so that the side touching the cutting board is shorter than the sides standing up. Make 4 vertical cuts parallel to the walls of the toast box, keeping a 1 inch border between your cut and the walls/bottom to make sure the box has structure; then gently pry/rip the loosened cube from the bottom, and you have your box! Cut the piece you removed from the box into cubes. The hardest part is over.
Douse everything in honey butter, toast it til crispy, add toppings and serve!
How do I make honey toast faster/easier?
Maybe you're thinking, it's a Wednesday afternoon, I'm in need of a mid-day dessert NOW and I don't care how pretty it looks. You could definitely smear some butter on a piece of soft white bread, drizzle with honey, toast it and top it.
What are good honey toast toppings?
Ice cream: my one non-negotiable. You could also make an argument for whipped cream, and I wouldn't argue (that long).
Fruit: for juicy tartness. I'd use fresh fruit plain, or if you only have frozen or dried fruit, making a quick compote works (microwave the fruit with some water for a few minutes until the fruit is defrosted/rehydrated, then mash it)
Jam: you could thin out the jam with a little bit of water until it's drizzleable, and use that instead of fruit or sauce!
Sauces: a little bit of chocolate or caramel, or even maple syrup!
Cookies: pirouettes, Pocky, Oreos, or anything crunchy/crispy. These are more for aesthetic than adding needed crunch (since the toast is already crispy), though still fun to add
How do you eat honey toast?
Put your knives away; I can't tell you how many times a group of friends and I circled a plate of honey toast with only forks and came out victorious.
Is honey on toast good?
YES. Honey drizzled on post-toasted bread is good, but when the honey gets toasted as well, it caramelizes and gets stickier (a good thing!). The bread is all crispy, buttery and sweet, and it gets a little soft from the melty ice cream.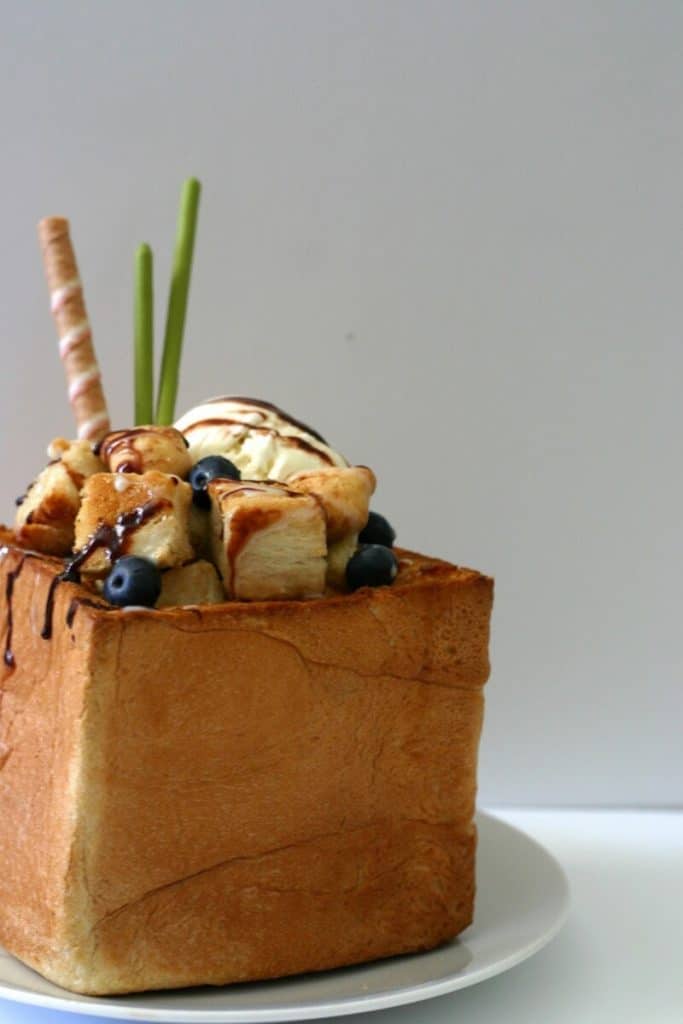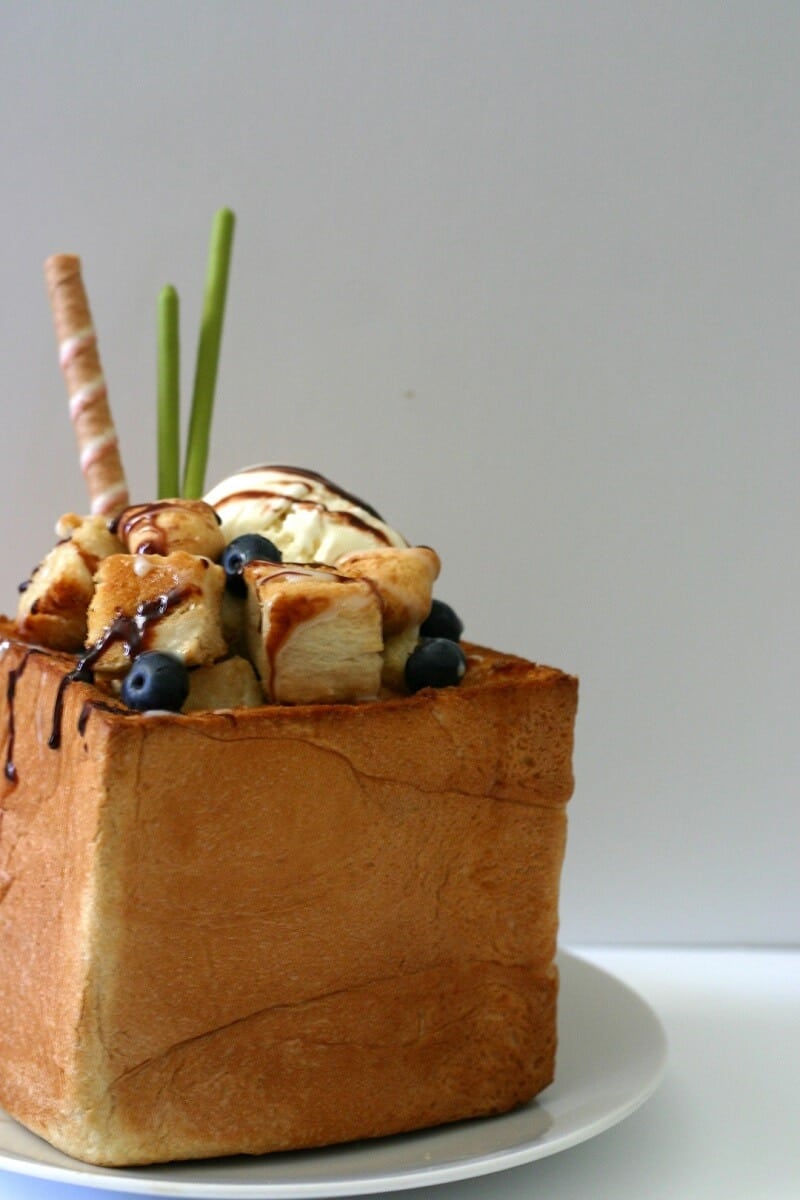 Honey Toast
Think of the honeyed buttery toast that you love for breakfast, reimagined into dessert and topped with ice cream, cookies and fruit!
Cuisine:
American, Fusion, Japanese
Keyword:
egg-free, honey, ice cream, nut-free, toast, vegetarian
Ingredients
5"

thick unsliced sandwich bread

⅓

cup

unsalted butter

softened

¼

cup

honey

1

teaspoon

vanilla extract

½

pint

blueberries

¼

cup

chocolate sauce

3

scoops

vanilla ice cream

cookies for decoration
Instructions
Set the bread on your cutting board so that the side touching the cutting board is shorter than the sides standing up. Make 4 vertical cuts parallel to the walls of the toast cube, keeping a 1 inch border between your cut and the wall to make sure the box has structure. Make sure that your cut stops 1 inch from the bottom of the toast as well, to make sure the bottom isn't too thin. Gently wiggle this cube out of the box (you may have to gently rip it from the bottom). Cut this cube into bite-sized cubes.

Combine the butter, honey and vanilla until homogeneous. Spread on the insides of the toast box, and all the cubes.

Bake the toast box and cubes at 350F for about 8 minutes, or until golden brown and crispy. You can do this in your toaster oven if it's big enough (or a conventional oven if using a toaster oven isn't an option).

Fill the toast box while still warm, layering in the toast cubes and fruit. Add the ice cream and cookies on top, and drizzle with more honey. Serve immediately.
Recipe Notes
I decorated this honey toast with blueberries, pirouette cookies and matcha Pocky, but feel free to use whatever you'd like!
More Japanese Dessert Recipes