we react to words in different ways. for instance, "interesting" to some people could mean what it was originally meant to be. "interesting" to my mom implies unusual, and not in a complementary way.
in some of my friendships, i filter myself and how i phrase my words more. i can be a blunt, possibly even verbally aggressive, person, and there are some people who can't handle that. that's fine. we'll just talk about classes and whatnot. and then there are the people who can handle my heat, and i'll rant to them about whatever or tell them about insignificant little things in my day. probably in caps, perhaps with some autocorrect mistakes ("delirious" turned into "delicious" the other day. that was not my point, especially since my sentence in relation to finals studying, "we're all delirious," became, "we're all delicious." ack), sometimes with a vastly different language. that's why i'm not fazed by some things that, for lack of a better phrase, would cause others to be like, "AW HELL NO." (somehow my family picked up on this phrase and i'm not sure how/why this came to be).
like anything, we're shaped by the experiences we've had, the people we surround ourselves with, the beliefs we live by. so to me, the kind of person who has had plenty of sweets in her life but doesn't like particularly sugar-y things, "honeyed" has a cloying, candy corn (this is a disgrace to all candy everywhere, make no mistake) ring to it that i don't like. good thing this is honey toast and not honeyed toast (;
i first had honey toast at shokudo in hawaii. i wasn't convinced at first- the name is unassuming, and i could slather honey on a piece of toast at home for much cheaper than $9. BUT. this isn't merely a slice of toast. it's a box made of toast, filled with toast. warm, crispy, honey-scented, buttery toast that slackens ever so slightly as the ice cream melts. i've decorated the honey toast here with fruit and chocolate and cookies, but as long as you have the honey toast and ice cream, you're set.
1 year ago: Maple Persimmon Upside Down Cake, Eggplant Parmesan Melts
2 years ago: Huckleberry's Chocolate Chunk Muffins, Stovetop Granola: Cinnamon Apple Coconut
3 years ago: Chocolate Meringue Cake with Whipped Cream and Raspberries, Lemon Raspberry Cupcakes
4 years ago: Basic Scones, Espresso Bark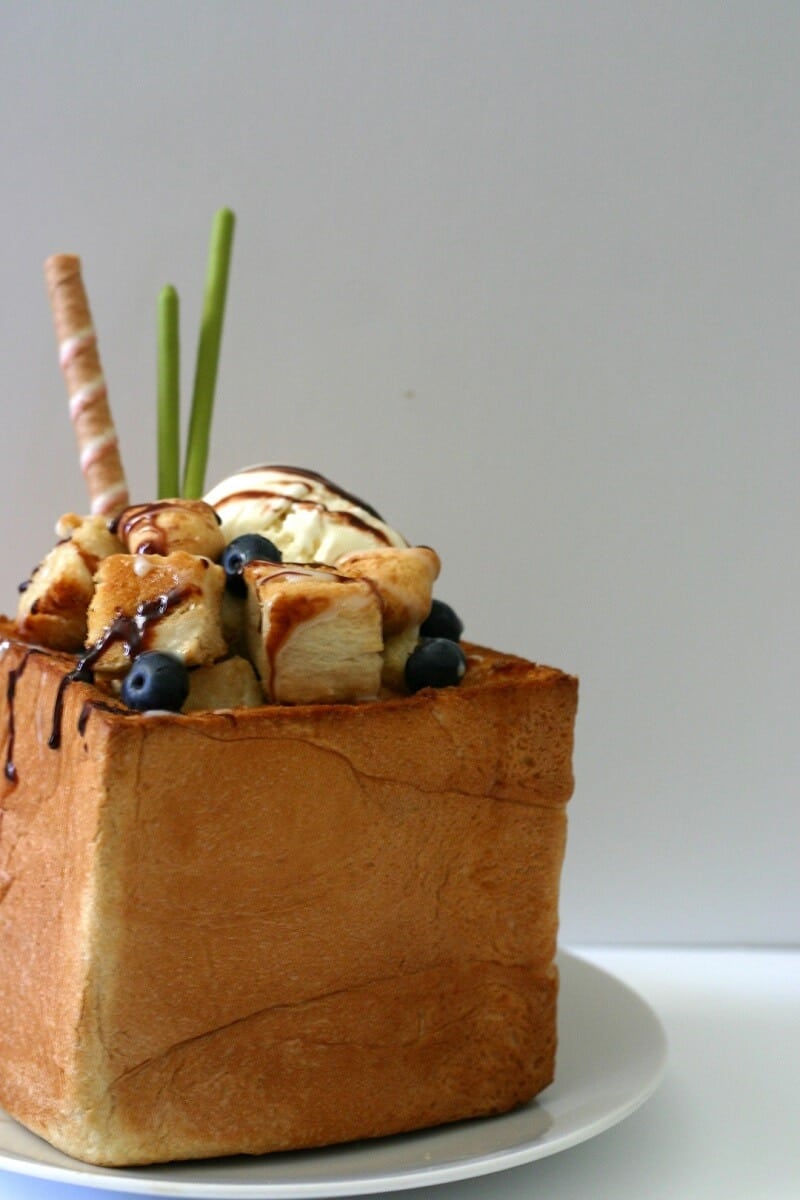 Honey Toast
Think of the honeyed buttery toast that you love for breakfast, reimagined into dessert and topped with ice cream, cookies and fruit!
Cuisine:
American, Fusion, Japanese
Keyword:
egg-free, honey, ice cream, nut-free, toast, vegetarian
Ingredients
5"

thick unsliced sandwich bread

1/3

cup

unsalted butter

softened

1/4

cup

granulated sugar

1

tsp

vanilla extract

3

scoops

vanilla ice cream

1/2

pint

blueberries

1/4

cup

chocolate sauce

cookies for decoration
Instructions
Cut the bread in half crosswise. Cut out a square: make 2 incisions vertically on top and another 2 incisions horizontally. Make sure to leave an inch from the edges and bottom of the bread. For the first brick, make an incision on one side, 1 inch from the bottom, leaving 1 inch from the corners as well. For the other brick, just cut out a square leaving 1 inch from the edges. Now set aside the 2 bricks. Cut the insides into small cubes.

Combine the butter, sugar and vanilla until homogeneous. Spread on the insides of the bricks, and all the little cubes.

Bake at 350F for about 8 minutes, or until golden brown. You can do this in your toaster oven if it's big enough (or a conventional oven if using a toaster oven isn't an option).

Fill the 5-sided brick with cubed bread and fruit. Drizzle honey on top. Place the hollow brick over the first brick, twisting slightly. Add more cubed bread, fruit and cookies (cookies optional). Place the ice cream on top, and finish with more drizzled honey.
Recipe Notes
From Eugenie Kitchen.
I decorated this honey toast with blueberries, cigar cookies and matcha Pocky, but feel free to use whatever you'd like!
more japanese (ish) desserts