This Spam pasta has major pasta salad vibes. It's crunchy and fresh and salty, and probably the perfect thing to bring to a summer picnic.
Ingredients
Spam
You can't have a Spam pasta without Spam. It's salty and bouncy and soft, but it firms up a little bit after getting pan-fried.
I like to use Spam lite or low sodium Spam, since the classic is way too salty for my tastes. Should this Spam still be too intense, I'd recommend cutting it into smaller pieces than you see here.
And if you're not sure what to do with any leftover Spam, how about Spam musubi, or Spam kimbap? You can't go wrong with fried rice with bits of Spam in it, so that could be a good option if you're too lazy for those other ideas.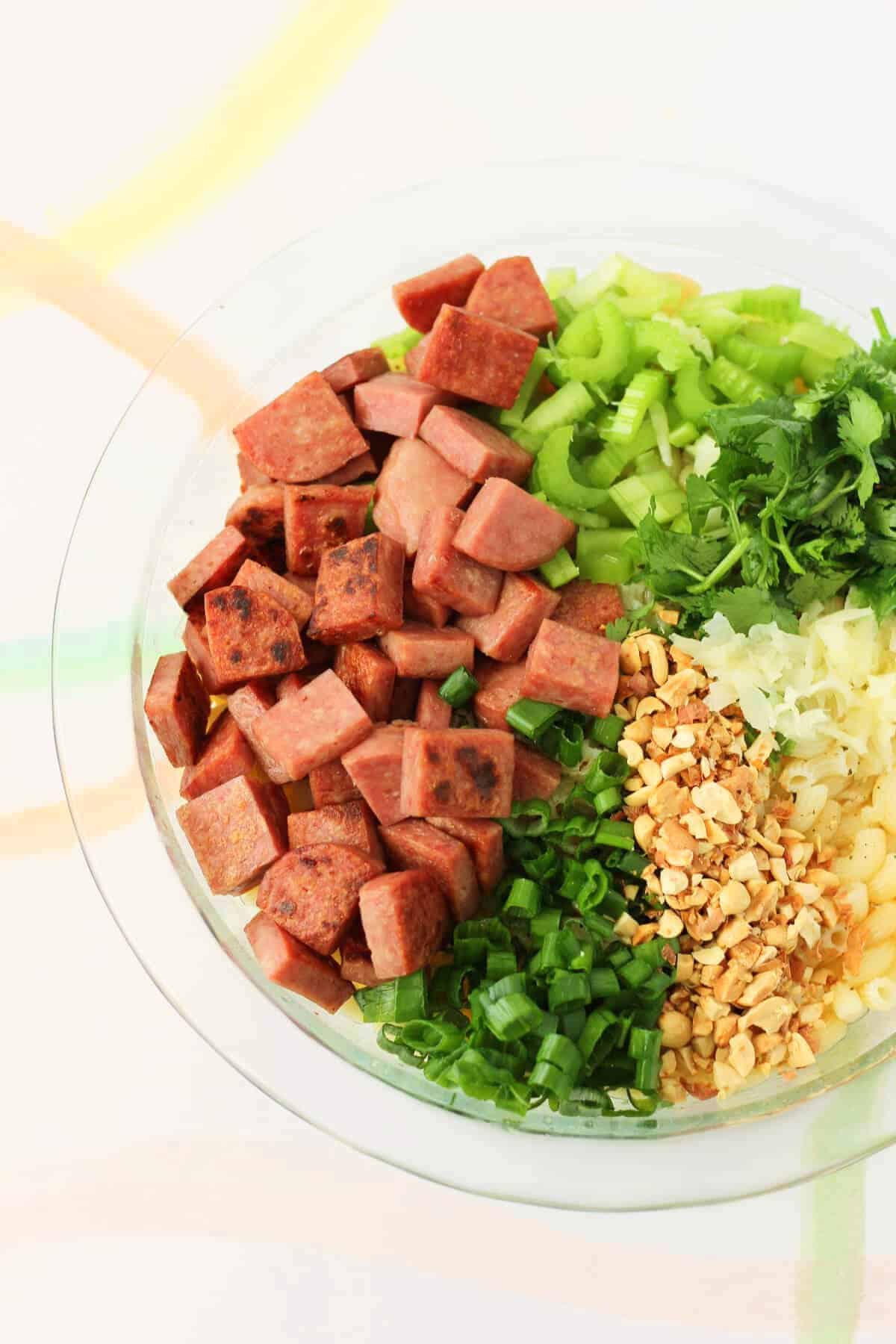 Pasta
Anything works here – any shape, any size, any flour (or non-flour).
I used mini elbow noodles in these pictures because that sounded cute, but I'm thinking something really nutty like soba or something chewy like knife cut noodles would also be tasty.
How to Make
Cook the pasta until it reaches your desired doneness, then drain off the water and set the pasta aside.
Then, set a non-stick pan over medium-high heat and add the Spam cubes in a single layer. The Spam has plenty of fat, so no need to add oil here.
Let them pan-fry until crispy on one side, then flip to an uncooked side.
I typically cook a few sides and call it a day. That being said, you can cook the Spam as crispy as your heart desires.
Maybe your meditative state is best achieved among the crackling fat from processed meat, and you want to spend the time to perfectly crisp each and every edge, so who am I to judge?
Once the Spam is as crispy as you want, transfer the cubes to a paper towel lined plate and let the excess oil drain off.
In a large mixing bowl, combine the sesame oil, olive oil, soy sauce, salt and pepper, vinegar, and pickled ginger brine. Toss in the pasta, Spam, cilantro, celery, peanuts and pickled ginger until everything looks evenly distributed.
Give the salad a taste, and adjust for any seasonings if needed before serving!
Make Ahead
This recipe would be great made ahead of time, especially since the flavors will meld together and the pasta will soak up more of that delicious vinaigrette if it sits a bit.
I'd toss the pasta with the vinaigrette together, then wait to add the Spam, nuts and herbs until you're ready to serve. This keeps the Spam and nuts crispy, and the herbs fresh and perky.
Variations
This is a pasta salad, not a chiffon cake, so you can mix and match the ingredients depending on what you like and what you have.
Serving Temperature
One of the beauties of this dish is that it can be eaten hot or room temperature or cold (and I don't mean like cold coagulated cacio e pepe).
It tasted super fresh and crunchy and bright on day 1, but the leftovers heated up until steamy on day 2 were equally as tasty.
I'm not a huge fan of pasta that's still cold from the fridge; if you are, though, you'd probably like it cold as well.
Nuts
The peanuts can be subbed for almonds, cashews, sunflower seeds, or another kind of nut or seed. So long as they're crunchy and toasted (raw nuts and seeds are so sad tasting to me), you're good to go.
Herbs
I used cilantro here, though I know that this is a controversial herb. Basil (ooooo especially Thai basil), mint, perilla leaves, or even a combo of those, would be my other picks to use in this recipe.
Celery
Celery isn't a must here either, so long as you have something crunchy and crispy and kind of watery. Cucumber or radish would be my next go to's, though I wouldn't be surprised if watermelon was a tasty alternative.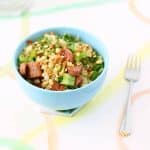 Spam Pasta
This pasta salad has plenty of crispy Spam bits, crunchy nuts, fresh herbs and a tangy pickled ginger and sesame oil dressing.
Course:
Dinner, Lunch, Main Course, Side Dish
Keyword:
celery, cilantro, egg-free, pasta, pasta salad, peanuts, pickled ginger, spam, vinaigrette
Ingredients
7

ounces

pasta

1

can

lite Spam

cubed

1

tablespoon

sesame oil

1 ½

tablespoons

extra virgin olive oil

1

teaspoon

soy sauce

¼

teaspoon

black pepper

¼

teaspoon

kosher salt

1

teaspoon

white vinegar

2

tablespoons

pickled ginger brine

½

cup

pickled ginger

roughly chopped

½

bunch

green onions

chopped

2

stalks

celery

finely chopped

½

bunch

cilantro

roughly chopped

⅓

cup

peanuts

chopped
Instructions
Bring a medium pot half full with water to a boil, then add a few big pinches of salt to the water. Add the pasta, and cook until it reaches your desired doneness. Drain off the water and set the pasta aside.

Heat a large non-stick skillet over medium high heat, then add the Spam and space them out so they have room to fry. Flip them onto uncooked sides as they brown, and cook until a few sides (doesn't have to be all but can be if you're patient) are browned, 3-5 minutes total.

Pour the Spam onto a paper towel lined plate, and blot off any of the excess grease.

In a large bowl, combine the sesame oil, olive oil, soy sauce, pepper, salt, vinegar, and pickled ginger brine. Add the pasta and toss to coat, then mix in the Spam, pickled ginger, green onions, celery, cilantro and peanuts.

Taste the pasta salad, and adjust seasonings if needed before serving!
Recipe Notes
This is a pretty forgiving recipe, so feel free to swap the seasonings and toppings as you see fit.
You can make this ahead of time; if you do so, you can mix everything but the Spam, nuts and herbs in (add these when you serve the dish).
Serving size and calorie count are assuming you're eating this as a side, but you can also eat as a main course.