this post for alton brown's pancakes was originally posted in march 2016! the pictures have been updated.
if someone's going to be making breakfast at home, it's usually my dad. weekend mornings consist of omelettes (usually with cheddar cheese, sometimes with smatterings of other things in the house- leftover caramelized onions, basil, tomatoes, avocado, mushrooms, etc), challah french toast, or alton brown's pancakes, tall and golden and studded with 5 chocolate chips each (exactly 5- he refuses to add anymore, and the rest of us would riot if he used less).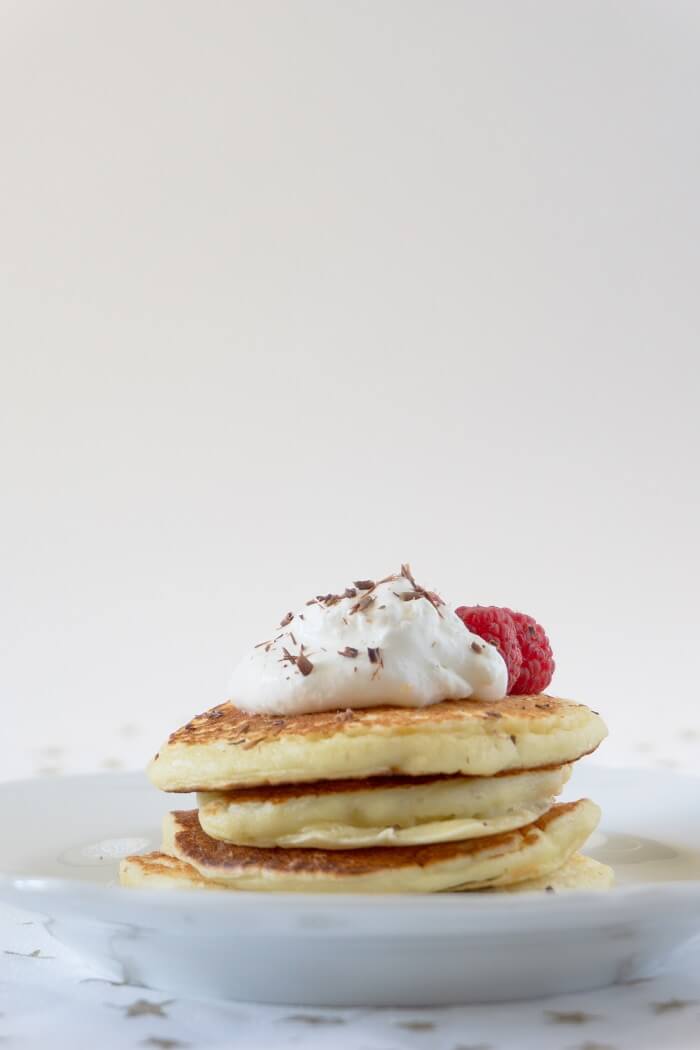 let's talk toppings real quick before i let you go. my dad does chocolate chips or plain (at which point there's usually a bowl of maple syrup on the table for dipping). for the batch photographed here, i did chocolate chips cooked into the pancakes, with a plop of whipped cream, chocolate shavings and raspberries on top. chocolate chip and blueberries is also a really nice combo; you get the sweet chocolate and the sweet/tart berries. plain ones doused in melted butter and brown sugar is equally unreal, and if you were trying to channel my cousin, the one with whom i had a standing tuesday baking date with (ahhh, those were the days, when there was weekday baking) as a kid and made countless batches of chocolate chip cookies with, you'd do the brown sugar/butter combo over chocolate chip pancakes. for lunch. enough said. or chopped crispy bacon, diced apple/pear/stone fruit/berries, dried cherries/apricots, toasted almonds/pecans/macadamias, you name it, it'll pass with flying colors. except for maybe apple and kielbasa pancakes, which are as weird as they sound, but i bet you knew that already.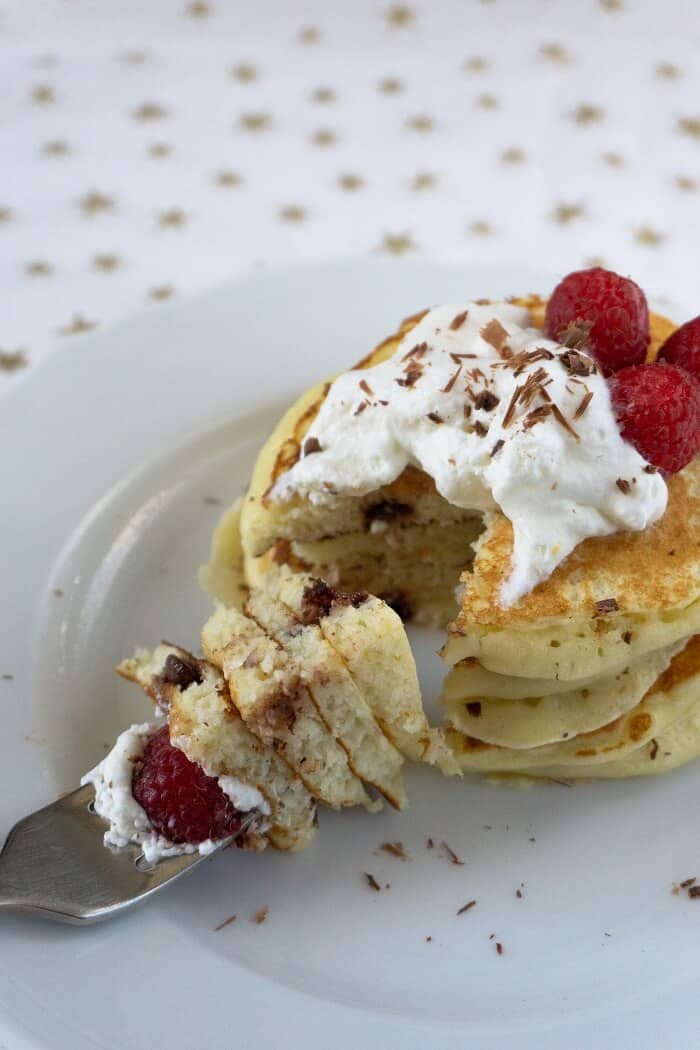 1 year ago: apple cake with almond crumb topping | travel guide to seattle
2 years ago: holidays at disneyland | seared mushroom salad
3 years ago: creamy espresso custards | caramelized onion and brie tart
4 years ago: eggplant parm | zha jiang mian
5 years ago: seaweed gochujang rice rolls | on toast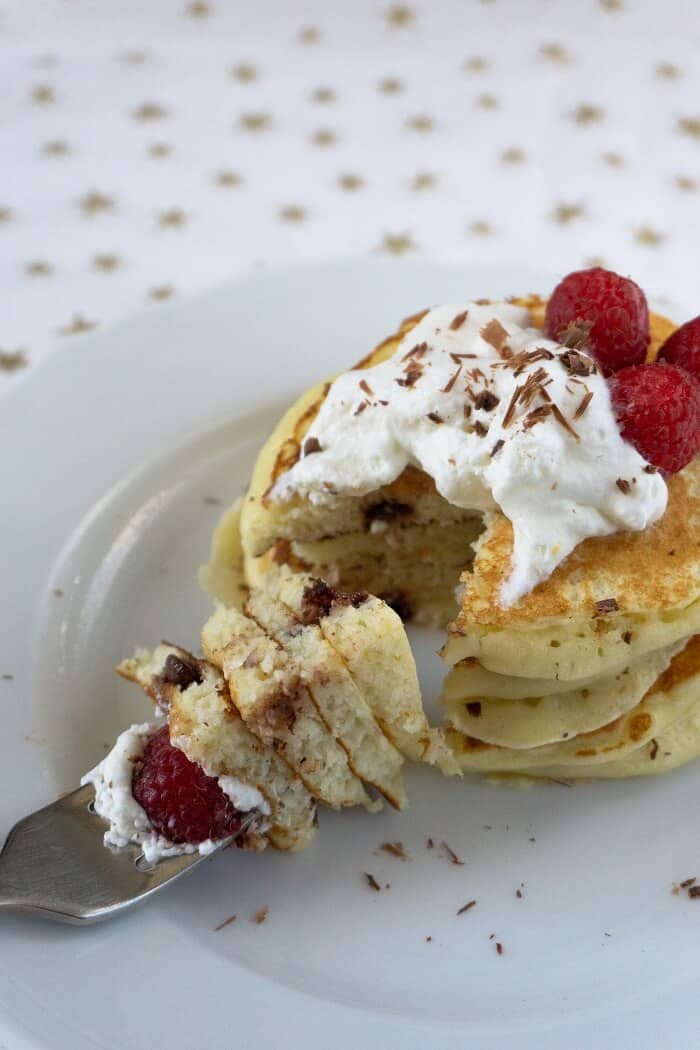 Alton Brown's Pancakes
Alton Brown's pancakes are so reliably good that they're my go to pancakes again and again.
Course:
Breakfast, Brunch
Keyword:
alton brown, nut-free, pancakes, vegetarian
Ingredients
Pancake Mix
1

cup

all-purpose flour

1/4

teaspoon

baking soda

1/2

teaspoon

baking powder

1/6

tablespoon

kosher salt

1/3

tablespoon

granulated sugar
Pancake Assembly
1

large egg

room temperature

2

tablespoons

unsalted butter

melted and cooled

1

cup

buttermilk

room temperature

fruit, chocolate chips, or other toppings
Instructions
Pancake Mix
Combine all ingredients. Use within 3 months.
Pancake Assembly
Whisk the egg and butter in a bowl, then whisk in the buttermilk.

Add to the pancake mix. Whisk until just combined. Don't worry about the lumps.

Ladle onto the griddle and sprinkle on toppings. Press in the toppings gently. When bubbles begin to set around the edges and the bottom is golden, flip. Cook until set.

more breakfast goodies besides alton brown's pancakes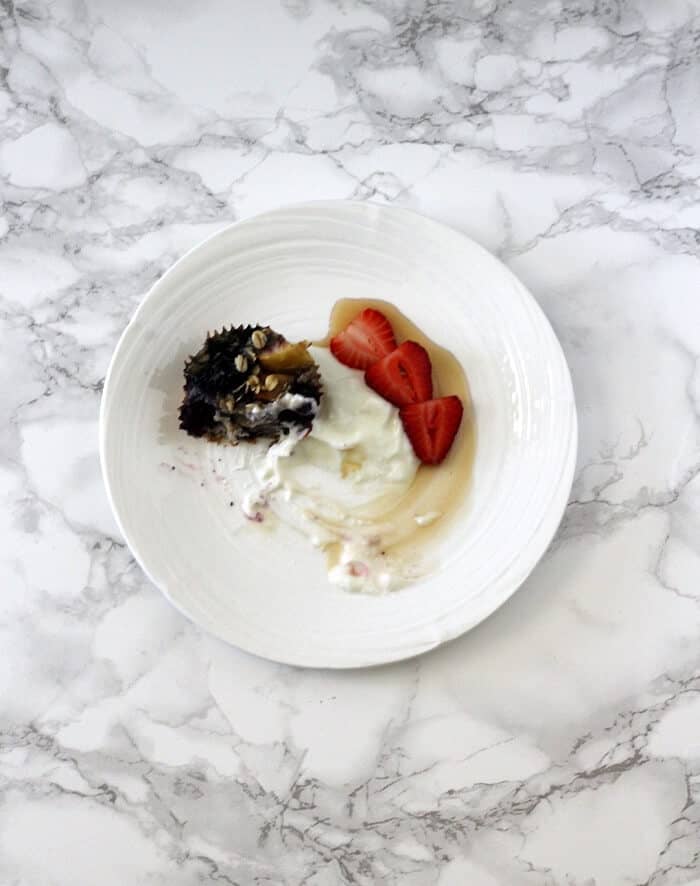 healthy baked oatmeal with apples and blueberries