last summer was my first time in a couple of years that i hadn't volunteered as a middle school softball coach (almost typed couch. i'm always a couch). and though i'm undecided on the having kids thing at the moment, and decidedly against being a softball player, i missed it. maybe it's the way they make me feel young again (because i'm essentially elderly at this point and because one of them thought that i was trying out ie a middle schooler sigh), or how casual it is, or because i'd rather see softball in a strategic, rather than actually executing it, kind of light.
so that's probably the reason why i signed up to help coach a recreational girls softball team this past spring. and despite the fact that i've coached multiple times before, this new age group + location changed things up a bit. 6, 7 and 8 year old girls are much different than 10, 11 and 12 year old girls. they flop on the dirt more, they cry more (these girls are much more difficult than the supposedly hormonal pre-teens). plus, i think there's something in the socal air- they all know the softball rules already and they all have gear. aka two things that most certainly were not given with the middle schoolers i worked with in the past. they brought out an olympian for opening day, even though i'm p sure none of my team knew who she was/cared. everyone else over the age of 12 was rightfully in awe when she did a pitching demo. and i look more like a parent, which led to questions about which child was mine. i don't think i've ever explained myself so fast.
but anyways. you came for some oatmeal, right? (or if you didn't, how about almond granola with lots of clumps? a matcha breakfast bowl perhaps?).
this healthy baked oatmeal with apples and blueberries, along with and all this softball (coaching little kids involves a fair amount of running after balls and such), is important for balancing out cake (in case you missed it: there's a jasmine green tea cake up from a few weeks ago) and mochi stuffed cookies.
it's perfect if you aren't into slimy oatmeal (another non-slimy oatmeal option: tiramisu overnight oats!), and i love the amount of sweetness. it's sweet enough where i'm not annoyed at my breakfast for playing at being sweet, and yet not so sweet that it's more dessert than breakfast.
i like serving this healthy baked oatmeal with apples and blueberries alongside some yogurt or milk and fresh fruit. sometimes with nuts, sometimes with a tiny drizzle of maple syrup. tbh, i'm also perfectly happy eating it plain. you do you.
1 year ago: kimchi cucumber naengmyeon | chewy espresso blondies
2 years ago: chocolate babka french toast with caramelized banana creme anglaise
3 years ago: garlicky sesame cured broccoli salad
4 years ago: thomas keller's chocolate chip cookies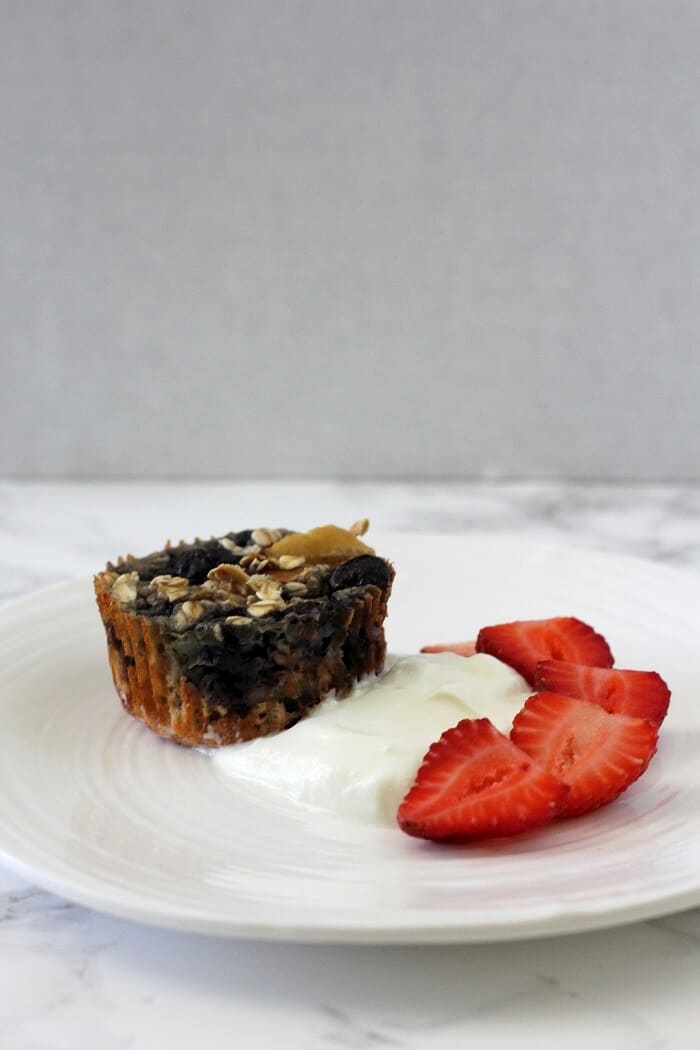 Healthy Baked Oatmeal with Apples and Blueberries
This healthy baked oatmeal with apples and blueberries is a tasty grab and go breakfast perfect for busy mornings.
Course:
Breakfast, Brunch
Keyword:
apples, baked oatmeal, berries, blueberries, breakfast, brunch, fruit, gluten-free, make-ahead, nut-free, oatmeal, vegetarian
Ingredients
2

cups

rolled oats

½

teaspoon

kosher salt

2

teaspoons

baking powder

2

tablespoons

brown sugar

2

large eggs

14

ounce can

low-fat coconut milk

1

teaspoon

vanilla extract

2

cups

frozen mixed berries

½

apple

finely chopped
Instructions
Mix the dry ingredients.

Mix the wet ingredients. Mix into the dry ingredients. Fold in the fruit.

Pour into a greased 9" round or 8x8" pan. Evenly spread mixture around the pan and press the fruit down so that they aren't sticking out. Alternatively, you can divide the mixture between 14 well-greased muffin cups (I'd recommend using liners).

Bake at 350F for 35-40 minutes or until center feels firm and edges have browned, or until the oatmeal tests clean. It'll be about 35 minutes for the cups, and 40+ for a pan. Cool 5 to 8 minutes before serving with yogurt and more berries.
Recipe Notes
Adapted from The Roasted Root.
You can use a different kind of milk if you'd like. I like using frozen berries because they're so easy to cheap (and no need to thaw). Don't bother peeling the apple- the peel softens in the oven, and unless you're super picky, it's not noticeable.
Calorie count does not include serving suggestion.