i recognize that i was veryyy lucky to have a solid month of break, and that this monday is day 1 of week 1 for me, and that i had the opportunity to fill that break with day trips to san francisco, lake tahoe and santa cruz, unlimited baking, and catching up on (and then getting deprived again, it's a never ending cycle) sleep.
but now i'm back at school, and already dreaming of the weekends. of volunteering at disneyland, of a retreat to the lake and mountains, of a friend visiting me so we can theme park (maybe universal studios instead of the usual disneyland) it up. not paying attention to marketing lectures at 8am.
in this return to real life with responsibilities and things to do besides baking/reading/hanging out/sleeping, i bring you broccoli gribiche, because my diet needs to be less toasted almond ice cream and more broccoli.
there's tender broccoli, soft/creamy egg and crunchy potatoes, all in a zingy, herby dressing (if you happen to have chimichurri on hand, highly recommend using that in place of making a separate dressing). considering how my lunches at school usually consist of hummus and carrots/cucumbers or cold tofu dressed with soy sauce and sesame oil, broccoli gribiche is basically my dream lunch.
1 year ago: Greek Yogurt Pasta with Caramelized Onions
3 years ago: Yaki Manju and Butter Mochi, Custard Mochi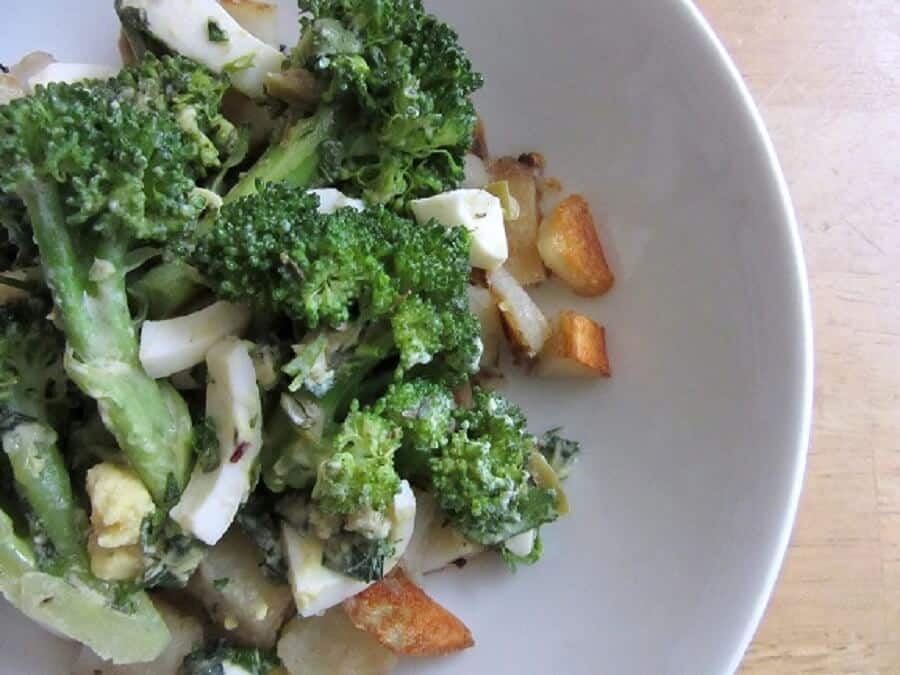 Broccoli Gribiche
The dressing for this broccoli, potato and egg salad gets its creaminess from mashed egg yolk instead of mayo or sour cream.
Cuisine:
American, French
Keyword:
broccoli, capers, dairy-free, dijon mustard, eggs, garlic, herbs, nut-free, potatoes, red wine vinegar, shallots, vegetarian
Ingredients
1 ½

lbs

fingerling or russet potatoes

chopped into bite-sized pieces

1

large head broccoli

chopped into bite-sized pieces

2

cloves

garlic

minced

¼

cup

extra virgin olive oil

4

hard-boiled eggs

1 cooked yolk set aside

1

teaspoon

Dijon mustard

2

T

red wine vinegar

2

shallots

finely diced

1

T

capers or olives

chopped

4

T

fresh mixed herbs
Instructions
Toss the potatoes with some oil and salt. Spread out into a single layer on a baking sheet.

Toss the broccoli with garlic, plus some oil and salt. Turn the broccoli out onto a baking sheet. Roast all vegetables at 400F for 15 minutes. Alternatively, you can saute the potatoes and broccoli separately, until the potatoes are golden and fork-tender, and the broccoli is crisp-tender.

Mash the egg yolk. Slowly whisk in the oil. Whisk in the mustard, then the vinegar. Add the shallots, capers and herbs, mixing well. Chop the remaining eggs and fold them in.

Combine the potatoes, broccoli and dressing, tossing everything to coat. Serve immediately for crispy potatoes, or in a couple hours after everything marinates.
Recipe Notes
Adapted from Heidi Swanson's Super Natural Every Day.
Herbage wise, she used parsley, tarragon and chives. I like any combo involving cilantro, basil, thyme and oregano. You can add some dried herbs, but the majority should be fresh!