tong yuen, or chewy sweet mochi balls, are typically eaten during the lunar new year. these unfilled ones are served with hong dou tang, or sweet red bean soup. it's the perfect hot, cozy dessert for the winter!
mulan was my favorite as a child. that was the only movie i'd watch, disney or otherwise, and of course one of my earliest birthday celebrations was mulan-themed. maybe it was because she was chinese, aka the only disney character that looked remotely like me at the time, or maybe because mulan kicks butt, plain and simple. but i was probably drawn in by all the food references. she pours tea for her fam, mushu makes her a breakfast of porridge (jook!) topped with bacon and eggs, and the best song in the whole movie mentions, "beef, pork, chicken, mmmmmmmmm." 
so, i wanted to make mulan-inspired apple tong yuen in oolong broth. tong yuen are chewy, rice flour-based dumplings floating in tong sui, or sweet soup (this can be anything from hong dau tong to sweetened water). my favorite ones are filled with nutty black sesame paste, but i was going to do a brown butter apple compote as a nod to mulan's grandma giving her "an apple for serenity." i was going to pair that with oolong soup, since pouring tea is a form of respect that children/younger people show to their elders. in typical heather fashion, i got ahead of myself. i discovered that i'm not a fan of apples in tong yuen, and the softness of the filling made successfully sealing the tong yuen impossible.
so here we are with plain, unfilled tong yuen in sweet red bean soup, the aforementioned hong dau tong, right in time for lunar new year. when i make red bean soup, it's literally red beans, water and a bit of brown sugar. not special, but the way the beans get all grainy is as familiar and comforting of a texture to me as molten cheese. same thing with the mochi-like tong yuen, the way it chews almost like really al dente pasta or unsticky taffy, and yet not at all. as a taurean (i say this jokingly but i also find a good amount of entertainment through co-star), i love decadence, so a splash of cream into the starchy beans and plump tong yuen only makes this hong dau tong tastier.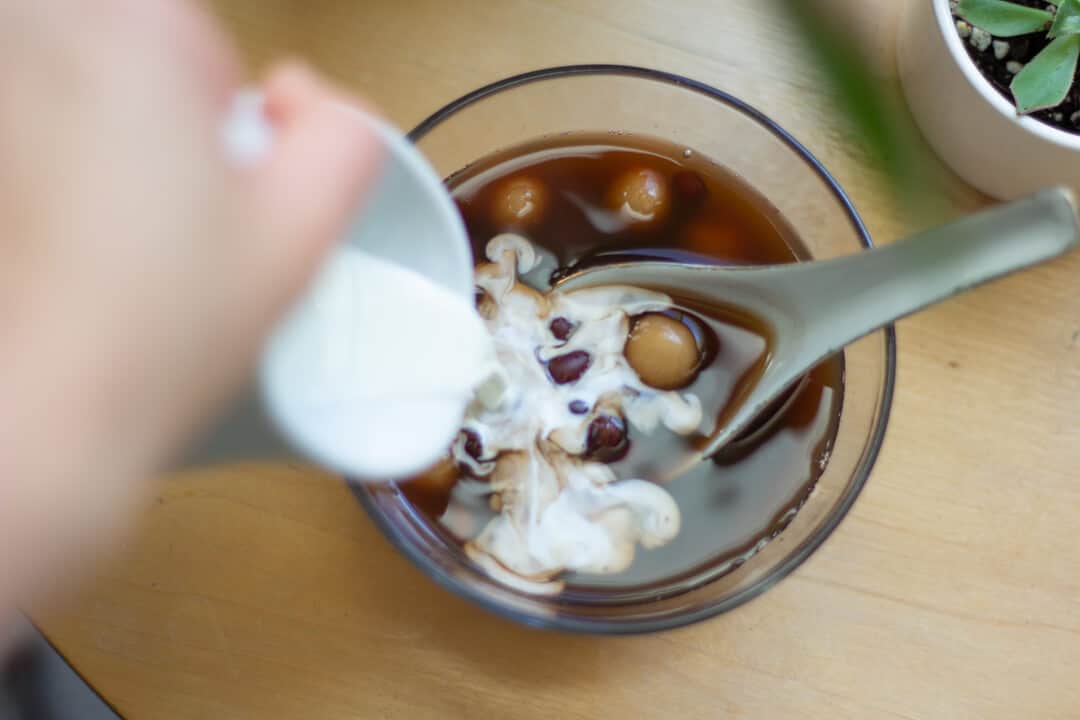 Hong Dou Tang
Hong dou tang, or sweet red bean soup, is a home-y Cantonese dessert soup. This one is served with unfilled tong yuen, or chewy mochi balls.
Cuisine:
Cantonese, Chinese
Keyword:
beans, brown sugar, dairy-free, egg-free, gluten-free, hong dau tang, mochi, nut-free, red beans, soup, sweet rice flour, tong sui, tong yuen, vegan, vegetarian
Ingredients
½

cup

red beans

1

cup

sweet rice flour

¼

cup

brown sugar

milk or cream

to serve
Instructions
In a large pot over medium heat, add the red beans and 8 cups of water. Let simmer for 2-2.5 hours, or until some of the beans are broken down. I like some of them whole, but you can let the beans cook longer if you like them more broken down.

While the soup is cooking, mix the rice flour with 7 T warm water until the mixture is homogeneous; it may be a little dry, but you'd rather it be too dry than too wet.

Split the dough in half, and roll each half into a log, then cut each log into 40 pieces. Roll each piece into a smooth ball (you may need to massage the dough a little bit to get it to stick together). You may be tempted to skip the ball forming step, but this will make sure the dough doesn't fall apart in the soup later.

Once the beans are done to your desired consistency, add the tong yuen. Stir to make sure the tong yuen don't stick together. Once the tong yuen float to the top of the soup, 3-5 minutes, they'r ready!

Serve the hong dou tang, making sure to spoon some beans and some tong yuen into each serving. You can add a splash of milk or cream to make it creamier, if you'd like.
Recipe Notes
Tong yuen from Chinese Snacks by Huang Su Huei.
This can be made ahead - just make sure that you heat up the hong dou tang enough so that the tong yuen are soft again.
other asian desserts besides hong dou tang