This post includes affiliate links. If you purchase through those links, we may earn a commission. Thank you for supporting Delicious Not Gorgeous!
How to Make It
This recipe has two main parts: the cake and the buttercream.
The cake is made using the reverse creaming method. If you're not familiar with that term, it basically means that dry ingredients (including the sugar, which traditionally isn't considered a dry ingredient) get mixed together before adding the wet ingredients.
I'm sure someone is like, I don't even know what the normal creaming method is?? How about this: butter + sugar are combined until light and fluffy, before adding the eggs, dry ingredients and wet ingredients.
The cookie dough from these mochi cookies and the cake from this Masala chai cake with Kahlua buttercream both use the creaming method.
Anyways, I like reverse creaming because you don't need to have room temperature butter to start baking, and you can drag out your oil and be ready to go in 10 seconds.
A little rosewater gets added to the cake for a hint of floralness. The cake doesn't need to bash you over the head with a bouquet, since the buttercream has rosewater too.
The batter gets poured into (well greased!!) cake pans, then bakes until golden and a toothpick comes out with a few crumbs attached.
If the toothpick comes out dry, that means your cake is overdone. If the toothpick comes out a gooey mess, keep the cake in the oven for a few more minutes before checking again.
Now, the buttercream. This is a Swiss meringue buttercream, where egg whites and sugar get heated, then whipped into a meringue before adding a hefty amount of butter.
Heating the egg whites and sugar (over a double boiler) does a few different things:
Cooks the egg whites so you don't get sick from raw eggs
Melts the sugar so you don't get crunchy crystals in your buttercream
When you heat it enough, it creates a much more stable and thick meringue
The cooked egg white and sugar mixture transforms from a yellow, slimy glop into shiny-white, opaque clouds. I really recommend a stand mixer to help you get this done, otherwise you'll be holding a hand mixer for 30+ minutes waiting for things to happen and hoping the motor doesn't die.
(Unless you're a bodybuilder or a masochist, if you only have a whisk, I suggest finding an easier recipe to make).
The meringue should hold stiff peaks. Don't try to cheat this step with droopy peaks, since adding the butter will soften the buttercream later on, and you don't want to start with a disadvantage.
Once the meringue holds stiff peaks, you can start adding softened butter a few tablespoons at a time, mixing in between to make sure the butter gets incorporated.
Here's when you might have to troubleshoot a bit. When in doubt, keep whipping, and the buttercream should come together.
If the buttercream is looking separated, keep the mixer going long enough, and your buttercream should smooth out. If it's looking a little soupy, place back in the fridge for 10-15 minutes, then whip it again.
Say you forget that buttercream in progress in the fridge (it happens), and it's a gross block of a mess. Try re-heating it over a double boiler just until the edges start to look a tiny bit melty, then whip again.
Once the texture – smooth, silky, fluffy – looks right, you can add the rosewater. This amount of rosewater is on the higher side, so your buttercream might seem a little slick.
In order to preserve the texture, I wouldn't advise adding more than two tablespoons rosewater to your buttercream, though you can drizzle some rosewater onto the cake later if you aren't happy with the level of flower power quite yet.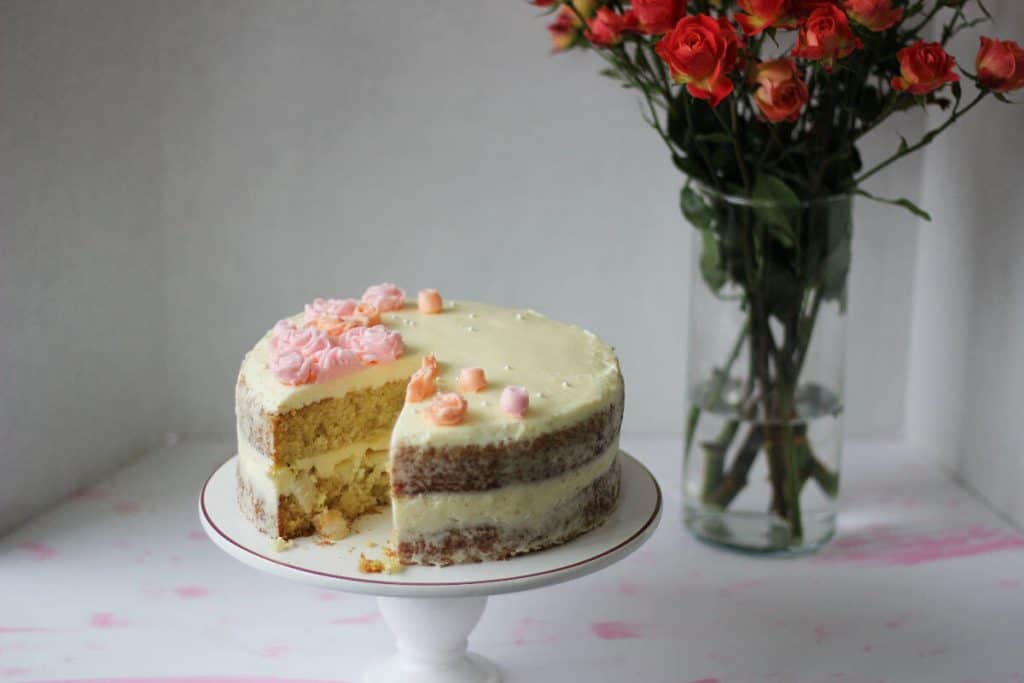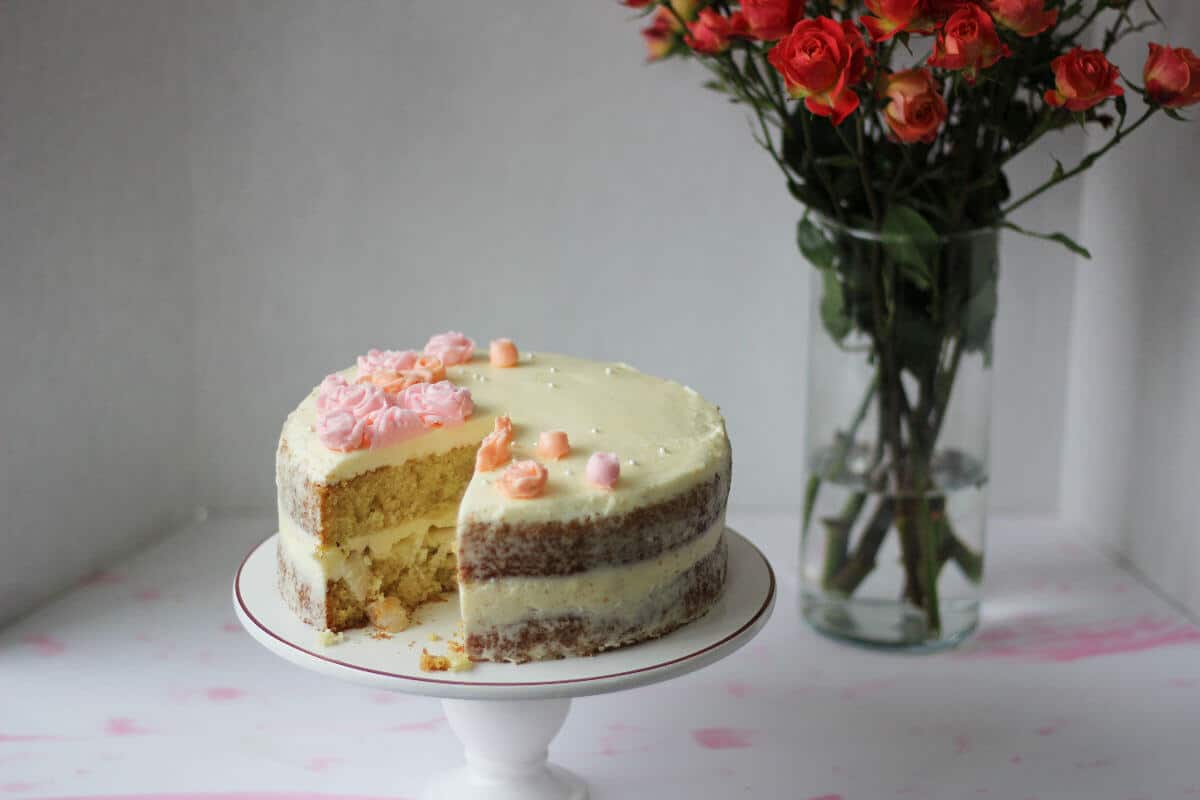 Assembly
You can assemble a layer cake with minimal equipment if needed, but having some optional tools makes your life easier.
First: a cake stand, which gives you some height so you're not hunched over the cake. Even better if your stand spins so you don't have to contort your body around the cake or scrape your table while spinning the cake around.
Level off the tops of the cakes with a serrated knife before you do anything else. Even if you're tempted to keep the domes (I've been there), for the sake of structural stability (and aesthetics, in case you need more prompting), cut them off.
I usually hold the serrated knife right where the edge of the cake starts to narrow into a dome, parallel to the table (while keeping the non-knife holding hand on top of the cake), and mark where I want to cut. Then, gently wiggle the knife into that mark, spinning the cake and cut a little more at a time until you've separated the cake into the useable layer and the scraps (happy snacking!).
On your serving platter or cake stand, place a dollop of buttercream in the center, then press one of your leveled cake layers on top so that the buttercream holds it in place.
Then, the lychee simple syrup, made by cooking the syrup that canned lychees come in until it's slightly thicker.
This cake is so moist and tender that you don't actually need to bathe this cake in simple syrup. But it is a lychee rose cake after all, and canned lychees typically come in a syrup, so why not add more flavor and use what you already have?
A thin smearing of buttercream gets spackled onto the cake once the appropriate shower of lychee simple syrup has been applied. An offset spatula makes this job a lot easier and cleaner (your hand doesn't get into the buttercream). A butter knife works in a pinch, too.
Then, either with a pastry bag or a plastic bag with a small hole snipped in the corner, a ring of buttercream gets piped on top of the cake right next to the edge. This makes sure that the lychee doesn't leak out.
A dense layer of chopped lychee gets added inside that ring, on top of the buttercream. The majority of the lychee flavor comes from here, so use more than you think you need.
To make sure the top layer of cake sticks, more buttercream goes on top of the lychee bits to seal them in. The buttercream doesn't have to fully cover the lychee, just enough so that the buttercream sticks up a bit and helps glue the cake down.
If the lychee pieces want to detach from the bottom cake when you try to surround them with buttercream, shove them back down as best you can. Doesn't have to be perfect!
(Have leftover lychee you're not sure what to do with? Try this lychee dessert with coconut custard, or this lychee smoothie!).
Then, with your last leveled off cake layer, place it bottom side up, so the cut part is face down into the buttercream and lychee. The bottom is much flatter, so it'll be more even and easier to frost the top.
With the remaining buttercream, frost the outside of the cake. Since a good portion of the buttercream gets used to secure the lychee on the inside, there won't be much buttercream leftover to frost the outside, and you'll probably end up with a rustic, barely frosted look like the cake you see here.
You can decorate any way you want – I was armed with two eager roommates, one of whom made little roses with storebought frosting. If it were me in charge, I would have frosted the cake, maybe added a few sprinkles and called it a day.
Make Ahead
This is definitely a project, so if you want to split this up into a few days, be my guest! I like baking the cake a day in advance, then making the frosting and assembling the cake on the next day.
If I bake the cake late at night and it's still hot by the time I go to bed, I leave the cake uncovered. If the cake has cooled, then I seal it in plastic wrap or place in an airtight container.
Don't worry if the cake gets dry overnight, since the lychee simple syrup can be your plan b to add back some moisture.
The buttercream can be made the day before, though it can be a little finnicky to hold overnight.
If the temperature in your house is on the cooler side and your food safety sensibilities are a little more lenient, you can leave the buttercream out at room temperature for about a day.
If the temperature in your home is on the warmer side and/or you're more risk adverse, you can pop it in the fridge, but you may have to re-warm the buttercream slightly, then whip until it's back to its original consistency.
(Personally, I don't want to deal with the hassle of perking up the buttercream again and I'd rather not keep it out overnight, so I opt to make the buttercream close to when I'm planning to use it).
Variations
If you don't have access to buttermilk, you can hack it at home. To make 1 cup of buttermilk, add 1 tablespoon white vinegar to your liquid measuring cup, and add enough milk until you reach 1 cup.
Let the buttermilk sit for 5-10 minutes, or until it looks curdled, and then it's ready to use!
You can make a smaller cake, if you don't have enough willing recipients close by to pawn your cake off on to. My go to cake pans for these occasions are 6" round ones. You can cut all the ingredients in half (the cakes may take longer to bake) and you're good to go!
I don't like too much frosting on my cake, so there's a fairly minimal amount here. If you want a higher buttercream to cake ratio, you can make 1 ½ or even 2 times the amount of buttercream listed here.
Raspberry, lychee and rose is another (understandably!) well loved flavor combo, so you could add some raspberries if you'd like! Maybe a thin sheen of raspberry jam in between the cake layers, or fresh raspberries to decorate the outside of the cake, or even pulverized freeze dried raspberries in the buttercream.
How to Store
It's ideal if you're serving this lychee rose cake the same day you're assembling it, and you can keep it at room temperature unless it's really hot and you're scared the buttercream will melt.
If you have leftovers, you can store them in the fridge for about a week. I recommend keeping them in an airtight container, or if you don't have a big enough container/don't want to cut the cake up, press wax paper against any exposed surface to make sure that the cut edge doesn't dry out.
You can also freeze the cake for about a month; anything longer and the quality becomes a toss-up.
If you refrigerate or freeze the cake, make sure the cake comes back up to room temperature before eating.
Lychee Rose Cake
Assembly and Decorating Time
This lychee rose cake has plenty of rose-scented cake and buttercream, with a hidden treasure of lychee bits on the inside!
Keyword:
buttercream, layer cake, lychee, nut-free, rosewater, swiss meringue buttercream, vegetarian
Ingredients
Rosewater Cake
1 ¼

cups

granulated sugar

2 ½

cups

all-purpose flour

1 ½

teaspoon

baking soda

1 ½

teaspoon

baking powder

1 ½

teaspoon

kosher salt

2

large eggs

room temperature

1

cup

buttermilk

room temperature

½

cup

canola oil

1

tablespoon

rosewater

¾

cup

boiling water
Rosewater Swiss Meringue Buttercream
4

large egg whites

1 ¼

cups

granulated sugar

3

sticks

unsalted butter

room temperature, cut into tablespoons

2

tablespoons

rosewater
Assembly
1

can

lychees in syrup

20 ounces
Instructions
Rosewater Cake
In a large bowl, mix all the dry ingredients. In a medium bowl, mix all the wet ingredients except for the water.

Whisk the wet ingredients into the dry ingredients, then stir in the water. It will be very thin.

Pour into two greased and parchment lined 8" round cake pans and bake at 350F until a toothpick inserted into the center comes out with a few crumbs, about 20-25 minutes.

Let the cakes cool for 10 minutes, then turn out onto a cooling rack and let cool completely.
Rosewater Swiss Meringue Buttercream
In the heatproof bowl set over a pan of simmering water, combine egg whites and sugar. Cook, whisking constantly, until sugar has dissolved and mixture is hot to the touch.

Attach the bowl to the mixer fitted with the whisk attachment. Beat until it holds stiff (but not dry) and fluffy peaks.

Switch to the paddle attachment. Add butter several tablespoons at a time, beating well after each addition. Beat in the rosewater until smooth.
Assembly
Drain off the syrup from the lychees. Add the syrup to a small pot and simmer until slightly condensed and thicker (shouldn't seem too watery).

Roughly chop the lychees.

Using a long serrated knife, trim the domed part of the cake off.

Place a dollop of buttercream in the middle of your serving plate or cake stand, and press one cake layer into it. Drizzle 1 ½ tablespoons of lychee simple syrup over the cake. Spread a thin layer of buttercream on top, then pipe a ring of buttercream on top of the cake just inside the edge.

Add the chopped lychees to the center, then cover the lychees with buttercream. Place your last cake layer on top, bottom side facing up. Drizzle 1 ½ tablespoons lychee simple syrup on top.

Scrape all of the buttercream on top of your cake, and using an off-set spatula, gently shove and smooth the buttercream to the edge of the cake and down the sides. Run your spatula or a bench scraper around the edges of the cake to smooth it out.

Decorate as much as you want.
If you make this cake, leave me a comment below and/or tag me on Instagram @deliciousnotgorgeous to let me know how it went!