let's be basic and set some goals, shall we? (would love to know yours too, if you're the goal making type of person).
go to new places, not to new restaurants

i went out way too much last quarter since i had a car and senioritis, meaning my eating habits weren't the best (although i got back into the gym a few times every week, so at least there was some semblance of balance). i excused it away as, what if i never live here again?? so i'm trying to shift some of the restaurant trying to sightseeing, so that i get to explore, but hopefully in a more movement, less food way.

use a tripod more

last year i got a lot more comfortable using a dslr, but now i need to get used to a tripod. my parents have one that isn't fun to work with, and overall it feels so much more restrictive rather than me being able to move and tilt whenever i need to. BUT, picture sharpness and all that (my hands shake, aka good thing i am not a surgeon).

don't be comfy

it would be very easy for me to coast through the rest of the school year (and college!!) in a flurry of concerts and restaurants and sight seeing (and i suppose studying and job searching too), but that's so comfortable. i want to force myself to try other things that a little more scary while i still have this bubble of college and not-really-adulthood. same goes for what's on the blog. cakes are much more fun than pies to me, which are stressful, but how am i supposed to be able baker (that's my nickname in one of my facebook chats with some of my friends) if i can't bake a pie consistently?!

be more data-driven

both in my professional and blogging lives. i'm in performance marketing, and it's easy easier to be data driven if you know what to look for. but at my new internship (i'll tell you about that soon!), i don't have the luxury of having a foundation, so i need to do it on my own. and on this blog, it's been driven by what i want + the seasons. as in, oooh, chocolate mint sounds good, i'll make something with that flavor combo, and oh, people like that during the winter holidays. rather than doing research for what has worked well for me in the past + what people are searching for + what is less competitive (ie there are obviously less recipes on the internet for shiitake dun dan than chocolate cake).
which brings us to the asian steamed egg. it comes in many names: chawanmushi (japanese), dun dan  (chinese), gyeranjjim (korean). there's probably more, but those are the ones that i know of. and though it looks like dun dan would be pronounced as in you're done, dan in a horribly stereotypical western accent, it's more like dun dahn, with a long "ahh" sound. i could try to say chawanmushi and gyeranjjim, but it's a crapshoot and much easier to say steamed egg when i'm in a situation where dun dan doesn't suffice.
they're basically the same at the base level: egg mixed with water/broth, seasoned with whatever and maybe with meat or veggies added in as well. HOWEVER. chawanmushi and dun dan usually have a higher water to egg ratio than gyeranjjim, and gyeranjjim is less custardy than the others.
the first time i made this was as a stressed teenager (i think i was more stressed/motivated in high school than in college), when given the ultimatum to either make dun dan for dinner or go to trader joe's to get other ingredients for dinner. full disclosure: i love tj's (sights of pickles, olives, macarons and other delicacies! samples!!), but was too lazy to get out of the house that day.
it's a testament to how easy making dun dan is, and how tasty it is. it's super silky and smooth, and gently eggy (this is kind of perfect if you're serving someone who isn't that into eggs). it feels ridiculously rich, even though it's only eggs and water/broth. the bite of the green onions is perfect to balance out that decadence, and soy sauce + toasted sesame oil + shiitake mushrooms make sure that this shiitake dun dan is anything but bland. plus, it's perfect with rice. so much so that i was trying to think of an alternative (quinoa or greens or something), but rice sops all the juices up and there's just no comparison.
1 year ago: Broccoli Gribiche, Labor Day Weekend in SoCal
2 years ago: Greek Yogurt Pasta with Caramelized Onions, Kimchi Quinoa Salad
3 years ago: Ferry Building and Molly Wizenberg, Easy Stovetop Macaroni, Peas, Bacon and Cheese a la Jamie Oliver (College Edition)
4 years ago: Butter Mochi, Custard Mochi, Nanaimo Bars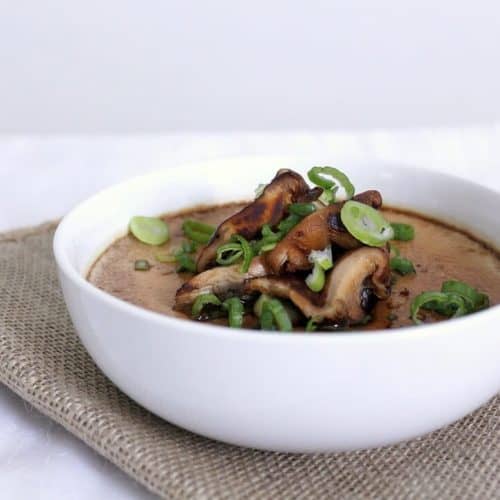 Shiitake Dun Dan
This shiitake dun dan features super fluffy steamed eggs topped with plenty of sauteed shiitake mushrooms for a meal that feels heartier than it looks.
Course:
Dinner, Lunch, Main Course
Cuisine:
Chinese, Japanese, Korean
Keyword:
dairy-free, eggs, green onions, mirin, mushrooms, nut-free, sake, sesame oil, shiitake mushrooms, soy sauce, steamed eggs, vegetarian
Ingredients
2

large eggs

1

cup

chicken or fish stock or water with a splash of fish sauce

1

tsp

sake or mirin

1

T

+ 1/2 tsp soy sauce

2

shiitake mushrooms

sliced into strips

1

tsp

toasted sesame oil

1/2

green onion

chopped

cooked rice

for serving
Instructions
In a medium bowl, whisk eggs until completely homogeneous. Stir in the stock, sake/mirin and 1/2 tsp soy sauce. Place the mushrooms in a shallow, heat-proof bowl, then pour the eggs on top.

Place a small metal rack in a saucepan, then add water until the legs of the rack are half submerged. Bring to a boil, then reduce the heat to a simmer. Place the bowl of eggs on top of the rack.

Cover and steam for 10-12 minutes, or until the egg is firm but still soft and silky. A knife inserted into the center of the shiitake dun dan should come out cleanly, and the center should jiggle slightly but not slosh around (think creme brulee or Jello or panna cotta). When in doubt, decrease the temperature and/or check the dun dan frequently.

Remove the dun dan from the pot carefully, then cool slightly.

Drizzle 1 T soy sauce and the sesame oil on top. Garnish with scallions and serve hot with plenty of rice.
Recipe Notes
Adapted slightly from CONNIEL1M via AllRecipes.
You can mix it up and not do shiitake. Sauteed shrimp, browned ground beef, cooked chicken, sauteed onions, wilted greens, etc etc would be tasty here!
In these pictures I used the shiitake mushrooms as a garnish, instead of cooking them into the dun dans. Either way works, but I'd recommend sauteeing them if you're planning to use the mushrooms as a topping.
more chinese food