these chocolate hi hat cupcakes with peanut butter buttercream scream celebration. say, for a 21st birthday (when i first made these), or for finishing one's junior year of college (almost!! i will officially be done by tuesday at 12:30pm).
i've grown so much this year: i don't hermit in my apartment all weekend. progress, i tell you. i spent the beginning of college waiting for it to be over, but in stereotypical fashion, now that i'm 75% done, i'd be fine staying a little longer (if it weren't for all the studying...).
and dare i say, for once, i'm not dying for summer? though i've been going to class (i haven't skipped any this quarter!! can i have my a's now?) and getting my things done, this quarter has been dreamy: 2 ½ days at disneyland, a weekend in davis, weekend visits from high school friends, a trip to la for ice cream and FREE us the duo (i've only seen them for free and i'm loving it), the kind of weenie roast that doesn't involve hot dogs and campfires, and a stop off at universal studios.
so while i'm appreciative of the fact that i was able to land an internship for summer, i'm not like, HERE I COME, 40 hour work weeks!!!
but back to chocolate hi hat cupcakes with peanut butter buttercream. (long titles are great and very evocative of pop punk song titles from a decade ago. the longest one i could find in my 5 minute google search: mayday parade's "you be the anchor that keeps my feet on the ground, i'll be the wings that keep your heart in the clouds").
there's moist chocolate cake. and it's not the same as my (well, more like ina garten's) standard, coffee-heavy chocolate cake recipe, though it's pretty delicious in its own right. there's silky peanut butter buttercream. i normally go for crunchy pb, but the smooth kind is crucial here unless you want your magic shell to look lumpy. if you're looking for something more along the lines of delicious not gorgeous, be my guest and use crunchy. i know that you and your cupcakes will still be plenty popular! and speaking of magic shell, this one's a super easy version so that you can get your dark chocolate fix in. you're welcome.
a couple of notes: you can definitely sprinkle the top of the cupcakes with some chopped, roasted peanuts and coarse sea salt for some crunch (and the salt helps because it's a pretty rich cupcake). want more chocolate? then chocolate chips in the cake wouldn't hurt. these chocolate hi hat cupcakes with peanut butter buttercream do have a high frosting to cake ratio, so if you're not down, use less frosting for each cupcake. a shorter beehive makes it slightly harder to dip them into the magic shell, though you could forgo the dipping and drizzle it with a fork onto the buttercream. lastly, if you want to cut the cupcakes (not sure why though, since you simply need to peel back the cupcake liner and shove it into your mouth nibble daintily), use a warm knife. dip the knife in hot water, then wipe it dry, and you'll be able to slice through the chocolate cleanly!
i get it, sometimes you're not in the mood for chocolate and peanut butter, so might i recommend strawberry lemonade cake with fresh mint buttercream or thai tea vietnamese coffee cake?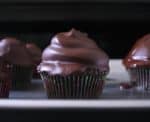 Chocolate Hi Hat Cupcakes with Peanut Butter Buttercream
These chocolate hi hat cupcakes with peanut butter buttercream are a chocolate and peanut butter lover's dream.
Ingredients
Chocolate Cupcakes
¾

cup

all-purpose flour

⅓

cup

unsweetened cocoa powder

¾

teaspoon

baking soda

½

teaspoon

kosher salt

½

cup

plus 2 tablespoons granulated sugar

½

cup

buttermilk

room temperature

⅓

cup

canola oil

1

large egg

room temperature

1

teaspoon

vanilla extract
Peanut Butter Buttercream
½

cup

granulated sugar

2

large egg whites

⅛

teaspoon

kosher salt

12

tablespoons

softened unsalted butter

cut into 1 tablespoon pieces

1

cup

creamy peanut butter

make sure it's no-stir

2

teaspoon

vanilla extract
Chocolate Coating
6

ounces

dark chocolate

finely chopped

1 ½

tablespoons

vegetable oil
Instructions
For the cupcakes: In medium bowl, whisk the dry ingredients.

In large bowl, whisk the wet ingredients until smooth. Whisk in the dry mixture until smooth.

Spoon the batter into 10 lined muffin cups. Bake at 350F for 20-25 minutes, or until a toothpick inserted into the center comes out with moist crumbs. Cool in the pan for 10 minutes, then transfer to a wire rack to cool completely.

For the buttercream: Whisk the sugar, egg whites and salt until combined. Set over a bain marie and gently whisk until the mixture registers 160F. Whip until the bowl is cool to the touch and the mixture is white and creamy looking. Switch to a paddle attachment. Mix in the butter, one piece at a time, until combined and creamy. If it breaks, just keep whipping. If it's looking too soupy, pop it int the fridge, then re-whip. When in doubt, whip it up. Add the peanut butter and vanilla; beat until smooth. Transfer to a pastry bag fitted with a plain ½" tip (#808), or a ziptop bag with a ½" hole cut in one corner.

Pipe ⅓ cup frosting onto each cupcake. Alternatively, you could also use a butterknife or offset spatula to spread a mound onto each cupcake (check out the right hand side of the photo at the top of this post, and you'll see how this looks). I personally prefer the piped look. Refrigerate the cupcakes until the buttercream is completely firm, about 1 hour.

For the chocolate coating: Melt the chocolate and oil until smooth. Transfer to a deep mug that's wide enough to accommodate the cupcake and your hand.

Holding the cupcake by the bottom, carefully dip in the chocolate to submerge all of the frosting. Pull up and let excess chocolate drip off for a few seconds before turning cupcake right side up. Transfer to a wire rack and repeat. Let cupcakes rest a few minutes to allow chocolate to set and buttercream to soften before serving.