This jalapeno popcorn has bits of jalapeno and parmesan cheese, making it an easy and addictive savory snack!
Ingredients
Extra Virgin Olive Oil
Adding more oil after the popcorn pops helps the toppings stick to it better.
You could use a neutral flavored oil, but why would you when you could use a fruity or peppery olive oil instead?
Jalapeno
I really wanted to make a jalapeno powder to dust the popcorn with, similar to what I did for the seasoning for this strawberry popcorn. Alas, that was not meant to be, since 1) freeze dried jalapenos are difficult to find (apparently you can get them at Walmart though?!) and 2) neither you nor I want to spend our precious time keeping an eye on jalapenos slowly drying in the oven for a whole day.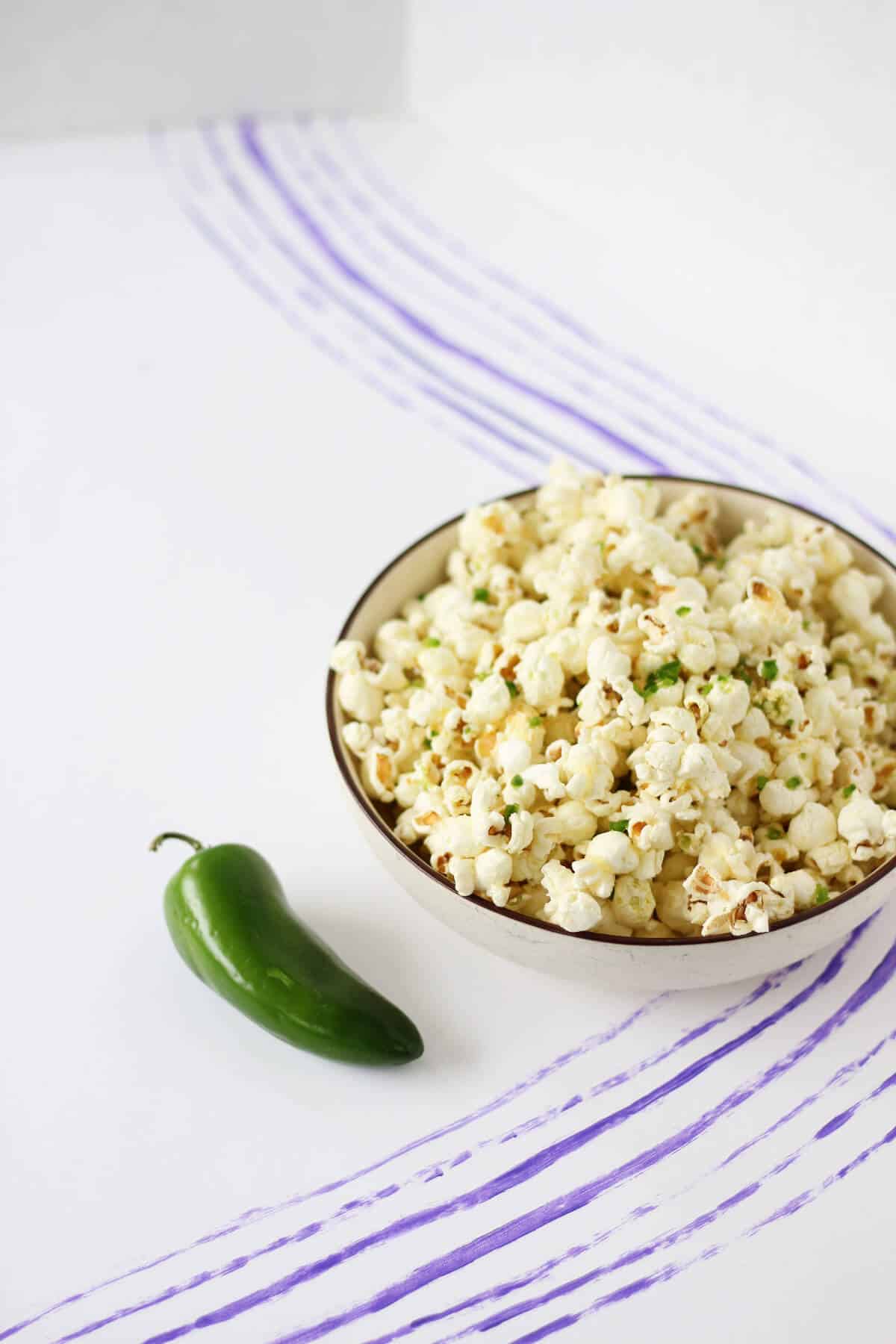 Instead, this popcorn uses fresh jalapeno, with no preparation required besides washing and chopping.
How to Make
First, prep the jalapeno. Remove the seeds if you'd like, then mince the jalapeno as finely as possible.
Be careful not to touch your eyes before washing your hands with hot and soapy water!
Next, pop the popcorn. This can be done in a big pot with oil (the method I talk about in this recipe), or in an air popper, or you could even use a bag of microwave popcorn in a pinch.
Once the popcorn is done popping, drizzle over the extra virgin olive oil. Add the jalapeno and cheese, then toss to coat.
Serve as soon as possible!
Tips
Oil
It might seem like a lot of oil for the amount of popcorn kernels in this recipe, but I promise that it's necessary to help the toppings stick.
Mixing
No matter how finely you dice the jalapeno, the bits tend to settle at the bottom of the mixing bowl. To minimize this problem, I like to mix the popcorn by scooping down to the bottom and making sure anything abandoned at the bottom gets brought back to the top.
You can also sprinkle a little more jalapeno on top when serving!
Storage
Due to the moisture from the jalapeno and oil, this popcorn is best served immediately after mixing. If you let it sit too long, then the popcorn starts to soften and feel stale.
You can revive the popcorn a little bit should you notice that it's losing its crispness on the day that you made it; spread it in a single layer and bake in a toaster oven (or normal oven) until dry.
(I have tried toasting the popcorn on day 2 in hopes that the popcorn would resemble what it did after its day 1 toasting, but the texture was really chewy in a jaw aching kind of way. So much so that my friends who tried this day 2 popcorn said nothing when I complained about the texture but did praise the flavor lol).
Variations
Fat
Again, I like using extra virgin olive oil because of how flavorful it is, and I always have it on hand.
Melted butter is the first option I can think of as a substitute, though I feel like duck fat or bacon fat would be interesting (assuming that you're prepared for that fat to take over the flavor of the popcorn).
Cheese
Any other finely grated hard cheese would work in place of the parmesan, or even nutritional yeast if you're trying to keep this vegan.
You could omit the cheese altogether, but that feels sad, so please don't. If you really must, then I'd recommend adding something else (bits of oil cured olives, crumbled bacon, furikake in a nod to hurricane popcorn) to add a bit of salt and flavor.
Spice
Since this recipe calls for removing the jalapeno seeds, the popcorn is given the flavor of the jalapeno, though not much of the heat. For anyone who wants their popcorn spicy, you can include as many seeds as you would like.
Alternatively or additionally, depending on how high your spice tolerance is, you could add more spice on top of the jalapeno seeds. I'd recommend adding something dry (gochugaru or red pepper flakes come to mind first), since adding hot sauce will speed up that soggy popcorn countdown even more and you'd have to be prepared devour that popcorn fast.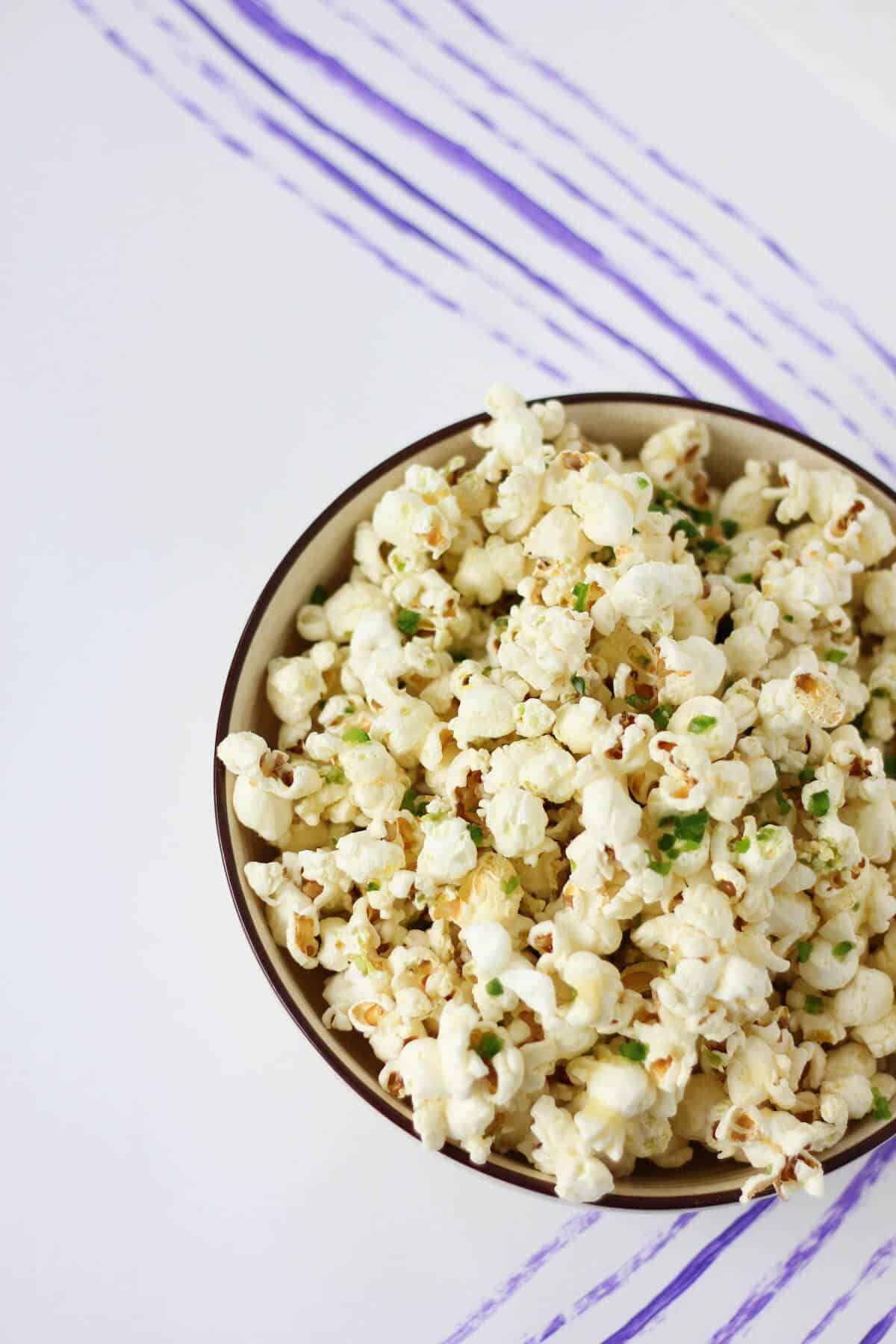 Jalapeno Popcorn
This jalapeno popcorn flavored with olive oil and parmesan cheese is perfect if you're in the mood for a savory snack!
Keyword:
cheese, egg-free, gluten-free, jalapeno, no-bake, nut-free, parmesan, popcorn
Ingredients
1 ½

tablespoons

neutral oil

¼

cup

popcorn kernels

1 ½

tablespoons

extra virgin olive oil

2

tablespoons

grated parmesan cheese

½

medium jalapeno, minced and seeded
Instructions
Place the neutral oil and popcorn kernels in a large pot with a lid, then place over medium heat. When you start to hear popping noises, use oven mitts to shake the covered pot until you hear the popping noises subside.

Remove the popcorn from the heat, then mix in the extra virgin olive oil, cheese and jalapeno. Toss to coat, making sure to scoop up any settled jalapeno bits from the bottom.

Serve immediately.
Recipe Notes
You could pop the popcorn in an air popper or even use microwave popcorn in a pinch.
Replace the parmesan cheese with another kind of cheese or nutritional yeast to make this vegetarian or vegan.
This popcorn does not store well due to the moisture from the jalapeno, so eat immediately. You can try to toast it in the oven or toaster oven to regain its crispiness, but this is only effective on day 1.