it's easy to get caught up in social media, and the exciting lives it appears to perpetuate. if you look at my instagram from last week, it looks like i had fun times in san francisco and seattle and la, when that's not quite true (there are most certainly no pictures of me getting up three times in the span of 5 hours in the middle of the night to puke, or the hours trapped studying sql queries). i store pics for a looong time, so you'll be seeing seattle content on instagram for months to come, though i won't physically be there when i post.
despite knowing this, i forget and sometimes get jealous over other people's latergrams. even though i know i don't see the struggles and hard work in the background, and i'm envious over the fluffy things.
but this furikake chex mix isn't something you should be bitter about. it's much easier to attain than an all-expense paid trip to hawaii, and much easier to share with all of your frans (read: friends). you get furikake chex mix, you get furikake chex mix, everybody gets furikake chex mix!!!! (doesn't quite have the same ring as the og but you get the idea).
if you've only had the chex mix from the bags that are super salty and crunchy (i say this in the best possible way), then you need to make this. it doesn't have those brown chips, which doesn't upset me, since i don't care for them anyways, but you can add whatever you like. i personally like it with just cereal, but you can add nuts or popcorn or whatever you fancy.
it's a really simple snack OR holiday gift (see part 1 in my two part holiday food gift series: cherry almond croquant). so simple that a pre-teen could make it, as i did for my twelfth birthday party (along with spam musubi and lemon cupcakes topped with swiss meringue buttercream and gumpaste sandals from elisa strauss' confetti cakes cookbook; yes i was extra even then).
melt butter with soy sauce and corn syrup, then stir it into a couple of boxes of cereal and your favorite furikake.* spread it out on a baking sheet and send it into an oven for some crisping before final consumption (though it doesn't hurt to taste a bit before it goes into the fiery depths). baking it really makes sure that the furikake chex mix dries out and crisps up properly.
*furikake is a japanese condiment typically made with shredded seaweed and other flavorings that's typically used for rice. you can find it in any asian market. there's a number of different varieties, including ones with umeboshi (pickled plum) and crunchy rice balls. my favorites include the simple goma (sesame seed) and bonito (fish flake) ones.
the resulting furikake chex mix is kind of salty and kind of sweet. the savory, briny, sesame-y furikake balances out that sticky, caramelly brew used to force the furikake to cling to the cereal. and you get left with a snack that's impossible to stop eating, bar giving it all away.
1 year ago: Snickerdoodles, Herby Rice with Grapes and Pecans
2 years ago: Coffee Almond Shortbread Cookies, Pumpkin Spice Waffles
3 years ago: Zha Jiang Mian, Vanilla Coconut Quinoa Pudding
4 years ago: On Toast, Applesauce Granola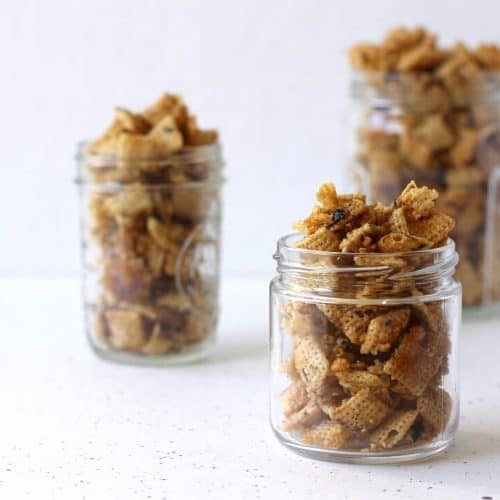 Furikake Chex Mix
Furikake chex mix is an Asian American twist on the usual chex mix, and features the Japanese rice condiment furikake, made of roasted seaweed and sesame seed.
Cuisine:
American, Hawaiian, Japanese
Keyword:
butter, cereal, chex, chex mix, corn syrup, egg-free, furikake, nut-free, seaweed, soy sauce, sugar, vegetarian
Ingredients
Syrup
1

stick

unsalted butter

1/2

cup

light corn syrup

3/4

cup

granulated sugar

2

T

soy sauce

1/2

cup

canola oil
Assembly
2

boxes

chex cereal

1

bottle

furikake
Instructions
Syrup
Heat all syrup ingredients in a pot over medium heat until the sugar dissolves and the butter melts.
Assembly
Put the cereal in a large (wide and shallow is better than deep and skinny if you can find it) bowl. Recruit an extra set of hands, or prepare to pick up and put down different things a bunch of times. While continuously tossing with a heat-proof rubber spatula, drizzle the syrup all over the cereal, pausing occasionally to sprinkle on some furikake. Even coverage is the key here.

Spread the mix on a foil or parchment lined baking sheet. Bake at 250F for 1 hour, then cool before breaking into bite-sized pieces. It will crisp as it cools. Store in an airtight container at room temperature.