janky can be used to describe something of bad quality. ie, the state of my rented house. after living in the dorms for 1 year, then an apartment for 2 years, i moved into a house a few weeks ago. it was cheap! but then i accidentally knocked a canopy into a photo eye (the sensor that controls whether or not the garage door goes down), and it caused the garage door to not work. the garage technician that i eventually ended up calling blamed it on a bad spring, and recommended that we get a new one. i'm scared to use the toilet, because instead of a visible suction, the water goes around and around a few times before finally trickling into the pipes. there was a time i drove 10 minutes to a late night ralph's because i was that wary of using my toilet. and did i mention that the washing machine has a strategic plastic container placed under it because it drips? there's a reason the rent is so cheap.
(and maybe it's a sign, maybe it isn't, but the house was just outside the mandatory evacuation zone for a quick-spreading fire last week. not the house's fault, but still).
luckily, this lap cheong okonomiyaki (japanese cabbage pancake with chinese sausage) is anything but janky. it's custardy, which sounds weird, especially because normal pancakes + custardy = gummy. ick. but i promise that this is custardy in a non-gross/non-underdone/non-runny way. the cabbage is tender with some bite, and the lap cheong is great (of course!).
topping wise, you could take this a few ways. adding mayo sounds weird, but it adds a bit of a creamy element that works really well. i like the slightly salty, briny element that bonito furikake (seaweed topping usually used as a rice seasoning) adds, though katsuobushi (dried fish flakes) and/or furikake both work well too. i'm not a huge fan of okonomiyaki sauce, which is thick and gloppy and too sweet in my mind, but go for it if you want to! i highly recommend the pickled ginger. (i'm a pickled ginger fiend though so if you're not, then maybe it's not the best option for you).
and in a reoccurring theme where things don't look like what they really are (ie see these jasmine cream puffs that look like takoyaki, the japanese octopus pancake balls), doesn't the lap cheong look like something else? i see dried cranberries (highlight that space to the left of this, i don't want to give you any ideas).
2 years ago: Yee Family Fresh Apple Cake
4 years ago: Bon Appetit's Cocoa Brownies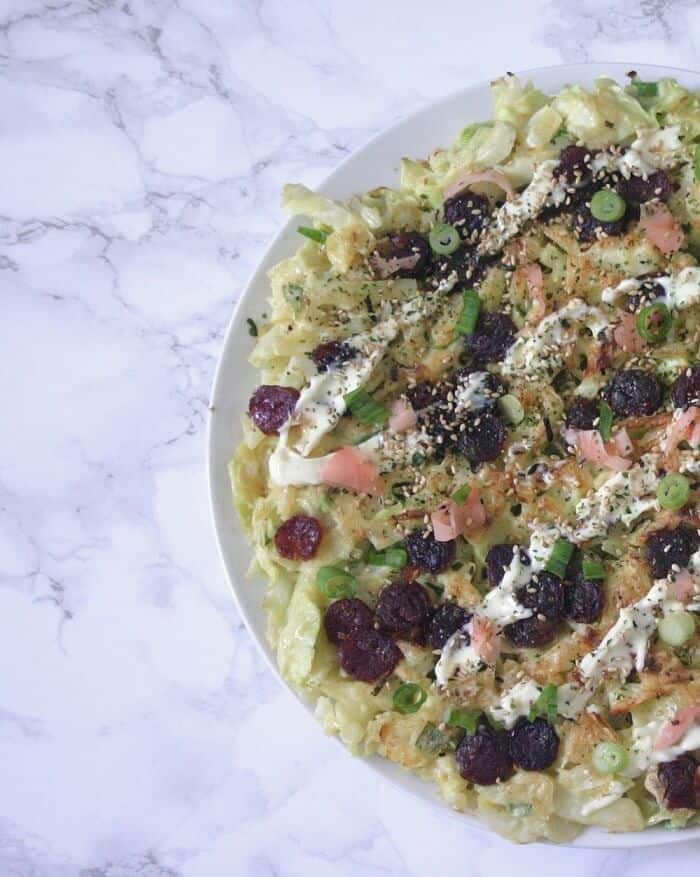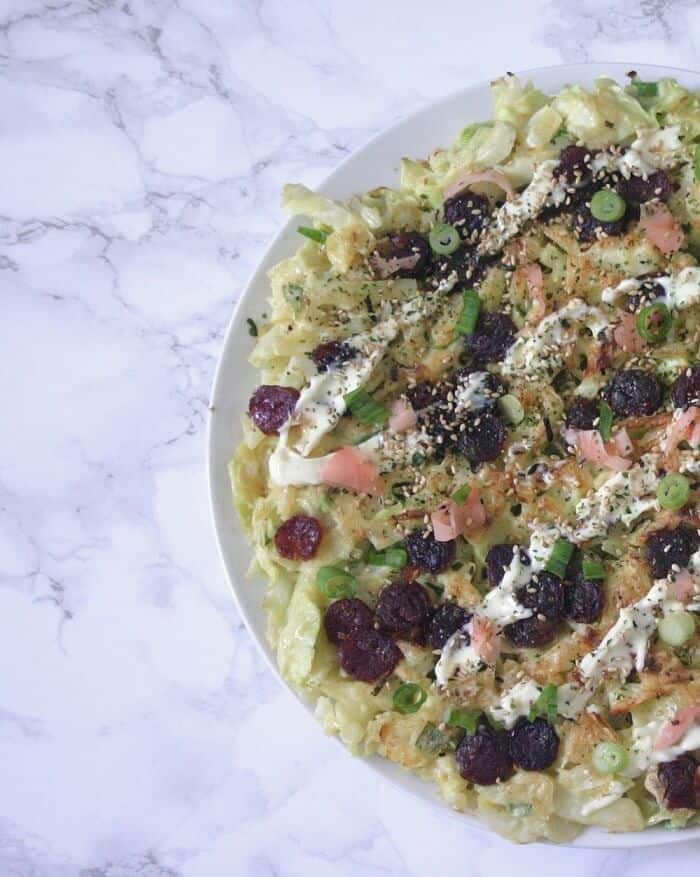 Lap Cheong Okonomiyaki
This version of the Japanese cabbage pancake okonomiyaki becomes more of an Asian fusion with the use of lap cheong, a Chinese sausage.
Cuisine:
Chinese, Japanese
Ingredients
½

small head

cabbage, finely shredded

about 14 oz

3

scallions

thinly sliced, dark green parts reserved separately

½

" nub

fresh ginger

minced

2

eggs

½

cup

cold water

¾

cup

all-purpose flour

3

links

lap cheong

sliced into coins (optional)*

Okonomiyaki sauce, Kewpie/normal mayo, ao-nori or furikake or seaweed, pickled ginger, katsuobushi

for serving
Instructions
Combine the cabbage, scallion whites and half of greens, the fresh ginger, eggs, and water in a large bowl. Sprinkle with flour. Stir with a fork and beat heavily until a thick batter with plenty of bubbles forms. It might seem like too much cabbage, but don't worry!

If using lap cheong, scatter the lap cheong evenly in a 10" nonstick skillet and set over medium-low heat. Pan-fry on one side until crispy and dark golden. At this point, you can drain off some of the fat, but it's optional. Flip the lap cheong (no need to cook on this side before adding the okonomiyaki mixture).

If not using lap cheong, heat some oil in the skillet instead, then proceed.

Add the okonomiyaki mixture and spread into an even layer.

Cover and cook, shaking the pan occasionally, until bottom layer is crisp and well browned, about 10 minutes, lowering heat as necessary if cabbage threatens to burn.

To flip: working over a sink and holding the lid tightly against pan with a pot holder, flip the entire pan and lid over so that the okonomiyaki transfers to pan lid. Remove pan, then slide okonomiyaki off the lid and back into the pan, browned side up. I find that using a big plate is easier to do this with than a lid if the inside of your lid has ridges. Also: this might be scary, but don't panic!! If it falls apart, smush it back together once it's back in the pan and you're all good.

Return to heat, cover, and cook, shaking gently, until both sides are browned and okonomiyaki is not runny but still custardy and tender in the center, about 8 minutes. Transfer to a serving platter, pork side up.

Drizzle with okonomiyaki sauce and mayonnaise. Sprinkle with ao-nori, pickled ginger and remaining scallion greens; and serve immediately off of a communal plate.
Recipe Notes
Recipe adapted slightly from Kenji Lopez-Alt via Serious Eats. 
Feel free to sub in bacon or pork belly for the lap cheong. Or, you can leave it out altogether if you want to keep it vegetarian. You may notice you need to add additional salt/soy sauce/seasoning if you don't use the meat. 
Calorie information does not include toppings.
more japanese (ish) delicacies