How to Make
There are three main components to this taro mochi: the mochi wrapper, the taro filling, and assembling them together.
I like to start with the taro filling, since the taro can take a while to cook. The taro should be super soft when it's done cooking, since it will make mashing the taro much easier.
Even if the taro feels like it's taking forever (aka 40-60 minutes), your patience will be rewarded with plenty of smooth filling inside your mochi.
Once the taro is finished cooking, drain off any excess water and mix/mash with some coconut milk, sugar and salt. I like using coconut milk here because taro goes nicely with coconut, and it gives the filling a bit of creaminess.
The sugar and salt are necessary, since the taro doesn't get seasoned at any other time.
While you're mixing everything into the taro, try to mash the chunks as much as possible. It'll still be grainy because the taro is starchy, but there should not be any pieces that are as big as when you started mashing either.
Then onto the mochi!
You can use either the U.S. or metric system of measurement (I goofed the metric to U.S. conversion so you don't have to; yes, that mess is still in my freezer).
The dry ingredients (glutinous rice flour, sugar and salt) get combined first. Similar to something like nìhn gōu or tōng yùhn, the glutinous rice flour is what gives the mochi its chewy, bouncy quality.
Next, some water and purple food coloring. The purple food coloring is completely optional, or you can use a different color if you would like.
Mix together the wet and dry ingredients. Any lumps you might be concerned about at the beginning will smooth out as long as you keep smooshing the clumps against the side of the bowl.
The batter doesn't have to be completely smooth. That being said, it shouldn't have more than a few white blobs floating at the top, and it shouldn't have any sludge at the bottom.
Don't worry if it doesn't quite seem like mochi yet – the batter is meant to be pretty watery.
This recipe, which uses the same proportions as this loh máih chìh recipe, has more* flour than water compared to the majority of taro mochi recipes floating around, so the texture will definitely end up bouncy (without it being too much of a pain to assemble).
*More when you compare the volume ratios since the other recipes do a 1:1 ratio, and this one has 1.25 times more flour versus the volume of water used. This ratio does not hold true for weight, as there are 1.76 times the weight of flour compared to the weight of water used.
Weight and volume are completely different measurements – they might be somewhat correlated, but that doesn't mean they're directly proportional.
It might help to think of this in terms of the height and weight of people. Being a foot taller than someone else doesn't mean you weigh a specific amount more, or even that you weigh more than the shorter person.
If this is still confusing (especially because I know I'm not explaining it well, sorry), check out this breakdown of what I'm trying to get at.
Anyways, once the mochi is mixed, it's time to cook it. I personally like steaming the mochi, since this method is a lot more gentle and forgiving when you're new to making mochi.
Set up a steamer – this can either be a DIY hack, or an actual system labelled as a steamer.
If you don't have a steamer at your disposal, you can make do with a large pot wide and deep enough to hide your mochi and house enough water for steaming, and a little metal rack.
I'd recommend putting the steamer bits and bobs together first before you start cooking. You want a pot that is deep enough that the top of the bowl of mochi doesn't stick out when the metal rack is in the middle of the pot and the bowl is perched on top.
You also want the pot to be wide enough in order for the bowl to fit with plenty of space between the edge of the bowl and the pot. If it's too tight of a fit, it can be hard to safely take the mochi out of the pot after it's done steaming.
This pot should have a lid to trap the steam and help the mochi cook. I like wrapping a kitchen towel around the lid to absorb any of the condensation, without accidentally dripping it onto the mochi.
Once you have your steamer ready, makeshift or otherwise, bring some water to a boil in the bottom pot. You want to make sure it doesn't touch the bowl holding your container, which would cause the bottom of your mochi to cook much more quickly than the top or sides.
If you're using a little metal rack, your water shouldn't reach more than halfway up the legs of the rack to make sure that the water doesn't touch the mochi container. You're likely going to have to refill the water, since there's less water to the bottom pot you can add compared to a traditional steamer.
Place the mochi container in the steamer top or on the metal rack, and steam until cooked. Give it a stir every so often to make sure that it's cooking evenly.
If the bottom or middle is liquidy but the edges are solid, stir it around to help everything cook evenly. It's okay if the mochi seems a little lumpy.
The mochi will be done when it's no longer liquidy, and is completely solid. It should be more matte than the batter was, and the texture should seem bouncy and a little sticky.
Let this mochi cool slightly. It should be warm to the touch when you assemble the mochi.
You want it to be cool enough to handle painlessly as well as warm enough to be pliable.
Before you assemble any mochi, set yourself up for success. Lay out everything that you need: cornstarch, cupcake wrappers, food safe gloves, your mochi and your taro filling.
Pour the cornstarch onto a big work surface. I like doing this on a big cutting board rather than something like a table, since it's easier to wash.
Lay out 24 cupcake wrappers. You probably want to have a place to put your mochi when they're done, rather than trying to hold your mochi in one hand and divvying up wrappers with the other.
Slap on a pair of food safe gloves. It's much more convenient to toss a pair of gloves in the trash rather than scrub away stubborn mochi blobs from your hands during clean up.
Tip your warm, cooked mochi out onto the cornstarch-dusted board and dust with more on top, making sure that all surfaces are covered. Don't be afraid to use cornstarch, because the mochi is sticky and hard enough to work with as is.
Divide your mochi into 24 pieces. I like to use a nonstick plastic rice scooper, since this doesn't stick to the mochi.
Working with one piece of mochi at a time, roll the mochi into a ball, then flatten into a circle using your palms. You can also try to shape it like you're working with mini pizza dough, but I find that this method is more susceptible to poking holes in it by accident.
Add a teaspoon of the taro filling to the middle.
Gather the edges of the mochi towards the center, making sure to completely cover the taro filling to prevent leakage. Folding the mochi this way makes it easier to end up with a more even sphere, rather than if you folded it like a half moon.
Dust with more cornstarch if the mochi is sticky, then gently toss the mochi back and forth between your palms to get rid of any excess.
Place the finished taro mochi in a cupcake wrapper, then repeat with the remaining mochi and taro filling.
Ingredients
Taro and glutinous rice flour can both be found at Asian grocery stores.
If the taro isn't near the other yams and potatoes, try looking in the refrigerated section, as the store might have it signed, sealed, delivered peeled, vacuum packed and sealed there.
Extra taro is delicious when transformed into taro sago, or a taro latte, hint, hint!
As for the glutinous rice flour: make sure that you get glutinous or sweet rice flour, since plain rice flour will not give you the right texture.
The package should clearly specify what kind of rice flour it is, like this Koda Farms sweet rice flour, or this Flying Horse glutinous rice flour. Usually the clear bags packaged similarly to the Flying Horse brand with green printing will be glutinous rice flour, and the red will be rice flour (so steer away from the red printed bags for this recipe!).
In case you're not sure what to make with the rest of your glutinous rice flour, how about some chocolate stuffed mochi, or this savory steamed taro cake?
Taste
If you've never had mochi before, it's bouncy and squishy and chewy!
Kind of like a firmer version of the tapioca you can eat in tapioca pudding, or a softer version of boba.
The main flavor in this dessert is from the taro filling, since the wrapper is only flavored with a bit of sugar and salt. Taro has a grainy, starchy texture, and I'd compare it to a mashup of a chestnut and a sweet potato.
How to Store
If you're going to eat this within 12 hours and you can store this in a cool area (not the fridge!!), you can keep it at room temperature.
This is key, because taro goes bad really fast. It'll taste sour and gross, so please err on the conservative side here (one of the few times that I will say that haha).
Hopefully this goes without me saying: if the taro is sour, please discard and do not eat.
If you can't eat them that fast or you're in a hot place, I'd recommend freezing them for up to a month, and defrosting individual pieces when you're ready to serve/devour. Place the mochi (in their cupcake wrappers) in a single layer in a covered container, and freeze.
I would store these in the fridge. Even though this helps preserve the taro, the mochi will get hard and dry.
If you don't want/can't freeze these and you can't eat them fast enough, I suggest that you make a smaller batch that you know can be eaten that day.
Make Ahead
I wouldn't recommend making the mochi ahead of time, since it's easiest to use when it's still warm from being cooked.
I also wouldn't recommend assembling the mochi more than 8-12 hours (depending on how hot it is where you are) in advance.
However, you can make the taro filling beforehand, and store it in the fridge or freezer depending on when you want to make the mochi.
Variations
If you don't want to add coconut milk to the filling, you can substitute for a different kind of milk if you would like!
If you don't want to steam the mochi or you're short on time, you can microwave the mochi instead. Place the mochi in a microwave safe bowl, and cover with a microwave cover or some plastic wrap. Microwave in 1-2 minute bursts (depending on how strong your microwave is), stirring after each to make sure the mochi cooks evenly, until you get stretchy, bouncy, opaque mochi.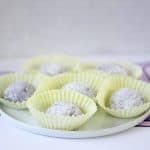 Taro Mochi
This taro mochi is a tasty mix of chewy mochi and creamy taro filling!
Keyword:
dairy-free, egg-free, gluten-free, glutinous rice flour, mochi, nut-free, taro, vegan, vegetarian
Ingredients
Mochi
2 ½

cups

mochiko

250g

½

cup

granulated sugar

96g

½

teaspoon

kosher salt

2

cups

water

444g

Purple food coloring
Taro Filling
¾

cup

cubed taro

1

teaspoon

coconut milk

3

tablespoons

granulated sugar

⅛

teaspoon

kosher salt
Instructions
Taro Filling
Bring a medium pot of water to a boil, then add the taro and cook until very tender, about 40-60 minutes. You want it to be really soft so that you can mash it easily later on.

Drain the taro, and mash the taro with a potato masher or a fork until your desired consistency is reached. Add the coconut milk, sugar and salt, and stir until combined. Cool.
Mochi
Mix the dry ingredients until combined, then add the water and food coloring, if using. Mix until there are no more dry patches and the mixture comes together into a dough.

Transfer the mixture to a greased heatproof container, and place in a steamer and steam for 25 minutes, or until a chopstick inserted into the center comes out clean. If it's liquidy in the middle, keep cooking. If the edges are set but the middle is still not done, mix it around to make sure the mochi cooks evenly.

Remove the mochi from the steamer and let cool until just slightly warm.
Assembly
Pour the cornstarch out onto a plate, and have cupcake liners lined up and ready to be used. Keep your mochi and taro filling nearby.

Pull on a pair of clear food-safe gloves, and divide the mochi into 24 pieces. Working with one piece at a time, roll it into a ball in the palm of your hands, then spoon 1 teaspoon of taro filling into the center. Gather the edges of the mochi towards the center, like a little siu luhng baau, and seal.

Roll the mochi gently in your palms to even it out, then roll the mochi all over with cornstarch until lightly but completely covered. Gently toss the mochi between your palms to knock off any excess cornstarch. Place in a cupcake liner.

Repeat with remaining mochi and taro filling.

If you're planning to eat the mochi within 12-16 hours and you can store it in a cool area (but not cold – not the refrigerator), you can leave it out at room temperature. If you don't eat it within that window, the taro will go bad, so freeze them for up to a month and defrost when you're ready to eat.
Recipe Video
Recipe Notes
This recipe is a pain in the butt to store. If you're not eating it the day that you make it, make sure you freeze it to preserve the mochi and the taro. Otherwise, the taro will spoil if you leave it at room temperature, or the mochi will get hard if you leave it in the fridge. You can also make a smaller batch if you can't eat or give it away fast enough.