This post includes affiliate links. If you purchase through those links, we may earn a commission. Thank you for supporting Delicious Not Gorgeous!
This taro latte has plenty of creamy taro milk, and a shot of bitter espresso for a nice afternoon pick me up.
How to Make
Let's start with the taro because, well, it's a taro latte.
Taro is a starchy root vegetable. It tastes like a hybrid between a chestnut and a mild sweet potato.
It can be found at Asian grocery stores, and is usually located in one of two places within the store.
Sometimes it's near the potatoes and onions, and you see a big brown oblong blob. These days at stores in the Bay Area, I usually see the taro peeled and vacuum sealed in the refrigerated section.
The skin is pretty tough and hairy so I would not recommend eating it, plus it can be kind of irritating to your skin.
Once the taro is peeled (either by you or your grocery store if they had that forethought), it also needs to be cubed to help it cook faster and more evenly.
Note that it's normal for the taro to feel slimy and slippery when you cut it.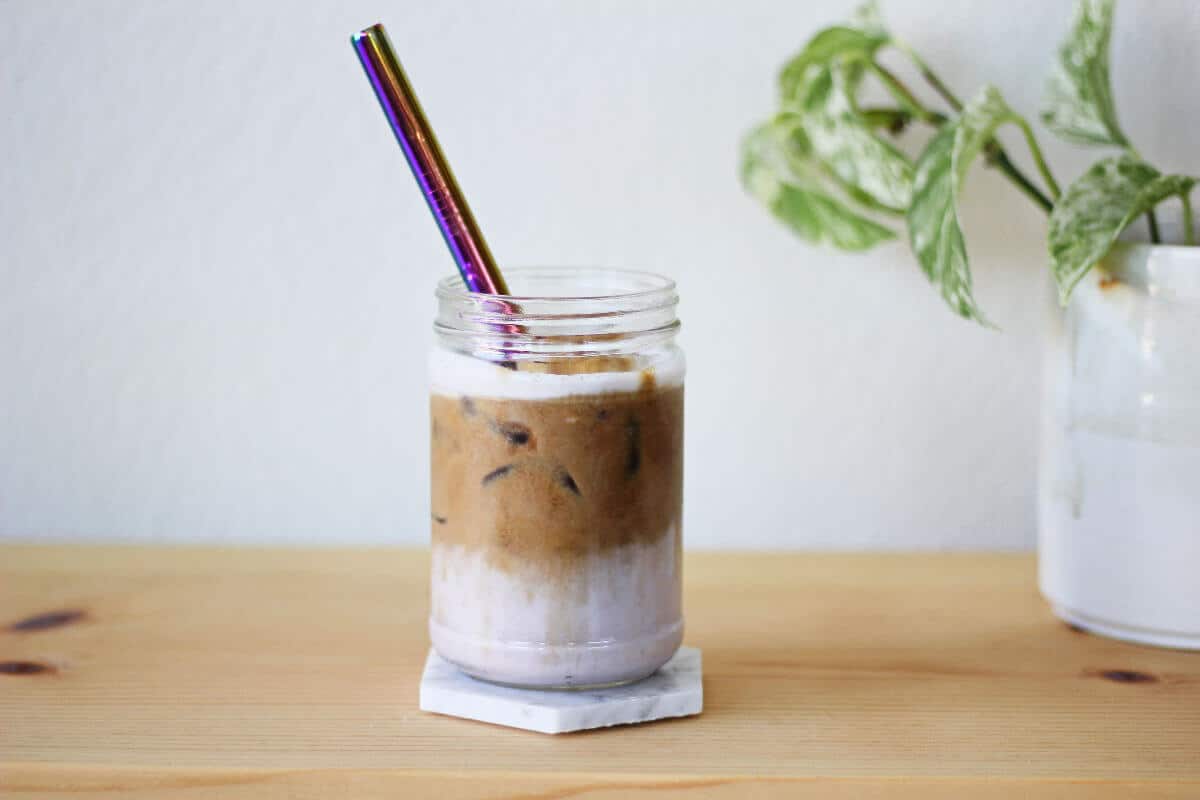 Then, the taro needs to be boiled. You wouldn't eat a russet potato raw (or at least I wouldn't), and the same goes for taro.
The taro should be cooked until it's super soft, so that it blends in nicely into the drink and you don't get big chunks that you end up chewing.
Once the taro almost falls apart when you try to stab it with a fork, drain off the water.
Add the sugar and salt, and mash until the taro is super smooth.
To fix any undercooked taro, you can do one or both of the following:
Microwave the taro for 30-60 second bursts until your taro is soft enough to mash finely.
The next step of this recipe is to mix the taro, milk and food coloring together. Blending stubborn taro with the milk can break down the taro, too.
If you haven't already, combine the taro, milk and food coloring. Refrigerate this while you work on the coffee.
Pull two shots of espresso, whichever way you prefer.
My go to is a Moka pot (I have a mini 1 cup one) for any espresso based drink (ie an iced rosewater latte or a matcha espresso or this taro latte). Not quite the same as espresso, but it gets the job done!
Then, scrounge up a tall glass and spoon in enough ice to fill up half of the cup.
Since my coping mechanism for a blah and monotonous day is a pretty drink, I like to layer the pastel hued taro milk with the espresso. First the taro milk goes in, then the espresso.
A few tips to ensure you get clean layers:
The ice helps keep them separate.
Pour in the taro milk before the espresso, because this liquid is denser (from the taro mixed in as well as the cold temperature) than the espresso.
Hold a spoon with the tip pressed against the inside of a cup wall. Dribble the espresso slowly into the spoon and let the excess drip down the inside of the cup to prevent the espresso from jostling the taro milk.
Maybe you prescribe heavily to the delicious not gorgeous philosophy: you can pour everything in and ignore all the hubbub I mentioned above.
Give it a stir before you sip and enjoy!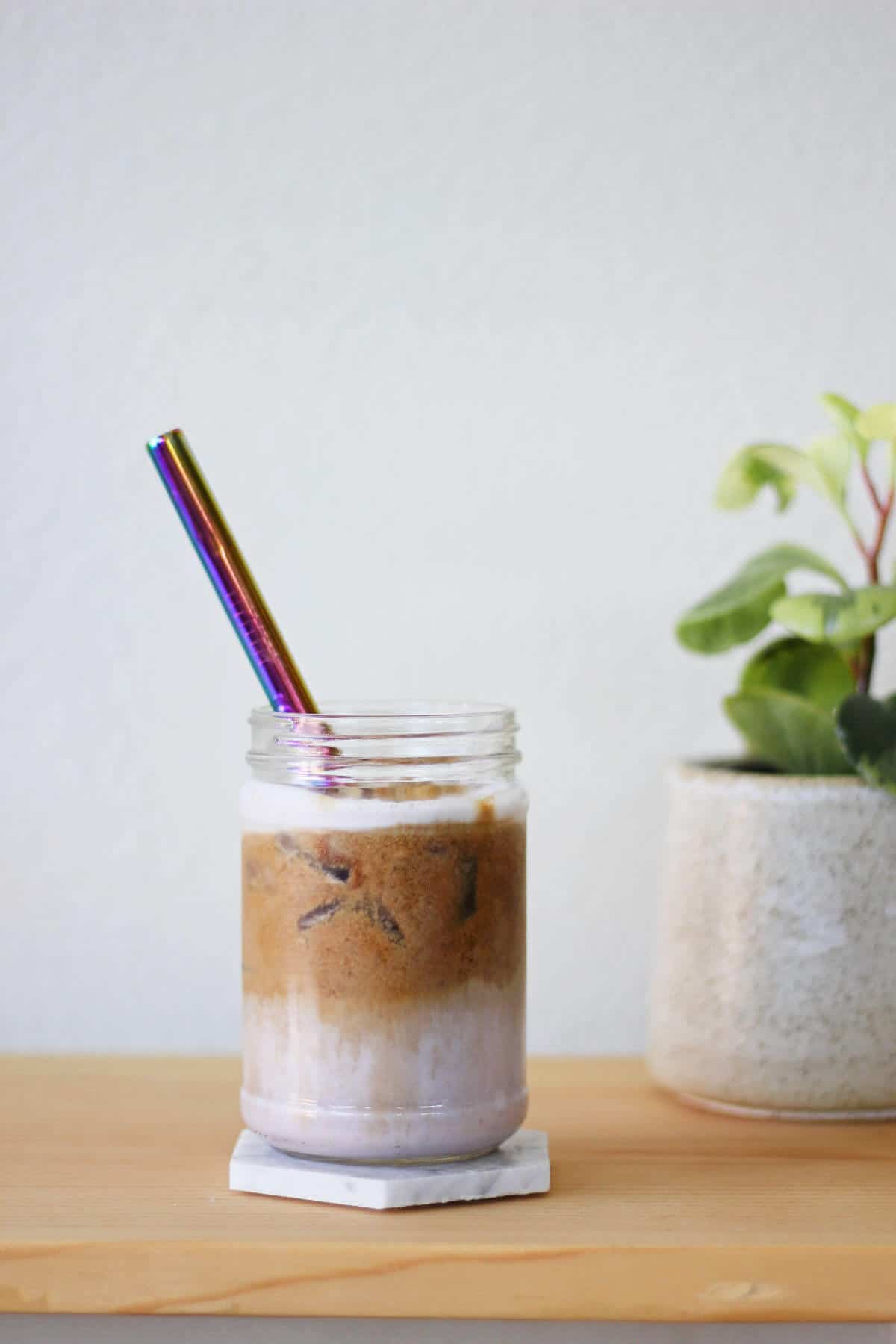 Variations
Purple food coloring is not necessary, and your drink will taste just as good with or without it. The only difference is that the color might skew towards a more muted purple/grey.
If you'd like, you can omit the espresso and serve the taro milk as is. Still delicious, though I'd recommend decreasing the sugar a little bit due to the lack of bitter coffee to cut through the sweet and creamy milk.
Or maybe you've decided you're in a tea mood instead, and this taro milk tea is more up your alley.
Milk
You can use any kind of milk.
I gravitate towards soy milk or whole milk depending on my mood. The flavor combo of soy milk and taro is pretty tasty, or I opt for whole milk for the times I'm craving something on the milder side.
Sweetener
You can also use whatever sweetener you have on hand/prefer.
I like the clean, pure sweetness that you get from white granulated sugar, but brown sugar, maple syrup or anything a little more flavorful would be delicious with the taro. My rule of thumb is that if it would go well with an orange sweet potato, it would probably work with taro.
Regardless of the sweetener you choose, it's nice to mix it in when the taro is hot. This way, any dry sweetener dissolves into the final drink, or any wet sweetener doesn't clump up in the iced drink.
Taro
Can't find fresh taro? You can look for taro powder in the center aisles of an Asian grocery store.
Just check the ingredients before you substitute it into this recipe, since it might already have milk, sugar and food coloring involved. If it does, you should probably tweak the amounts of those ingredients in this recipe.
Alternatively, you can look for ube products.
Ube
You can also try to find ube halaya (aka ube jam) and/or ube extract at a local Filipino market, and make an ube latte or an ube milkshake instead.
You could doctor that milkshake up with a shot or two of espresso, too. I apparently haven't grown up and still love a good frappe, so this sounds delicious and I want to hear all about it if you end up trying that.
They're similar, but taro is not the same as ube. Though they are both starchy, ube is deep purple compared to taro's white flesh with purple flecks.
Ube is more mild in flavor than taro, and it can be hard to tell how it tastes because it's typically paired with coconut.
And if you're looking for other fun coffee drinks, how about this oat milk pumpkin spice latte, or a glass of matcha espresso?
Taro Latte
This creamy latte made with taro, a starchy cousin that tastes like a hybrid between a sweet potato and a chestnut, is delicious with or without a shot of espresso on top!
Keyword:
coffee, dairy-free, egg-free, gluten-free, grain-free, milk, nut-free, taro, vegan, vegetarian
Ingredients
½

cup

taro

peeled and cubed

2

teaspoons

granulated sugar

1

pinch

kosher salt

1

cup

milk

cold

1-3

drops

purple food coloring

if desired

ice

2

shots espresso
Instructions
Bring a pot half full of water to a boil. Add the taro, and cook for 30-40 minutes, or until the taro is super soft and almost breaks apart when you try to stab it with a fork. It should be softer than fork tender.

Drain the taro. Add the sugar and salt, then mash until very fine and the sugar is dissolved (it shouldn't seem grainy).

Mix in the milk and purple food coloring, if using. If the taro is still looking really chunky, you can blend this together until the taro is more broken down.

In a tall glass, add a few handfuls of ice, then pour in the taro milk. Gently pour the espresso on top and serve!
Recipe Video
Recipe Notes
You can find taro at an Asian grocery store, either near the potatoes and onions or vacuum sealed in the refrigerated section.
Feel free to use whatever kind of milk you like!