This taro milk tea is sweet and creamy, with plenty of taro and tea flavor.
Ingredients
You're probably familiar with the majority of the ingredients in this eight ingredient drink (taro, food coloring, milk, green tea, boba, brown sugar, salt and ice), so let's focus on the taro and boba.
Taro
For anyone who has never tried taro before, it's a root vegetable typically used throughout Asian and Pacific Islander cultures. Yes, that's a broad, vague and kind of useless statement, but it's incorporated into everything from sweet Cantonese taro sago, to Sāmoan palusami, with corned beef, coconut milk and taro leaves.
(Note that I mentioned Cantonese taro sago, with coconut milk, chewy sago made of tapioca pearls and soft chunks of taro. However, there are a bunch of similar desserts, including (not limited to) ginataang bilo bilo from the Phillipines with taro, coconut milk and glutinous rice balls, as well as a Thai version with sticky rice).
Cooked taro is tender, starchy and creamy, with a flavor almost like a chestnut and sweet potato hybrid. The inside is a creamy white color, with flecks of purple strewn throughout.
It's probably not a surprise after that long winded spiel that taro (when I say taro, I'm referencing the root and not the leaves) is typically found at Pacific Islander and Asian grocery stores, and not at more westernized ones.
I usually have good luck at the Chinese grocery store in the refrigerated section with packs of vacuum sealed taro.
You might be able to find it next to the potatoes and other starchy friends. Some stores only stock it in their refrigerated aisles, since taro can go bad really quickly at room temperature.
You're looking for something that feels firm – anything squishy is a no-no. And if your taro still has its hairy brown skin on, you'll want to peel that off.
Maybe you're concerned about what to do with your leftover taro after you're done making a glass of milk tea. How about something else sweet, like a taro latte or chewy taro mochi, or even something savory like this Cantonese steamed taro cake?
And no, taro and ube aren't the same. Taro is starchier and white in color, compared to ube's softer, creamier texture and naturally purple hue even sans food coloring.
Boba
My guess is if you're a reader of this blog or if you've searched for a milk tea recipe or two in your day, you're familiar with boba. Otherwise, let's get you up to speed.
Boba is made with tapioca starch, giving it a chewy, bouncy texture that's similar to the texture of foods made with glutinous rice flour (think lo mai chi or butter mochi). Imagine the mouthfeel of the tapioca mixed into tapioca pudding (the white, gloppy kind), only chewier.
You can make boba from scratch or purchase a pack of dry boba from a Chinese grocery store (you might also have luck at a Filipino, Japanese or other Asian grocery store, depending on how well stocked it is). The latter is my usual route for milk tea at home.
Other recipes featuring boba on this blog include this milk tea ice cream topped with boba, or one of my family's favorites, crème brûlée milk tea.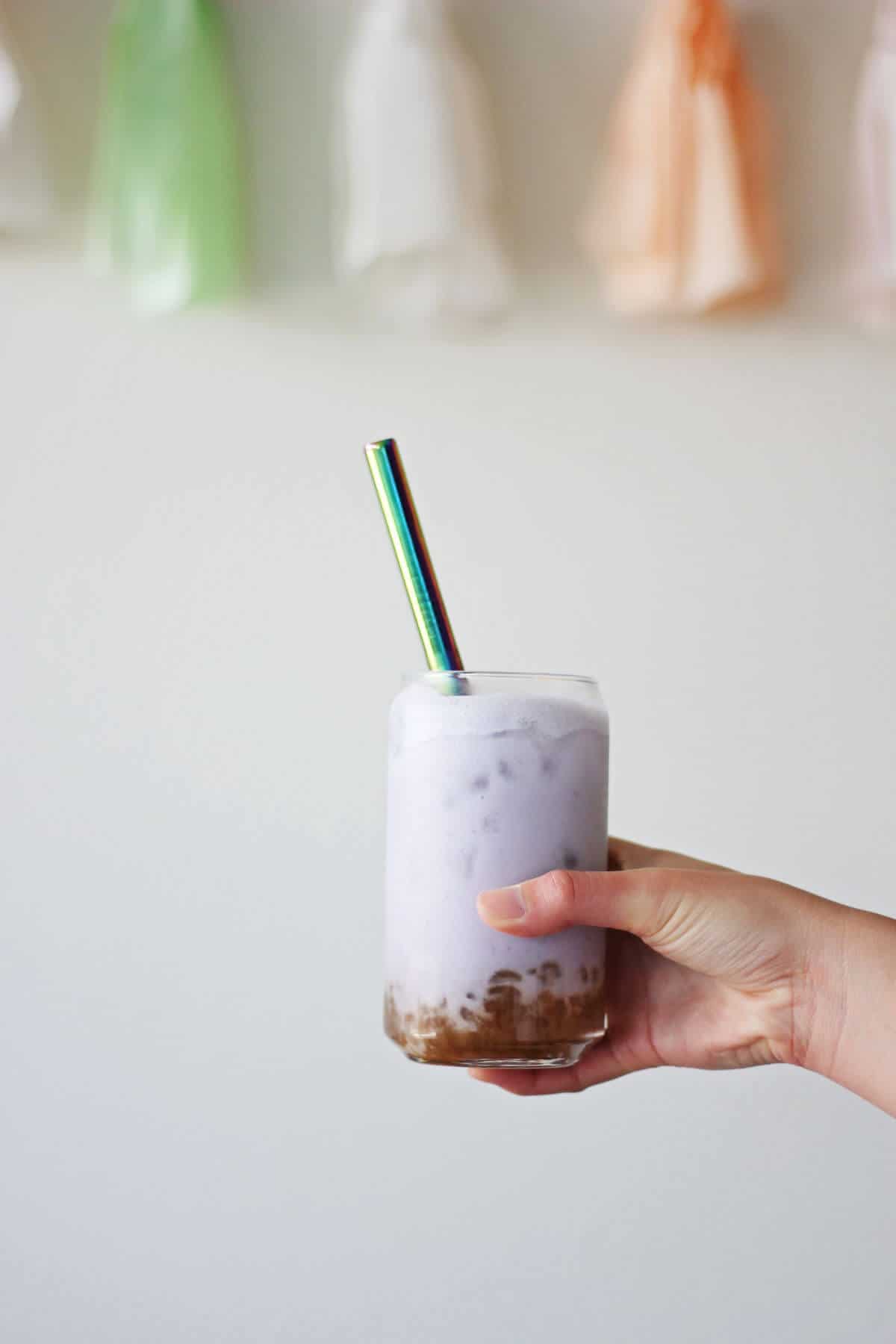 How to Make
Raw taro root is really hard and unpleasant to eat, so you'll need to cook it before you can get to the milk tea part.
It cooks faster and more evenly when you chop the taro into similarly sized chunks. Drop it in boiling water, and let it cook for at least 30 minutes, or until the taro is very soft and easily pierced with a fork.
It might take longer than you expect, especially compared to the usually short cooking times of orange sweet potatoes or Russet potatoes.
Once the taro is tender, drain off the water and let the taro cool slightly. Mash the taro (a big fork works, or a potato masher) until it looks mostly homogeneous without any big chunks left.
Sometimes you think the taro is done, and then it's too stubborn to work with when it comes time to mash it. No worries, you can microwave the taro for a minute or so to soften it a little more.
Set the taro aside and make the milk tea.
First, heat up some milk. Stovetop or microwave is fine here, but my preference is to use the microwave since it's faster.
Then, steep green tea leaves into the milk. For anyone who tends to like their milk tea less strong, you can cut back on the amount of tea leaves or steep for less time.
If you usually like your milk tea with a stronger flavor, you should add more tea leaves. Steeping for longer will make your tea bitter, rather than extracting more tea-ness from the leaves.
Remove the tea leaves from the milk tea, then stir in brown sugar, a bit of salt and purple food coloring. The food coloring is optional, so long as you know that the pretty lilac color won't show up unless you add some.
Depending on what kind of boba you have, it might make sense to start boiling them while you steep the tea. For anyone with five minute boba, this isn't necessary, and I'm mostly talking to the poor suckers (aka me) whose only option at the Chinese grocery store was the mediocre white boba that takes two hours to cook.
You'll know the boba is done cooking when it's floating to the top of the water and is translucent throughout.
You can bite or cut one open if you can't tell. A powdery inside is a big indicator that the boba needs to cook longer.
Overdone boba is a thing, so you're looking for boba that is still chewy and can hold its shape. I wouldn't recommend stepping away for hours and assuming it will forgive you.
(You also shouldn't walk away for too long, since the pot can sometimes dry out and you're stuck having to start over and clean out a gross pot).
Once the boba is done, you can strain it and season with some brown sugar and salt.
All that's left now is assembly! In a serving glass, spoon in the brown sugar boba, then the mashed taro. Add a few handfuls of ice, followed by the green milk tea.
Give the drink a good stir to make sure the taro gets combined with the milk tea, then serve!
Make Ahead
You can make the mashed taro and milk tea up to a few days in advance. Store covered in the fridge and you're good to go.
The boba is a little trickier. It's more finicky and doesn't like to be refrigerated, since it can get hard and tough, and lose its chewy texture.
I would recommend making the boba on the same day that you're planning on drinking the milk tea.
That being said, you can still consume boba for 1-2 days after it's made, so long as you refrigerate it and then heat it back up (microwave it for 30-60 seconds) until soft again.
The texture isn't quite as good as on day one, but it'll do should you (understandably) not want to boil a batch of boba every single time you crave milk tea at home.
Variations
Taro Powder
On a tangential taro milk tea note, I also want to mention that a lot of boba shops (especially chain stores and/or places operating in the mid-2000s) use taro powder, which ends up more artificial tasting and more homogeneous than milk teas with cooked taro root in them.
You can replace raw taro with taro powder in a pinch, although you may have to adjust the amount of milk and/or sugar depending on the ingredients within the storebought pack.
Microwaving the Taro
Rather than boiling the taro on the stove, you could cook it in the microwave instead. Place the taro in a microwave-safe bowl or container, cover with water, and microwave until soft.
It'll be quicker than boiling the taro on the stove, so I'd microwave for a few minutes at a time and check on it more frequently.
The main reason I don't like cooking taro in the microwave is dealing with a sloshy container of hot water and taro and moving that frequently to check on it. Other than that, the microwave is a good alternative should you don't have the time or equipment to use the stove.
Milk
Taro is mild and potato-y like a sweet potato but less sweet. It pairs well with coconut, so I like using a combo of coconut milk and soy milk here. Then it's vegan taro milk tea!
Assuming coconut or soy milk isn't available, I'd likely go to whole milk as my next option, although other milks work fine too.
Tea
If you don't like green tea or don't have any on hand, you could substitute it for whichever kind of tea you'd like. I'd pick something on the more mild side and not too smoky or intense, since the taro would otherwise be hidden by a really strong tea.
Using a decaf tea could also be a good alternative to make this drink appropriate for night time or for anyone sensitive to caffeine.
Only have tea bags? You can either tear open the bags and measure out two tablespoons to add to the milk, or you can eyeball it and add 1-2 tea bags to the milk depending on how big they are.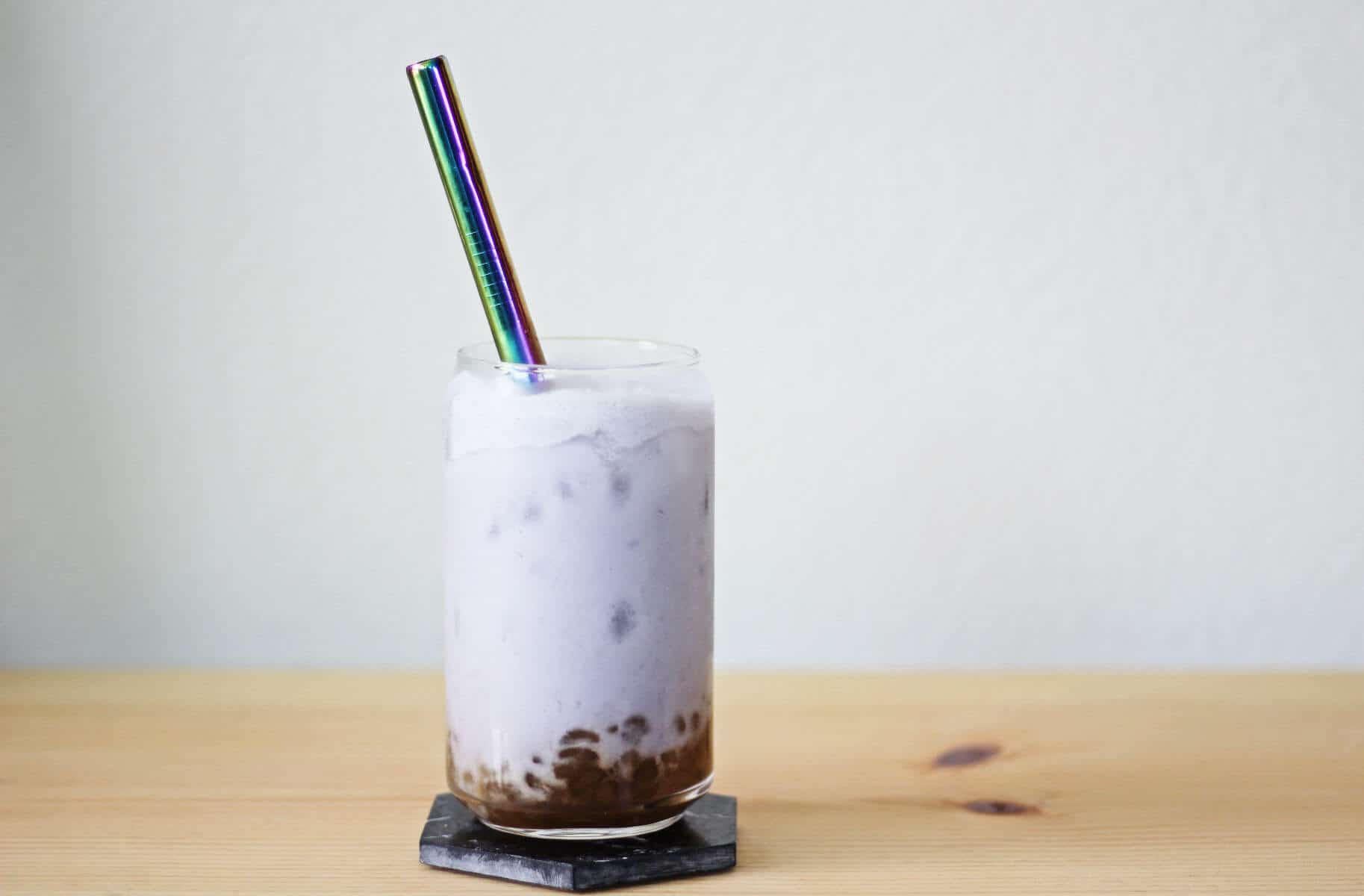 Sweetener
I like the caramelly notes that brown sugar gives this drink, so that's what is written into this recipe. However, you can mix in any other sweetener you would like.
Maybe your cupboard only houses honey or light maple syrup or granulated sugar; any of those are fine to stir into your boba. Or, think about what you like to season your sweet potatoes with, and add that.
Toppings
You don't have to use boba, especially if it's not your cup of tea. Pudding, herbal jelly or sweetened red bean would all be delicious.
I probably wouldn't go for popping boba or crystal boba, but you do you.
Of course, you can also forgo toppings and sip this plain.
Taro Milk Tea
This taro milk tea is creamy and comforting, flavored with a hint of taro and green tea.
Keyword:
boba, dairy-free, egg-free, gluten-free, grain-free, milk tea, nut-free, pearl milk tea, tapicoa pearls, taro, vegan, vegetarian
Ingredients
½

cup

peeled and cubed taro

1

cup

milk

2

tablespoons

green tea leaves

1 ½

tablespoons

brown sugar

2

pinches

kosher salt

Purple food coloring

optional

¼

cup

raw boba

ice
Instructions
Bring a pot of water to a boil, then add the taro and cook until the taro is very soft. It should have very little resistance if you try to pierce it with a fork, so this can take 30-40 minutes.

Drain the taro and let cool. Mash the taro with a fork.

Warm the milk, then add the green tea and let steep for 30 minutes. Remove the tea leaves, squeezing out any excess, and discard the tea leaves. Stir in ½ tablespoon brown sugar, a pinch of salt and food coloring (if using) until combined, then let the milk tea cool completely.

Bring another pot of water to a boil, and add the boba. Cook until the boba is translucent throughout, and isn't chalky or opaque in the middle. You can taste one if you're not sure. The time for this ranges depending on what kind of boba you buy, so check your package's instructions.

Drain the boba, and mix with 1 tablespoon brown sugar and a pinch of salt.

In an empty glass, spoon in the boba and the mashed taro. Add a few handfuls of ice, then pour in the milk tea. Mix to combine, then serve.
Recipe Notes
You can use any other kind of tea (nothing too strong/smoky though) or sweetener that you'd like.