what is a matcha espresso?
this matcha espresso drink is like a matcha coffee latte, if that helps. it's espresso layered with milk and matcha, in a riff on coffee milk tea, also known as yuenyueng.
matcha coffee recipe
it's been a pretty warm spring in northern california, so this version is iced. it's a chilled shot of espresso at the bottom, followed by a generous amount of milk, and matcha on top!
is matcha good with espresso?
yes! (i wouldn't be posting this if it wasn't lol). in this drink, the coffee is the more dominant flavor, with a little bit of the brightness of the green tea.
the matcha and espresso can both be on the bitter side, so a touch of sweetness and milkiness help. i've been missing brown sugar pearl milk (shoutout to the taro boba milk i had from sunright in diamond bar during my last trip before we went into shelter in place), so i've been in a big brown sugar mood.
maple syrup is also a good move because it's already liquid so it's easier to incorporate into the drink.
i used soy milk with a dash of half and half here because i didn't have whole milk, but whole milk would definitely be my preference. you could definitely use coconut milk or oat milk (or soy milk!) if you're trying to stick to non-dairy options.
and if you don't know what to do with the rest of your matcha - how about a matcha and thai tea combo, or a mango matcha latte?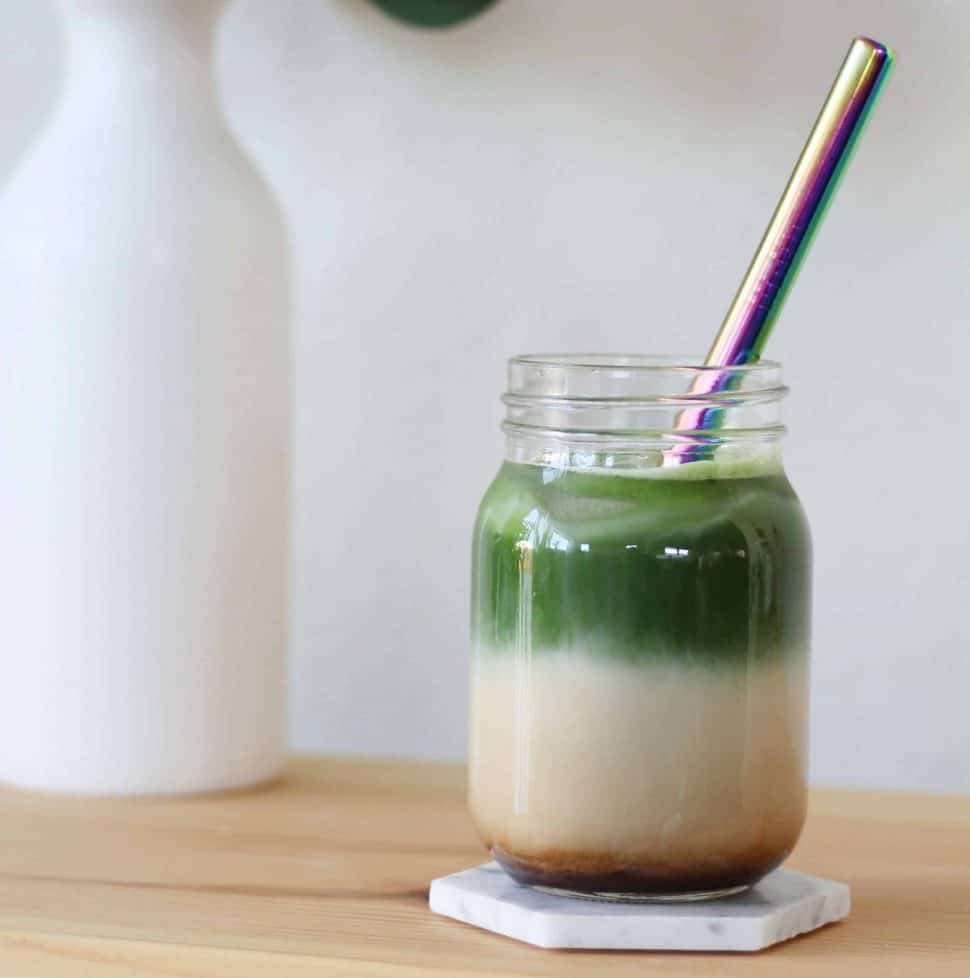 Matcha Espresso
This matcha espresso drink is a refreshing blend of sweet iced coffee and creamy green tea!
Keyword:
caffeine, coffee, dairy-free, egg-free, espresso, gluten-free, grain-free, green tea, iced, matcha, no-bake, no-cook, non-alcoholic, nut-free, tea, vegan, vegeatarian
Ingredients
1

cup

hot water

1 1/2

tablespoon

espresso

1

tablespoon

maple syrup or brown sugar

or to taste

1

pinch

salt

2

teaspoon

matcha

1

cup

milk of your choice

ice

to serve
Instructions
Make 1 shot of espresso using 1/2 cup hot water and the espresso. I like using a Moka pot! Stir in the maple syrup and salt. Cool to room temperature, then refrigerate until cold.

In a small bowl or cup, whisk the remaining 1/2 cup hot water with the matcha until dissolved. Make sure it's well combined, since you don't want a powdery drink. Cool to room temperature.

Add some ice to a tall glass. Pour in the espresso, then milk, then matcha. If you'd like to layer the drink (rather than having it all it mix together immediately), hold a spoon tipped very slightly downward with the tip touching the side of the glass, pour the milk, then the matcha, into the spoon slowly. Add a straw if you'd like and serve cold.